Enduring British Rock legends...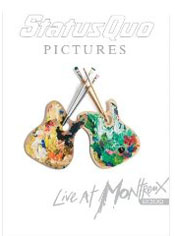 There an old saying that if you keep going long enough your time will come. Looking at their chart success alone, Status Quo seem to have had three lives! And yet when Rick Parfit says, 'We've got nothing left to hide, we've been there, done it, then done it again', he significantly substitutes 'hide' for 'prove'. You suspect that even after the release of this 40 year anniversary bumper package they will rock on for a few more years yet.
And in spite of a few croaks and a few faltering harmonies, Status Quo deliver the goods exuberantly to their excited Montreux fans. Who would have thought it: Status Quo at the Montreux Jazz Festival. And as Francis Rossi might say, why the **** not?
For like many of the jazz and blues greats before them, Quo are living history - rock history - and for that matter a medical phenomenon who are surprisingly still standing after all those years of excess. And while Rhino Edwards jokes that he always thought Quo 'would be a good band to get drunk to', manager Simon Porter quietly reflects that over time 'Quo have become a British institution'.
In fact the 'Status Quo Pictures: Live at Montreux 2009' DVD/CD package fits the pieces into the jigsaw perfectly, drawing on archive footage, interviews and videos.
The 22 song DVD, the irreverent documentary and the edited 17 song CD all bring home the bacon. If anything the whole package gives lie to the three chord tag criticism as what emerges is a band with a locker full of enduring catchy pop songs with strong melodies that find their place in the art of the 3 minute single.
'Montreux' of course features all the hits backed by some on stage archive footage, but it's some of the lesser heralded numbers that sparkle including a brief rendition of John David's 'Red Sky' ('I think John David's got the handle of Status Quo - he's got that country thing' says Rhino ) and Jackie McCauley's 'Dear John'.
There's also an enjoyable croaky Rick Parfitt rendition of 'Rain' and he whips out his cheque plated guitar on the underrated 'Don't Drive My Car', though how they still get a way with playing their thinly veiled re working of 'Dimples' as 'Creepin' Up On You' only their publishers will know.
Fans will lap up the new release and doubtless pour over Mick Wall's 15 page history of the band, play the CD to death and enjoy the levity of the documentary.
And yet for all the statistics and sense of history, maybe Rick nails it best saying simply ,'To do this is what I always wanted to do from a kid and have this amazing life on stage with a rock band', while the ever down to earth Francis notes 'Status Quo, I've never been in any other band'!
On the one hand there's a sense of amazement that they are still there tempered by the underlying feel of 'this is what we do and will continue to do'.
The early footage is priceless, the anecdotes mirth inducing particularly when John Coughlan pops up talking about being pissed before a later ironic moment when Rossi reveals it was at Montreux when the band's original drummer kicked his drums over at the sound check that led to his departure.
Quo completists might already know all this. They may also know that Francis copied 'Hey Joe' as the basis for 'Pictures of Matchstick Men' and that 'Caroline' started as a languid shuffle, but this is after all the stuff of a 40th anniversary release.
It's all there, the attempted changes in style and different band members, managers - including David Walker's 'Rock Til You Drop' idea - the dreadful covers album, the Beach Boys liaison on 'Fun Fun Fun' and Rick's quadruple heart by-pass. Phew! 40 years on and still rocking, it could only be the story of Status Quo!
*****
Review by Pete Feenstra

---