Just witnessed your best live gig?.. send us a review!
WALTER TROUT, 12 Bar Club, Swindon 11 October 2009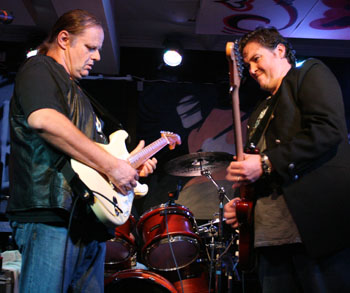 You know rock has come of age when someone like Walter Trout is celebrating his 20th anniversary tour.
This after all is the same Mr.Trout whose T shirts ironically proclaim 'Too many notes, Too Loud!' and who has made light of the 'Too rock for blues and too blues for rock' tag. In fact none of the former is true as he seamlessly wove his way through several career highlights from his prodigious 17 album solo career.
A perfectly balanced set drew on some intense high's - think cascading notes over Sammy Avila's rumbling Hammond fills - as much as on some down in the dirt blues.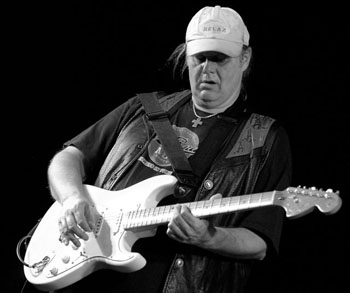 Photo by Lee Millward
For as this sell out audience proved Trout is a man for all seasons. He did indeed launch into several startling volleys of notes clusters, particularly on the reactivated 'Fast Moving Traffic' on which he brought out the very best in his band.
On the night 'Traffic' was brilliantly transformed from a polished studio outing into a fiery rocker with maximum band interplay. Trout himself stood back extended an arm and called for appreciation for his band members, a gesture that perfectly summed up a magical moment.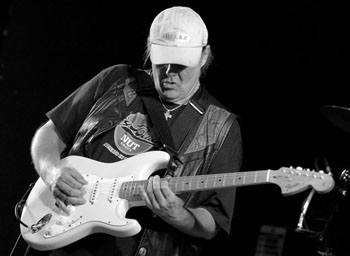 Photo by Lee Millward
Several other career nuggets were dusted down and rejigged including his early career signature tune 'Life in the Jungle' and the impressive 'Under My Skin' with some lovely four part harmonies.
Better still, the audience quickly picked up on the FM rock favourite 'Motivation of Love' on which Walter produced some outstanding ascending guitar lines and the emotive 'Crying in the Darkness' one of three new songs on the 'Unspoiled By Progress' anthology album.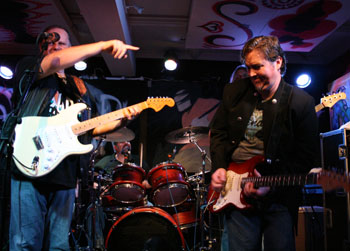 But things got even better when Walter invited the support band's guitarist Billy Walton to jam with him. Billy had earlier received a great reception from the crowd with his own power trio and he further enhanced his reputation on a slow blues that had everything from contrasting tone colours to intense vibrato and sustain, as well as a sparring finale worthy of the meeting of New Jersey's finest.
It's a measure of Trout's experience and sheer class that he was able to channel the climactic response into a further 45 minutes of scorching rock/blues, cruising past the 2 hour mark with a ripping encore in the shape of Don Nix's 'Going Down'.
Too many notes, Too loud? Not tonight as this was a consummate performance by a stellar guitarist with a road tested band who still have thousands of miles left in their tank.

Review by Pete Feenstra
Photos by Richard Boyles, except where indicated

---
Get Ready to ROCK! Radio Features Editor Pete Feenstra talks to Walter Trout (40:44)
© 2009 Get Ready to ROCK!/Pete Feenstra. All rights reserved.
---