TOUCHSTONE Wintercoast (2009)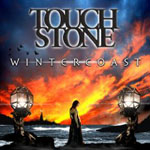 While many old proggers are still ably treading the boards (for example, the recently reformed Asia) and while others, like Marillion, have adapted to the digital age, there's a real need for a new generation of classic rock bands.
The good news is that a whole underground movement of self producing and promoting bands is beginning to emerge. And the even better news is that these talented musicians - brought up on a staple diet of 1970's based bands like Yes and Rush - are appealing not only to the baby boomers generation, but also to their offspring, making 'prog spawn' an apt collective genre.
Touchstone - formed back in 2003 by guitarist / vocalist Adam Hodgson and keyboardist Rob Cottingham - are one of the band's spearheading that movement, although it wasn't until 2007 that the band's line up was complete with Paul Moorghen arriving on bass in 2006 and Al Melville (drums) and Kim Sevior (vocals) joining early 2007.
The band's excellent debut album Dischordant Dreams - mixed by John Mitchell (It Bites) was released summer 2007 to critical acclaim (winning best new band at the Classic Rock Society awards) and the reward of a support slot on the It Bites tour that won the band many new friends and admirers.
And so to Wintercoast - the 'tricky second album'. Well, what better way to start a concept album than with a narration? Some might call it pretentious, some may call it old hat, but Jeremy Irons' atmospheric spoken intro is the perfect platform for the power chords and time changes that herald in the title track. With Rob and Kim sharing lead vocals, the track surges, subsides and creshendos with some excellent lead guitar work. And let's face it, you know you've got a piece of serious prog on your hands when a track has sub titled passages within it!
Strange Days is another highlight - a track that rocks out, with a wonderful riff and chorus - again the combination of melodic and hard rock proving a winning formula, and surely set to be a live favourite.
If anything, Wintercoast is more hard hitting (and dare I say it, less commercial) than it's predecessor and with Kim Sevior playing a far more prominent role, although where deployed, the twin vocal approach still works really well. But it's the band's ability to produce hard hitting melodic rock that really hits the spot.
When required though, they're more than capable of varying the pace and to demonstate their dexterity, Solace is a about as pop as the band gets - a ballad with some lovely vocal work from Kim. Elsewhere the modus operandi of atmospheric keys, power chords, melodic passages, soaring lead guitar and sterling vocal work is deployed pretty much consistently throughout. Although, it has to be said, Wintercoast is an album that benefits from repeated plays and familiarity.
Running out at well over an hour (would you expect anything less from proggers?) you certainly can't complain about value for money and Wintercoast looks set to enhance than band's growing reputation. Epic.
***½
Review by Pete Whalley

---
| | |
| --- | --- |
| | Print this page in printer-friendly format |
| | Tell a friend about this page |