AYNSLEY LISTER Equilibrium Manhaton Hatman 2024 (2009)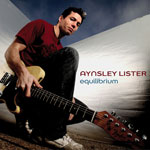 The aptly titled 'Equilibrium' finds fiery guitarist Aynsley Lister breaking new ground bringing a surprisingly well honed pop rock sensibility to bear on some characteristic guitar rushes.
Where in the past Aynsley has carved out his rock blues niche with an open ended ability to explore various contemporary strands, on 'Equilibrium' he's taken a quantum jump towards nailing down his own style which at times turns out to be as accessible and radio friendly as it remains fiercely independent.
Long time fans will revel in the guitar driven 'Soul' - which has real possibilities as a single - and the crunching Robin Trower style riffs of 'Time's Up'. They might similarly be drawn to the power shuffle 'Running Out On Me', but it's the wider possibilities of numbers like 'What's It All About', a number that drags Coldplay towards a rockier edge and the equally radio friendly 'Running on Empty' that might just grab Aysley a bigger slice of commercial reward.
In between the well-thought-out arrangements, and intuitive produced songs there are still enough vibrant musical moments to remind you that Aynsley is still a cutting edge musician. Perhaps the lyrics of the slide led 'Superficial' offer a clue as to his musical intent. So when Aynsley sings "why is the world superficial when we're all so different but we're all the same beneath", instead of analysing the words just hit the play again button and marvel at his new found stylistic coherence.
'Equilibrium' rocks and charms by turns. It's a well crafted piece of work striking a crucial balance between meticulous pre-production and the spark of the moment. In short a superb album in the old fashioned sense of the word.
*****
Review by Pete Feenstra

---
| | |
| --- | --- |
| | Print this page in printer-friendly format |
| | Tell a friend about this page |