BILL WYMAN'S RHYTHM KINGS Best Of Repertoire REP5148 (2009)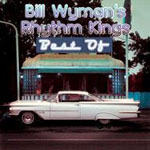 It's hard to believe that it is 17 years since Bill Wyman left the Stones and ostensibly 'retired', only to remerge 5 years later as a force on the blues scene with the all star Rhythm Kings. And as this 'Best Of' CD demonstrates, he's been busy establishing a roll call of top names individually suited to the material at hand. For the most part everyone fulfils their potential as Bill and his writing partner Terry Taylor contribute a third of the songs and add some sharp and intuitive arrangements. In many respects Bill has taken over the mantle of Alexis Korner's Rocket 88 in assembling a mix of top performers to bring big band blues in its widest configuration to life.
Much of the material here is essentially what concert fans have been revelling in for just over a decade, so needless to say the band is tight and there are plenty of highlights.
That said the album curiously open in a somewhat languid mode as Geraint Watkins lead vocal manfully tries to evoke Kim Wilson' signature vocals on 'Down in the Bottom'. In fact the song ends being up closer approximate of Wyman's less successful and rather tame mid 80's R&B excursion with Willy & The Poorboys.
Both Georgie Fame and Albert Lee sound a lot more at home on the relaxed jump blues of 'Streamline Woman' with its exquisite bv's, while Albert is simply magnificent on the superb cover of Spencer Bohren's JJ Cale sounding album highlight 'Disappearing Nightly'. Albert further teams up seamlessly with Fame on a de facto JJ Cale effort 'Anyway the Wind Blows' and takes centre stage on Nial Toner's 'Mood Swing' which features Chris Hall on Cajun accordion and the peerless Gerry Hogan on pedal steel.
If anything The Rhythm Kings is an object lesson in how to mesh old material with derivative new material while integrating a variety of styles and talents. And while many of the songs aren't hugely original, there are several excellent arrangements and stellar performances. Procol Harum's Gary Brooker delivers the perfect vocal on both Marc Benno's 'Hot Foot Blues' - as Albert and Tommy Emmanuel add some hot lead and slide guitar - and on the Bill Wyman penned rocker 'Hole in the Wall' with Tommy Emmanuel on lead guitar. An impressive horn arrangement and more excellent bv's make this an outstanding rocker.
Bill also had the foresight to invite top Austrian boogie pianist Axel Zwingenberger to add his inimitable piano playing on another Albert vocal led 'Mississippi Flyer' and more predictably on a cover of Big Joe Turner's 'Roll 'Em Pete'. Mike Sanchez meanwhile ensures there's plenty of swing quotient on Wyman's 'Jitterbug Boogie', which features some lovely brush work from Graham Broad and might well end up as a standard.
Equally impressive is the way Bill is unafraid to fall back on classic jump blues making a great fist of Fats Waller's 'This Joint is Jumping', which is nicely juxtaposed by another album highlight as the UK based American bluesman Adrian Byron Burns offers his Beefheart take on the another Wyman/Taylor penned song 'Tell You A Secret'
By the time of the Gary Brooker led 'Turn on Your Lovelight' the whole ensemble is really cooking. Beverly Skeete gets a long overdue opportunity to shine on a cover of Mavis Staples gospel 'Long Walk to DC' and there's still time for George Fame to one final excellent vocal line as he leans into the old Stones cover 'Down Home Girl'
You get the feeling that the whole project is really a labour of love for all concerned and certainly offers a convincing insight as to why Bill left the Stones in the first place.
****
Review by Pete Feenstra

---
| | |
| --- | --- |
| | Print this page in printer-friendly format |
| | Tell a friend about this page |