SIMPLE MINDS Graffiti Soul Universal 2703207 (2009)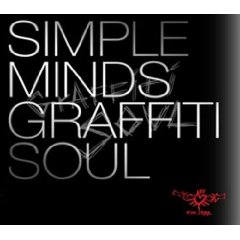 The 80's are back. And alongside such reformed bands as Spandau Ballet, OMD, Duran Duran and Tears For Fears, suddenly we find Simple Minds raking over the coals. But with 'Graffiti Soul' the band are doing anything but relying on past glories, because apart for their trademark sound and some 80's sounding atmospheric keyboards, this is an album with real fresh spark, top class songs and above a mature band performance born of an intuitive production.
Quite simply, Simple Minds have come up with a gem of an album that straddles their best moments from their past and adds a contemporary twist. On top of that Jim Kerr's mellifluous voice makes the most of an impressive batch of new material of which the first single 'Rockets' carries the most immediate potency.
An instant radio friendly song 'Rockets' packs a powerful driving groove and makes the best of its big drum sound, chiming guitars, a compelling hook and Jim Kerr's breathy vocals. Older fans will surely lap it up - there are elements of 2005's 'Home' - and given a fair crack at the radio the band surely have much to be optimistic about.
While 'Graffiti Soul' seems to be a return to Simple Minds' staple atmospheric sounds, dancy rhythms and anthemic vocals, the band seem to have re-found new energy levels on the back of their 30th anniversary.
On 'Moscow Underground' producer Bob Clearmountain opts for a movie style atmospheric feel to complement Scottish writer David Greig's dark lyrics. In fact the overall sound comes close to fellow 80's Scottish band The Blue Nile.
'Stars Will Lead the Way' is a reminder of the band's U2 style sound from a couple of decades ago and can't be far off being another single with Jim almost over egging the vocals with great deliberation. Kerr adds some more angst ridden vocals over the top of Charlie Burchill's stunning clarion riffs on the impressive title track.
And if there is something to glean from the concept of 'Graffiti Soul' it is surely that it neatly epitomises the bands style, part ephemeral (Graffiti) part deep (Soul) as the riffs and wall of sound carry the lyrics along as if on the back of a gentle breeze.
Jim Kerr's vocal performance is excellent throughout and on 'Kiss and Fly' the band sound as if they made the most of the Rockfield studio facilities as the song is both atmospheric and anthemic.
But they just about save their best for last as 'This Is It' is almost the perfect tailor made finish to the album. It's an archetypal Simple Minds song full of sweeping vocals, another catchy hook, chuggling bass and further chiming riffs.
All 8 tracks sound like pieces of an organic whole, an integral part of an album that is shot through with invention, sparkle, consistency and drive. Perhaps only the occasional 80's nuances of 'Blood Type "O"' with its predominant use of synths and the similar retro sounding 'Light Travels' deflect our attention away from the vibrant urgency of much of the new material.
But fans will surely be delighted by 'Graffiti Soul' as Simple Minds look set to kick start a surprising new chapter in their history with arguably their best album for years.
****
Review by Pete Feenstra

---
| | |
| --- | --- |
| | Print this page in printer-friendly format |
| | Tell a friend about this page |