Guitar maestro broadens appeal whilst still beating his whammy bar into oblivion...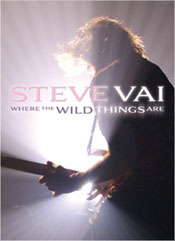 What does the near 3 hour 'Where the Wild Things Are' DVD tell us about Steve Vai that we didn't already know?
Perhaps the simple answer is that he wishes to show us that he is in fact a multi-facetted performer who takes as much pleasure in making a real connection with his audience on both an emotional and humorous level as he does astounding them with his technique.
Guitar fans will relish the plank spanking and any self respecting rock fan will relish the chops of an innovative band that features two violinists and well as two guitarists.
And on the evidence of this concert even the most reticent music fan will at some stage have to hold their hand up and acknowledge that Steve Vai is indeed a phenomenon. But if there is one aspect to this immaculately played project that stands out it is that Vai is on a mission to make his music a tad more accessible in a number of different ways via his own concept of entertainment.
For example, he dazzles us with colourful stage costumes and subtle lighting nuances - including everything from illuminated guitars to a brief but full blown psychedelic freak out on 'Murder'. The latter is probably the closest we will ever get to knowing just what is actually going on in his imaginative mind.
Then there are cameo moments such as the spontaneous artist to camera interaction, or the mid-set self deprecating subtitles and even a humorous section showcasing his hard working drummer Jeremy Colson, who slips from behind the kit for a 'Beastly Rap' with Steve, complete with a mobile percussion/drum harness.
Throw in an acoustic section and brief interludes from all the front line players and you have the requisite pieces of a compelling musical jigsaw puzzle. The point is that Vai may never wholly embrace restraint when it comes to his incredibly fast and intense solos but on 'Where The Wild Things Are', he's made good stab at broadening his appeal.
So while his stage presentation is flamboyant, and his playing meticulous, he is always the perfectionist restlessly exploring different tonal colours, swapping guitars and occasionally beating his whammy bar into oblivion while attempting to find that extra essential sound.
He employs tempo changes and conversely breaks pieces down to make space for some deep toned notes and occasionally engages members of his band for some inspirational interplay. On the Proggy flavoured, acoustic led 'All About Eve' he adds a rare vocal outing making good use of Ann's violin and her effective call and response bv's.
There's some equally stirring interplay between the two violins, two acoustic guitars on the beautifully voiced 'Angel Food', suggesting Steve has one eye on the dynamics of the show as a whole. And while any predominantly instrumental set would struggle to retain anyone but the most committed fans' unbroken attention, Vai is to be commended for trying to overcome the barriers in a number of innovative ways.
Of course there's plenty of guitar mangling as he delights in re-jigging old favourites like 'Die To Live' and 'Freak Show Excess'. He also explores some incredible tonal range on 'The Murder' and uncovers a wonderful melody of the heart of the anthemic 'Whispering A Prayer'.
But it's the band as a whole that equally takes the honours as each member brilliantly acts as a foil for Vai's technical brilliance. Second guitarist Dave Weiner for example, provides incredible support to Vai throughout and duly gets his own moment in the spotlight on his own album title track 'Shove The Sun Aside'.
And while the rhythm section of Bryan Beller on bass and drummer Jeremy Colson are a powerhouse, it is inevitably the unique double violin axis of Ann Marie Calhoun and Alex De Pue who hog much of the limelight. Indeed they push Vai to new limits of intensity as they float seamlessly between doubling on keyboards and providing occasional double and triple lines with Vai as well as adding a colourful additions to his strongest melodies.
There's so much good stuff here. The whole concert succinctly appraises Steve Vai's oeuvre, even finding time to reference both of his mentor's Frank Zappa and Joe Satriani while retaining his own signature style.
'Where The Wild Things Are' may be totally over the top, but in the capable hands of Steve Vai, the music finds its equilibrium in a genuine artist/audience connection that the intimate State Theatre in Minneapolis lovingly makes possible.
*****
Review by Pete Feenstra

---