KATY LIED Echo Games (2009)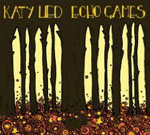 We Liked Katy Lied's debut Late Arrival (2008) here at GRTR! A lot.
With their Steely Dan derived name and a 1970's Southern Californian sound (albeit with a Northern England twist), it was a throwback to better days. Proper songs, great hooks, and no trickery. Just good, wholesome (soft) rock full of Byrds style harmonies.
The band's second album - Echo Games - has been quick in coming. And the addition of Katie Hartnett on lead vocals to the core line-up of Duncan Hamilton (songs/guitars), Ian Thomson (bass) and Paul Burgess (drums) has shifted the dynamics of the band and given them a whole new sound.
Once again, Nigel Stonier is back in the production seat, Thea Gilmore contributes background vocals on several tracks ('Echo Games', 'Piece By Piece', 'Watch This Space'), and acclaimed Nashville pedal steel player Al Perkins makes a guest appearance on two tracks ('Echo Games' and 'Sun Comes Out').
At first blush you'd be hard pressed to spot this was the same band. Katie's vocals provide a new focal point, but thankfully the country/soft rock style full of chiming guitars and vocal harmonies is still there.
In many ways the sound is reminiscent of the likes of River City People - a wonderful Liverpool band who star burned all too quickly in the late Eighties. A case of right band, wrong time.
Bringing in a female vocalist and with Nigel Stonier retained as producer, comparisons with Thea Gilmore are inevitable. Two tracks in particular, - 'Piece By Piece' and 'Watch This Space' have her name - circa 'Rules For Jokers' and 'Avalanche' - running through them as surely as a stick of Brighton rock. It makes you wonder whether Thea Gilmore sounds like Thea Gilmore, or whether it's hubby Nige who masterminds her sound.
But the Gilmore comparison is a compliment. Elsewhere, the opener and title track defies you not to get sucked into the infectious chorus line, 'Mr Vertigo' brings to mind Chrissie Hynde singing over an Eagles backbeat, supplemented by early Texas slide guitar, and 'When it Rains' shows a new harder edge - a bit like one of Heart's folk based blues rock interpretations.
The complete absence of any lyrics, songwriting or playing credits is an unfortunate omission, although perhaps the final version will come with a booklet? There's little doubt, though, that Echo Games will go down well with fans on both sides of the Atlantic, and it would be nice to see the new line up tackle some of the excellent material on their debut release. This whole set is simply top notch folk rooted pop/rock.
***½
Review by Pete Whalley

---
| | |
| --- | --- |
| | Print this page in printer-friendly format |
| | Tell a friend about this page |