SAXON Into The Labyrinth SPV (2008)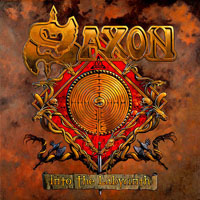 Things are definitely looking good for Saxon right now; well they have for the last couple of years. While the albums of 8-10 years ago had some great moments, the albums didn't flow from beginning to end like they do now, and this seems to have coincided with the return of long-time drummer Nigel Glockler.
Guitarist Doug Scarratt and bassist Nibbs Carter have now been in the band so long (alongside singer Biff Byford and guitarist Paul Quinn) that the whole set up is a very well oiled machine now.
The recent tour as special guests to Motorhead proved just how good things are, especially when they debuted tracks from this album. Saxon may have started a NWoBHM band but now are solid, smooth power metal / rock'n'roll with modern solid production that still nods back at their roots. And boy do they sound good on it.
The album opens with an operatic power metal intro that builds to "Battalions Of Steel", a strong heavy and fast metal number, the perfect album opener. "Live To Rock", already played live and released of a single. The intro is very reminiscent of "Solid Ball Of Rock".
Saxon have often taken a historical angle to their lyrics, and that's explored with that opening track, "Demon Sweeny Todd" and "Valley Of The Kings". There's also some deep lyrics in "The Letter" and "Voice", the power metal, the rock'n'roll, and in "Slow Lane Blues" some blues metal obviously. In that latter track Biff laments being pulled over for speeding in France.
"Hellcat" is a fast yet catchy number, one that definitely got good raves on recent live outings. Outrageous guitar solos too, that match the intricate guitar interplay of earlier songs. Back to the rock'n'roll for "Come Rock Of Ages".
The album finishes with a bottleneck blues version of "Coming Home" (If you've heard Whorehouse Blues by Motorhead you'll get the idea), some great slide guitar. It's apparently a taster of a forthcoming acoustic album. Looking forward to that.
There is a planned 14th track, to be made available download only on the day of the album's release.
Throughout the album Biff's voice remains strong, whatever angle the band take, there's something here for Saxon fans new and old, and for most metal fans. Having met the band several times I can honestly say they are the nicest guys around and this album reflects that, in the heaviest possible way.
It's only January 2009 and we already have a contender for album of the year. Yes I'm a fan, but if I listened to this album blindfolded I'd buy it anyway.
Unmistakably Saxon, remarkably good.
*****
Review by Joe Geesin

---
---
| | |
| --- | --- |
| | Print this page in printer-friendly format |
| | Tell a friend about this page |