---
To quickly find what you're looking for use the box below.
Use ALT and S on your keyboard to continue searching on a particular keyword
---
The moment I was informed by the people from Season Of Mist that the tour for the promotion of "Ordo Ad Chao" would take place in the absence of a tour manager, I envisioned my chances of doing an interview with Mayhem's axeman Blasphemer slowly fading away.

With a stroke of luck only to be found in the movies, I managed to find myself in the backstage area of the Islington Academy where, on the evening of the 21st of February 2008, I conducted what can be described one of my most pleasurable interviews to date.

With disarming honesty, the main composer of Mayhem described the experience that led to the creation of Mayhem's last opus, his unique musical relationship with vocalist/legend Attila Csihar and explained why none of you should be really surprised if you were to see...Bugs Bunny on stage during a Mayhem show!
---
Doing an interview with Primordial's frontman Alan 'Nemtheanga' Avarill was something that I had been looking forward to for quite a while now.

Following the release of the band's sixth studio album "To The Nameless Dead" and their live appearance at the London Underworld, I managed to catch up once again with the Irish bard, and though the interview was interrupted by several colourful interruptions by various people availing themselves of the venue's backstage area,

I believe that I have managed to get Alan to share some important thoughts with regards to the band's latest effort, their general aims and also to share with him a few observations of my own.
---
Those of you who know how the music industry works are quite aware that things never go according to plan when interviews are concerned - still, I have to admit that the six month period that I spent anxiously waiting for an interview with Agent Steel will be almost certainly considered for the ultimate delay prize.

Well, even though some of my questions may now sound somewhat out of date to you, this interview is still important in the sense that it provides a clear insight into the lives of one of the most cult Thrash/Speed Metal outfits of the 80s and also enables you to learn more about the band's latest effort "Alienigma".
---
If you like Progressive Metal and you live in London, chances are that you have seen the Oxfordshire-based outfit To-Mera at least once in a live environment. Well, these young looking but much experienced talented musicians are currently celebrating the release of their second full-length album "Delusions" and axeman Tom MacLean was kind enough to take the time to answer a few questions regarding this new release, the band's general approach and attitude towards music and their plans for the future.
---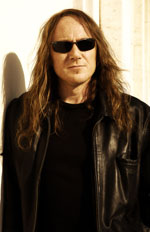 GAMMA RAY
When you realise that you have been assigned to interview a musician whose contribution to Heavy Metal is simply impossible to describe in plain words, and the given time to complete this difficult 'mission' is more or less ten minutes, it is almost certain that you will find yourself in a complete state of panic and confusion.
---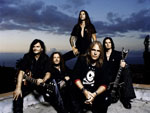 HELLOWEEN

There were a few people that I spoke to in the past who claimed that Michael Weikath, guitarist and founding member of the legendary German Power/Heavy Metal outfit Helloween, can be a very moody person when interviewed, yet the person I ended up speaking with for more than twenty minutes was one ofthe most pleasant and wittiest musicians that I've ever met.
---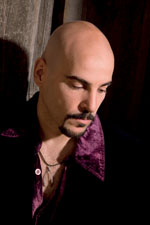 DEADSOUL TRIBE

Interviewing Devon Graves, frontman and leader of the unique atmospheric outfit Deadsoul Tribe, is one of the most intimidating experiences that any music journalist can ever expect to undertake.
That's not because he is a difficult person to talk to - on the very contrary: Devon has so many interesting things to talk about, indulging in topics such as Music, Religion and life in general that it's easy to loose track of what is being said and of any sense of control over where you want the interview to end up!
For the benefit of our readers, seeing as this is a unique opportunity to understand a few things about this great artist, my colleague Emily Dgebuadze and I decided to provide you with the full script of the interview that took place at the Backstage area of Colos Saal (Aschaffenburg/Germany) on the evening of the 6th of December 2007. Enjoy!
---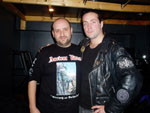 MARDUK

It is very easy to feel intimidated when you stand in front of the gigantic-looking Morgan Hakansson, guitarist and founding member of the Swedish Black Metal outfit Marduk, but one thing that you are soon to discover is that he is one of the friendliest and most outspoken artists you can ever expect to meet these days.
With a behaviour both warm and disarming, Morgan spoke about his band's latest effort 5:12, explained the process based on which Marduk's music is created nowadays and gave an insight into his band's heavy touring schedule that's to come in the next few months.
---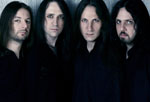 NOVEMBRE

I really enjoy interviewing musicians who are passionate about their music and that is the exact impression I got while talking to Carmelo Orlando - frontman and guitarist of the Rome-based Progressive/Doom Metal quartet Novembre. With a justifiably growing confidence that's attributed to the release of his band's latest breathtaking effort 'The Blue', Carmelo was eager to give an explanation of the process based on which this album came to life, Novembre's common musical roots with other atmospheric outfits such as Anathema and Katatonia and finally provide an explanation behind naming one of the best compositions of the album 'Triesteitaliana'.
---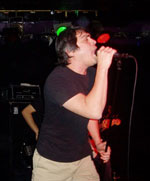 FATES WARNING

Attending a Fates Warning gig has been anything but an easy task in the recent past, with getting there involving taking a train or a plane. With a that in mind, you understand how happy I was when I realised that, this time round, it would only take a twenty minute drive to reach the London Underworld - the venue where the US Progressive Metal Wizards were to give their first gig on English soil in years. Prior to attending that amazing show, I managed to get the band's frontman Ray Alder to tell me a few things about the latest re-issue of "No Exit", the band's plans for the future and express his frustration for the maltreatment of his personal project Engine.
---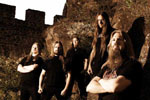 AMON AMARTH

Amon Amarth are definitely amongst the hardest working bands in the metal scene.
It was less than six months ago that I last saw them live in the UK supporting Fintroll and today they will once again open for another band, namely Dimmu Borgir. In the relatively comfortable surroundings of the band's tour bus, located in the parking area of the London Forum, and with the sounds of Olavi Mikkonen's guitar filling the air, I spoke with the band's gentle giant and frontman Johan Hegg about their upcoming US tour, the unprecedented success of their triple DVD "Wrath Of The Norsemen" and their plans for the future.
---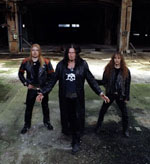 DESTRUCTION
When I wrote my review for the last Destruction release Thrash Anthems I knew that I should soon expect some reaction from the band and when the opportunity to do an interview with the band's frontman Schmier appeared, the tall German took complete advantage of it, as you will read below. Anyway, everybody is entitled to their opinion I guess, so what you should really be bothered with is to check out what the latest news are from the Destruction camp and also what you should expect to hear from Schmier's cult project Headhunter in the near future.
---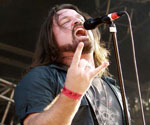 SYMPHONY X
Things do not always go according to plan when interviews with bands are involved, so I had to wait until eleven o'clock on the night of the 13th of October in order to conduct this interview with Russell Allen - frontman of the US Prog Metallers Symphony X.
Having enjoyed the approval of a predominantly Dream Theater audience a few hours ago, Russell was more than happy to talk about the band's latest studio release "Paradise Lost", its' connection with John Milton's epic poem and its relevance to some of the singer's personal experiences, as well as his willingness to invest a large amount of money in the band's stage performances, providing that someone would be willing to invest, in turn, in the band.
---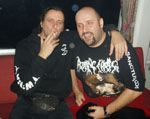 SODOM
I was looking forward to attending the second Metal Cruise festival for many good reasons. Apart from meeting up with some really good friends from Germany and a few litres of good quality beer, as well as some amazingly tasty food, I would finally be given the opportunity to interview one of my childhood musical heroes - Sodom's frontman Tom Angelripper. In the noisy backstage' area of the now legendary M/S Drachenfels, I spoke with the friendly frontman about the band's latest release 'The Final Sign Of Evil', the band's current plans and the possibility of seeing the explosive Thrash Metal package that is Sodom, Kreator and Destruction on British shores.
---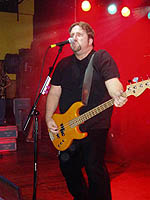 SACRED REICH
The only one time that I managed to see Sacred Reich live in Athens was back in 1991, during the promotional tour for the 'American Way' album, and seeing as that specific gig was not performed under the best of circumstances, I always felt that I deserved another opportunity to see the Arizona-based quartet again.
That opportunity was presented to me on the 29th of July 2007, when I was one of the lucky few to see the band performing some of their most classic songs at the London Scala. Hours prior to the show, I met up with the band's frontman Phil Reid who gave me a sound reason as to why this four-date tour is not going to see Sacred Reich re-entering the music scene.
---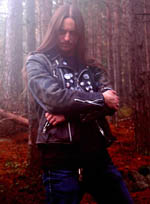 DARKTHRONE
Being a devoted Darkthrone fan was not the only reason why I was looking forward to conducting this interview with the band's skinsman Fenriz. Two months prior to the release of the band's latest album, a four track EP entitled "New Wave Of Black Heavy Metal" has manage to create such a stir that some important questions needed to be asked.
In between listening to some of his favorite tracks and angrily expressing his contempt towards the representatives of today's modern music scene, the founding member of Darkthrone found the opportunity to explain how "F.O.A.D" came to life and also to promote some of his favorite bands.
---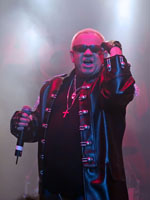 UDO
When the legendary German outfit Accept decided to split up back in 1987, many people, myself included, felt that a great chapter in the history of Teutonic Metal was finally closed.
Well, it looks like vocalist UDO Dirkschneider had other plans in stall for us, having since created a number of successful albums under his moniker, the latest of which is a modern-sounding heavy metal release that goes by the name 'Mastercutor'. After a very pleasant chat which included subjects such as beer, schnitzel and the current borders of Germany, the friendly frontman revealed to us the secret recipe behind 'Mastercutor', his plans for the future and the prospect of witnessing another Accept reunion.
---
ScornGrain
Hearing ScornGrain's latest release "0.05%" was my first experience of the band and it is an album that, for me, is more memorable than many others because it is slightly outlandish. Anything out of the ordinary sparks my curiosity so I demanded some answers to my burning questions from vocalist B.B.Enema.
---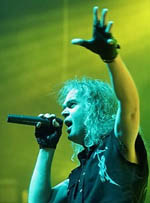 Grave Digger
Some of the most enjoyable experiences in my life have happened by accident. On the early afternoon of the 21st of January I headed towards the London Mean Fiddler knowing that I would be interviewing a member of Therion, but when I saw Chris Boltendahl (vocals) enjoying a drink in the foyer of the venue, I realised that this would be one of the few opportunities for me to Interview Grave Digger's frontman on English soil.
Friendly and in good spirit, Chris talked about the band's latest release 'Liberty Or Death', their experiences touring with Therion and their plans for the future.
---
Deicide
When it comes to Death Metal legends Deicide, problems are always part of the general equation. This band has survived bomb threats from Christian Organisations, police arrests and changes in their original line up, and as drummer Steve Asheim told me in the dining area of the London ULU, not even the absence of frontman Glenn Benton is capable of stopping the Deicide machine from spewing its lethal melodies to the unsuspected listener. Well, I was indeed really looking forward to talk to Glenn that evening, but Steve's friendly manner and general attitude made it all worth while.
---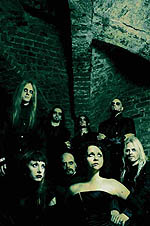 Therion
When I realised that my original telephone interview with Johan Niemann, Therion's bass player was inaudible, I was totally devastated! I knew that I had to find another way to ensure that "Gothic Kabbalah", the band's latest effort, was presented through our website, and the opportunity occurred on the 21st of January.
On the ridiculously small backstage area of the London Mean Fiddler, I met with the band's mainman Christofer Johnsson, who proved once again not only to be a very friendly and down to earth artist, but also a man with a clear musical vision.
---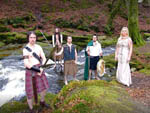 Cruachan
It is not really difficult for me to explain the reasons that led me to conduct this interview with Keith Fay, axeman and vocalist of the Irish Folk Metal outfit Cruachan. Apart from being one of the friendliest and most down to earth musicians that I have ever met, Keith is also the main composer behind The Morrigan's Call" – one of the band's best efforts to date. If you are interested to find out the extent of the problems that some bands have to go through in order to simply release their work, then read this interview.
---
Shade Empire
I had a few questions for melodic dark/black metallers Shade Empire about their latest release Intoxicate O.S. and about their band experiences in general, and their plans for the future.
---
Deathbound
Deathbound recently re-released their excellent debut album "To Cure The Sane With Insanity", so vocalist Kai Jaakkola had some questions to answer regarding the re-release, as well as the new album due out soon and their plans to tour.
---
Reverend Bizarre
Saddening though it is to hear that a favourite band is splitting up, I've always thought it better that a band split than continue to the detriment of their creativity and - in some cases - sanity.
So yes I was disappointed to hear that Reverend Bizarre's career would shortly be coming to an end, but there are already the stirrings of a baby phoenix or two in the embers (not quite ashes, not quite yet) as the band members are beginning to work on new projects. I contacted guitarist Peter Vicar to find out more...
---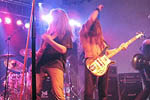 Isole
I will always remember Doom Shall Rise 2005 with fondness, and among the many great bands I discovered that weekend were Isole (formerly named Forlorn) whose career I've been following ever since, so I was delighted to get the chance to review this year's release, 'Throne Of Void' and I wanted to ask the band a few questions about how they enjoyed making the album and what the future holds for Isole.
---
Twelve Tribes

To paraphrase Robert Burns in his poem "To A Mouse", "the best laid plans of mice and men, often go awry". So I pitched up outside the Astoria ready to interview Twelve Tribes but it was not to be that night - troubles with their tour bus had delayed them on their journey into London. The band did, fortunately, manage to make it in time not to disappoint their fans. I managed to contact guitarist Andrew Corpus at a later date to give me some answers to my questions.
---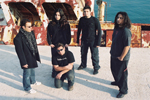 Wastefall
Wastefall released their third album 'Self Exile' earlier this year. I asked guitarist and vocalist Alex Katsiyannis lots of questions in order to find out a bit more about his background, what the music scene is like in Greece, and how he keeps positive when things go wrong, how they come up with their ideas and what Wastefall have planned for the future.
---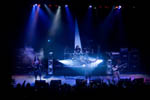 Zero Hour
Guitarist Jasun Tipton is a man of many talents, featuring in Zero Hour, Death Machine and also his self-titled side project - as well as making instructional DVDs - so he had plenty to tell me when I asked him about Zero Hour's latest release, "Specs Of Pictures Burnt Beyond", as well as his other projects.
---
Amon Amarth
My friend and Get Ready To Rock! colleague Emily D last got the opportunity to speak to Amon Amarth drummer Fredrik Andersson shortly after the release of 'Fate Of Norns', and they're one of my favourite bands so I found it was especially interesting to do a follow-up interview with guitarist Olavi Mikkonen about the slightly new direction the band is going in with their stonkingly-good latest release, 'With Oden On Our Side', and their recent touring experiences.
---
White Skull
Having first recorded a demo tape in 1991 which got both public and press buzzing, 15 years later the Italian power metallers White Skull are back with their seventh studio album, 'The Ring Of The Ancients'. I spoke with Tony 'Mad' Fontò, guitarist and one of the founding members of the band, about why he is so pleased with this latest effort and their plans for touring.
---
Vicious Rumors
Long-standing metal warriors Vicious Rumors have just released their first album since 'Sadistic Symphony' in 2001. I was delighted to get the chance to speak with Geoff Thorpe not only about the past, but what brought the band to where they are at present and their future plans, including recording the latest album 'Warball', the worldwide tours and further plans for touring in 2007.
---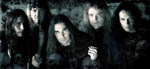 Circle II Circle
Interview with Zak Stevens.
---
Jon Oliva
Jon Oliva has never been someone that shies away from the issues of the day so I was honoured to get the chance to interrogate him about the fascinating subjects raised in 'Maniacal Renderings', the new album from Jon Oliva's Pain, as well as discussing his experiences with Savatage and the Trans-Siberian Orchestra.
---
Abandoned
Having heard "Thrash Notes" earlier this year, I wanted to ask Abandoned a few questions about where life is taking them. Kalli took some time out to give me some answers and tell me a few things about their past, present and future, including their plans to release a new album in spring 2007.
---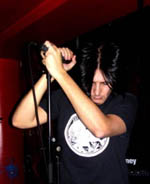 Battlewitch
It's always good to meet fellow music enthusiasts, especially when those people go beyond the call of duty to boost the underground music scene, as well as being in a damn fine band.
I caught up with rising stars Mazz (vocals) and Kev (drums) of the mighty Battlewitch to mull a few things over.
---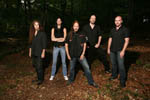 Hammerfall
I managed to spend a few moments on the telephone with Oscar (lead guitar) when he recently did a promotional tour of Hammerfall's new album, 'Threshold'. Other than discussing the making of the album, I gave him the chance to defend Hammerfall against the nay-sayers, as well as asking him about his experiences as a long-standing musician.
---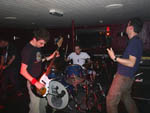 Mothertrucker
After having heard Mothertrucker's excellent mini-album, "Electric Blacksmith", I wanted to find out a bit more about the band, so I managed to track down James from Mothertrucker to answer my interrogation.
---
Necrophobic
It always seems much easier doing research on a band whose music you enjoy, so I was pleased to be asked to come up with some questions for Necrophobic to answer after I'd had the pleasure of reviewing their latest album, "Hrimthursum".
After some digging I found some interesting background details and views, and asked Sebastian (lead guitar) to explain a few things in more detail.
---
Raising Fear
Raising Fear have just released their excellent new album 'Avalon', a complex concept piece, and the band's Yorick opens up about the set.
---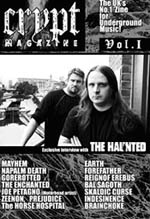 Crypt Magazine
For those unfamiliar with Crypt Magazine, it is (as the name suggests) an underground magazine which is not available in high street newsagents. Since Crypt was never intended as a weekly or monthly, it encompasses more in-depth interviews than the average periodical.
Terrorizer is a UK-based monthly magazine about extreme music. I turned the tables on it's creator, Dayal Patterson, and asked him for an 'insider view' on music in general and how his experiences within the music industry as a freelance photographer and journalist, and writing for Crypt and Terrorizer have shaped his opinions. See below for details of Dayal's distribution and his photographic portfolio.
---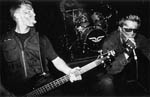 Arnocorps
After the release of their debut album 'The Greatest Band Of All Time' earlier in the year, and a gruelling tour in the Unites States of America, Arnocorps flew over to this side of the pond to begin touring the UK.
I was curious to find out more about this madcap band, so I hot-footed it down to the Dublin Castle in London where they kindly gave me a few moments to chat with them before their gig.
---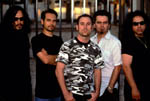 Armored Saint
I was really taken by surprise when I found out that Armored Saint were to give a performance at the London Underworld.
Having not released an album for the last five years, this gig raised not only hopes for a most-desired comeback, but also my curiosity. An hour after the show was over, I found myself doing an interview with the band's bassist Joey Vera, who had quite a few interesting things to say!
---
RAM
RAM have been around since 1999 and have been impressing the crowds at venues throughout Europe, particularly at the metal festivals Keep It True and Headbangers Open Air. After the initial splash caused by their EP, "Sudden Impact" in 2003, RAM are back with a blistering debut album, "Forced Entry".
RAM are all about uncompromising Heavy Metal and I caught up with vocalist Oscar Carlquist to find out the whys and wherefores of RAM's philosophy towards music and their plans for the future.
---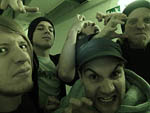 Neaera
Passionate, hard-working, lucky - it looks like all three adjectives are more than fitting in order to describe the German outfit Neaera, according to the band's axeman Stefan Keller.
Even though his band had only just returned from their most recent European tour, supporting Caliban, the friendly guitarist did manage to find enough time to answer my questions regarding the band's second album "Let The Tempest Come", their tendency to stay away from trends and their plans for the future.
---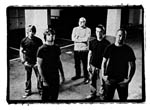 Apiary
Although the mysteriously-named Apiary have just released their debut album, 'Lost In Focus', they were actually formed in early 2005 and the bandmates have been working together for years.
Having just come off an intensive 29-date tour in the United States of America, Peter Layman (guitarist) took some time out of his hectic schedule to explain a few things about the band's outlook and his own, including how it feels to be releasing their debut album, the practical side of being in a band, playing live, and what comes next for Apiary.
---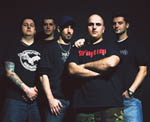 Cataract
Are the words high energy, groove, heaviness and brutality important in terms of defining the music that you like? If that is the case, you should perhaps consider checking out 'Kingdom', the second full-length release from Swiss metalcore outfit Cataract.
Guitarist Simon Fuellemann sounded quite happy and confident about his band's new album, and spoke about their time at Antfarm Studios, their experience of working with Tue Madsen, and gave us a few insights as to what can happen to a band while on tour!
---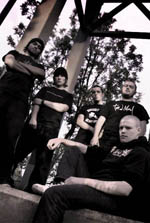 Kingsize Blues
I believe that it was Ian 'Lemmy' Kilminster who once said that Rock n'Roll demands sacrifices, and one band who really lives and breathes according to this rule is the London-based outfit Kingsize Blues.
Having only recently released their four track E.P 'Live Fast and Die' via Anticulture Records, these five Londoners seem ready to take on the world, and Tori Lucion (drums) and Tom Hannessy (vocals) were happy enough to confirm my suspicion.
---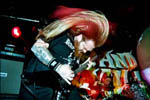 Blood Island Raiders
It is unlikely that Heavy Metal fans living in London haven't at least heard of Blood Island Raiders. With an impressive list of live gigs under their belt, supporting such bands as Cathedral, Electric Wizard and Mastodon most of the London crowd will have seen them play their energetic live set. BIR are all about the metal, and I caught up with the surprisingly modest (considering his achievements to date!) Reverend Al (guitarist) to find out what exactly is going on in Raiderland. It turns out that they are recording an album as we speak to follow up on their previous work, with the possibility of a tour in the offing for you lucky, lucky people!
---
Koroded
With the German five-piece's latest album, 'To Have And To Unhold' due to be released in late March/early April followed by a 31-date European tour, it seemed wise to ask Koroded's vocalist Jan Röder a few questions whilst he still has a moment to himself. He took the time to tell me about his good and bad experiences of being in a band, his musical and lyrical influences and his love of music generally.
---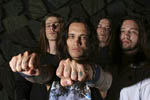 Ektomorf
One word that definitely describes Farkas Zoltan (Guitars / vocals), frontman of the Hungarian metal outfit Ektomorf is passionate. A few minutes after having finished their set, opening for Children Of Bodom, I met the friendly musician at the backstage rooms of the London Astoria.
With the excitement of an eighteen year old, he explained how Ektomorf managed to overcome all the difficulties in the beginning of their career, his satisfaction with the success of the band's latest release 'Live and Raw', and a few tips about the band's upcoming studio release "Outcast".
---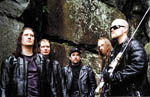 Bal Sagoth
I still hadn't quite managed to recover from the shock of listening to an album of the unique nature of "The Chthonic Chronicles", when I realised that I was given the opportunity to interview Byron, Bal Sagoth's frontman. Now, I was quite convinced that a person who had the ability to create his own fantasy world through his lyrics, would have many interesting things to say, and this interview proves how right I was. Welcome to another dimension!
---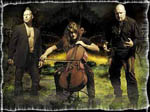 Rage
Twenty years in the music business may seem like a lifetime to most of us 'mortals', but it seems that for Peter 'Peavey' Wagner, frontman of the Teutonic metal outfit Rage, it is only the beginning. Days before the release of his band's latest studio effort 'Speak Of The Dead', the German Scull Hunter spent thirty minutes of his precious time answering my questions about the musical direction of this new album, the band's touring plans, as well as sharing some of his band members unusual experiences and hobbies.
---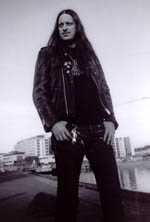 Darkthrone
I must admit that I was originally a little bit worried about how this interview with Fenriz would finally go, seeing as he was often described to me by fellow journalists as a difficult character.
Now as I sit back, reading through this text, I realise that the skinsman of Darkthrone is not a difficult character at all, but simply a man who is not willing to compromise his artistic integrity.
---
Undertow
I must admit that I was originally a little bit worried about how this interview with Fenriz would finally go, seeing as he was often described to me by fellow journalists as a difficult character.
Now as I sit back, reading through this text, I realise that the skinsman of Darkthrone is not a difficult character at all, but simply a man who is not willing to compromise his artistic integrity.
---
Hellfueled
Swedish rockers, Hellfueled, recently released their second album, 'Born II Rock'. Despite the cliched title, it is one of the year's most surprising good releases. I recently had a chance to catch up with Hellfueled's six string slingers, Jocke, who was more than happy to let us in on one of Sweden's best kept secrets, until now!
---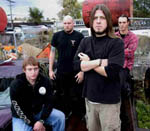 Hurtlocker
Hurtlocker have been around for quite a few years now. Finally they have laid down a brutal, ferocious slab of traditional death metal, with some modern leanings.
I recently caught up with vocalist, Grant Belcher and guitarist, Tim Moe, to get the low-down from Chicago's finest death metallers.
---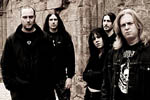 Bolt Thrower
When you have a band like Bolt Thrower releasing an album such as "Those Once Loyal", the least you can do is to commit yourself to do an interview. Well, after plenty of effort and a huge delay that was due to the fact that British Deathsters started the first leg of their European tour earlier than anyone had expected, I managed to get Barry 'Baz' Thomson (Rhythm/Lead guitar) to answer some of my questions. Well, it looks that, for a music journalist, I was treated with leniency after all!
---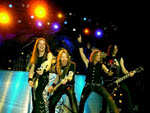 Edguy
It sounds quite extraordinary, but it looks like even a successful band such as the German outfit Edguy feel the need to experiment with their music. Their latest release "Rocket Ride" is soon to be released, and the band's friendly and quite amusing frontman Tobias Sammet is here to explain the band's latest approach to music, his plans for the future, as well as how a rejection from the opposite sex can become an artistic inspiration.
---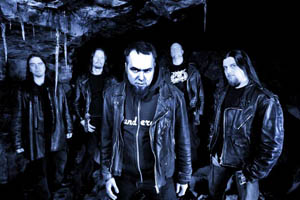 Angel Blake
It's been two years since the Swedish Death Metal outfit The Crown decided to call it a day, but some wounds have still not properly healed in the souls of their devoted fans. One of the few people who is capable of speeding up this process is guitarist Marko Tervonen, who continues serving the world of metal under the moniker of Angel Blake. How similar are Angel Blake to The Crown, and what is the friendly Swede's musical intentions? Well, read this interview and you will find the answers you are looking for.
---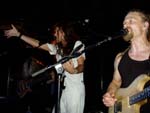 Pain of Salvation
Speaking to a the mastermind behind a band that produces excellent music, such as Pain of Salvation, is always a pleasure, but it is always so much more rewarding when the person you meet is also interesting, sociable and has a good sense of humour. The following is the result of a very enjoyable interview with Daniel Gildenlow, Pain of Salvation's charismatic front man.
---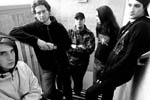 Machinemade God
It seems that it has become a common practice between music journalists to label as metalcore every outfit that tends to bring to their music elements from both the hardcore and metal music genres.
Now, this may satisfy the promotional needs of some bands, but it certainly doesn't seem to please Flow Velten, the frontman of the German outfit Machinemade God.
In the interview that follows, the friendly vocalist presents us with his beliefs regarding the name of the band, religion in general, and his band's wish to perform the material of their latest album ""The Infinity Complex", at the four corners of the earth.
---

Torture Killer
Having recently added in their ranks the legendary frontman Chris Barnes (Six Feet Under / ex-Cannibal Corpse) and with their mind really focused on creating some skull crushing US-sounding Death Metal, the Finnish mid-tempo wizards Torture Killer are about to release their menace on the world through their second full-length album "Swarm".
I had the pleasure of doing an interview with Jari Laine, during which, the friendly guitarist explained how it feels to play in the same band with a living legend, and why we should never give up on our dreams!
---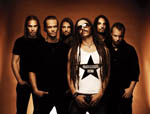 Amorphis
When you have to cope with the departure of your long-term frontman (Pasi Koskinen), and witness the almost nonexistent promotion of your previous album release ('Far From The Sun'), then you are left with two options – either to call it a day, or release one of the best albums of your entire career.
I am really happy to say that the Finnish atmospheric sextet Amorphis have chosen the second option, which lead to the birth of the amazing ''Eclipse''. In a short but quite meaningful manner, founding member Tomi Koivusaari talks about all those great things that are happening for the band nowadays, and explains how Amorphis managed to bring together the 'old' with the 'new'.
---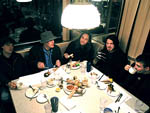 3
When I first got introduced to Wake Pig, I came to the conclusion that this very unusual but quite challenging album was a product of a group of people that are well aware of both their capabilities and intentions.
Well, this interview with Joey Eppard, the band's frontman, was indeed all the proof that I needed in order to support such arguments. If you appreciate bands that are not afraid to sacrifice any chance of temporary success in the altar of artistic expression, then continue to read these lines.
---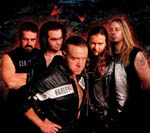 Centvrion
German metallers Centvrion have recently released their 4th album; 'Invulnerable'.
A modern fresh slab of Teutonic melodic power metal, which should see the band step up to the next level. We recently got a chance to find out some more about the band and what's happening inside their world. I had the pleasure of chatting with guitarist, Luciano Monti, who offered some insights into recent Centvrion happenings.
---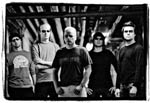 Callenish Circle
Up until a year ago, my relationship with Patrick Savelkoul, vocalist and founding member of Callenish Circle, was strictly professional. The release of the band's 5th studio album "Pitch Black Effects", though, allowed me to become better acquainted with the frontman's artistic side, and brought this relationship to a whole new level. Patrick was very generous in answering my questions, and more than eager to prove that there are some Dutch extreme metal bands that are not afraid to experiment with their music.
---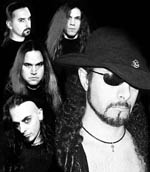 The Bronx Casket Co
You are probably familiar with the image of him waving his long ponytail and releasing his vengeful bass guitar tunes on unsuspecting audiences throughout the world.
When he is not touring with Speed/Thrash Metal legends Overkill, though, Carlo (also known as DD) Verni spends his limited free time working on the Goth Metal project The Bronx Casket Co, who have only just released their 3rd studio effort "Hellectric". We all have a dark side that we need to explore!
---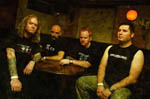 Criminal
Some people say that "Fortune favours the daring". I have to admit that I was always supportive of this idea, and today I am presenting you with the perfect example: that of Anton Reisenegger – frontman of the Chilean-formed outfit Criminal. After a few ups and downs, that only strengthened the band's will and determination, Criminal have released their latest opus "Sicario". If you like traditional Thrash/Death with a slightly modern "touch", then this is an interview for you.
---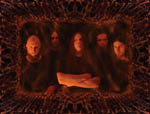 Paths Of Possession
When it comes to explaining the purpose and musical vision of Paths of Possession, founding member Randy Butman (bass) is more than capable of providing the right answers - ones that will make us understand why this US outfit deserves our full attention.
If the question is whether this quintet, with the well-known frontman George "Corpsegrinder" Fisher (Cannibal Corpse) in their ranks, is capable of producing enough noise to satisfy the fans of extreme metal, the answer lies in the twelve compositions that compose their second full-length album "Promises in Blood".
---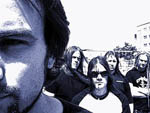 Construcdead
If any past attempt to invest in the music of Construcdead left you with the impression that they are just another Soilwork-influenced outfit, then you probably haven't yet listened to their latest full-length release "The Grand Machinery". Pure Metal offered it's hospitality to guitarist Rickard Dahlberg, who explained how the recent changes in the band's outfit helped them release one of their heaviest albums to date.
---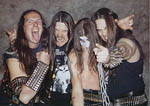 Desaster
For most Metal bands, the Underground scene is the first step towards higher recognition and better CD sales. For the German extreme metal outfit Desaster, though, it seems that it is more like their natural environment. Taking advantage of the wonders of modern technology (e-mail), I managed to get the band's drummer Tormentor to talk about the band's latest "lesson in violence" that's entitled "Angelwhore", his impressions from the "Days of Darkness" festival, as well as his thoughts for the future.
---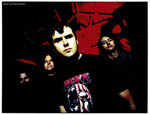 Napalm Death
It is almost impossible for any interview not to turn into a political conversation when the main speaker is Mark "Barney" Greenway – frontman of the legendary outfit Napalm Death. Apart from analysing the current political situation, we also managed to say a few things about the band's latest release "The Code is Red…Long Live the Code", remembered a not so pleasant incident with the Russian band Korroziya Mettala and to talk about his active role in a musicians union.
---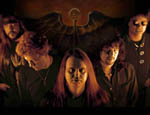 Shadow Gallery
How is it possible for a musician of Mark Zonder's (drums, ex-Fates Warning) status to participate in the recordings of an album without even knowing about it? Well, that was the least interesting thing that Gary Wehrkamp and I discussed a few days ago. Rushing back from work, and having avoided a couple of road accidents on my way home, I managed to be back in time in order to hear Gary talk about the recording process of Shadow Gallery's latest release "Room V", their current plans, as well as his pending fatherhood!
---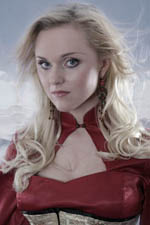 Leaves Eyes
I don't think that many fellow-journalists believed that Liv Kristine would continue to have a successful career after her departure from Theatre of Tragedy, but both her solo efforts as well as her work with Leave's Eyes has proved beyond any doubt that the charming Norwegian vocalist is doing equally well on her own. Following the birth of her son Leon Alexander, Liv has also another good reason to be happy, and that is the release of the second Leave's 'yes album "Vinland Saga". If you can appreciate some traditional Viking stories, accompanied by flutes, oboes and Liv's beautiful voice, then I think that you really have to read this interview.
---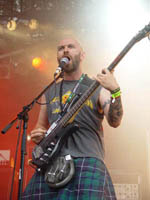 Gorerotted
It is true that quite a lot people, and most importantly Metal fans, are not that open to receiving new ideas. That's why Wilson, the bassist of the UK-based outfit Gorerotted, decided to put things straight about the band's direction and future plans music-wise in this interview.
---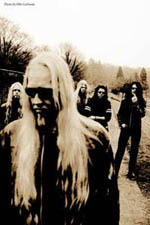 Nevermore
Well, it finally became true. After years listening to the music of Sanctuary and having been a fan of Nevermore from the very beginning, I managed to meet both Jeff Loomis (guitars) and Warrel Dane (vocals) on the Century Media offices in central London. There, sitting on a very comfortable couch, we talked about the band's sixth full-length release "This Godless Endeavor", their participation in the Gigantour with Megadeth in the States, Jim Sheppard's near death experience as well as the current situation in the States regarding drugs-related TV ads.
---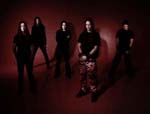 Norther
If you are one of those people who has given up hope ever since one of the founding fathers of extreme Metal passed away, there is a new wave of bands out there that are picking up the gauntlet and carrying on the tradition with a true northern sound. Hailing from Finland, Norther are one of those bands…
---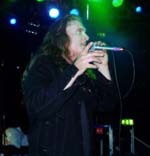 James Labrie
After having a "one on one" with Jordan Rudess earlier this year, I found myself interviewing another member of the Dream Theater family – vocalist James LaBrie. A couple of hours before he was to storm the stage of the London Mean Fiddler, I had a friendly talk with James about his new solo album "Elements of Persuasion", his upcoming tour with Dream Theater as well as why he is supporting the idea of banning smoking in public places!
---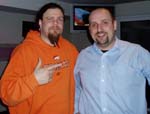 Meshuggah
Music journalists of the world, beware! Swedish noisemakers Meshuggah are back with a vengeance, and a forty seven-minute musical piece entitled "Catch Thirty Three".
In a central London hotel, guitarist Marten Hagstrom looked very relaxed and more than willing to explain the idea behind the band's new album, why the members of his band look like idiots when they go on stage, as well as his constant struggle to understand what the term "Math Metal" is supposed to mean!
---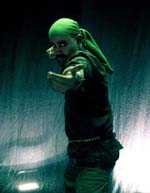 Falconer
Having experienced a live performance from Falconer a few years ago, and being totally aware of the true nature of their music, I would expect that an interview with the band's guitarist Stefan Weinerhall would have been quite light-hearted and relaxed. It seems, though, that all the recent changes in the band's line up, as well as the anticipation of the release of the band's latest full-length album "Grime Vs.Grandeur" are too important to him in order to be taken lightly. Being very precise in his responses, Stefan explained what we should expect from this new album and what the band's plans for the future are.
---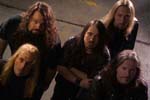 Jacobs Dream
The last four years have been quite difficult for the American Power Metal outfit Jacobs Dream, but it seems that their need of satisfying their artistic calling and their quite numerous fans was stronger than any wish to give up. Two years after its original release date, 'Drama of the Ages' is ready to go on sale and James Evans (bass guitar) is here to explain the reason for this delay and explain a few things about the band's third full-length release.
---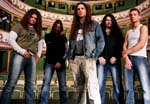 Brainstorm
Brainstorm is one of those bands that will definitely stick in your memory, especially if you're given the opportunity to see them live. Having really enjoyed their live performance at last year's Wacken festival, and with their new album 'Liquid Monster' ready to be released, I arranged a telephone interview with the band's guitarist Torsten 'Todde' Ihlenfeld. Torsten spoke to me about the band's future plans, their autumn UK mini tour with Saxon as well as his opinion about the new Judas Priest album.
---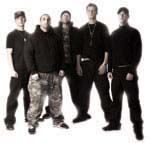 Born From Pain
Fancy learning about a band that has recently unleashed its latest release on the hardcore metal scene? Well, if that catches your eye and appeals to your ear, let me tell you that Born From Pain hail from the land where tulips grow in abundance. Yes, they also have a red light district!.. I interviewed Ché, their frontman, whose enthusiastic answers should put this band's positive attitude in context for you.
---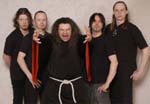 Candlemass
It is really amazing how some people simply refuse to grow old. I was a fifteen year old boy when I first met Messiah Marcolin, the singer of the Epic/Doom Metal act Candlemass, moments after a phenomenal gig at the Athenian Rodon club. Fifteen years later, the Swedish frontman was still as approachable and pleasant, and also exactly as I remembered him to be, but also willing to have a long conversation regarding the release of the new Candlemass album, his days in Memento Mori as well as his appreciation for the Greek Metal crowd and my country's tasty food.
---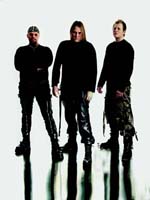 Communic
It may not be that often that you get to see a Power Metal band from Norway, but when it happens, it's normally something really worth waiting for. Having been around for the last two years, Communic has been described by quite a few people as Norway's answer to Nevermore. That sounds like a compliment to me, but let's see what one of the founding members of the band, guitarist/vocalist Oddleif Stensland, has to say about that.
---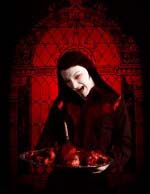 Powerwolf
If you are ever given the opportunity to talk to Matthew Greywolf, guitarist and founding member of the German Heavy Metal outfit Greywolf, you will probably realise what it was the that 'scouts' of Metal Blade saw in the band when they decided to offer them a contract. Powerwolf have only just about released their debut album 'Return in Bloodred', and I was more than happy to spend thirty minutes, trying to ask their axeman all the right questions.
---
My Dying Bride
The lengthy conversation that I had with Aaron Stainthorpe, singer of the British Metal outfit My Dying Bride was a once in a lifetime experience. I had a whole hour at my disposal, enough to ask Aaron about the band's latest release 'Songs of Darkness, Worlds of Light', the significant number of upcoming new releases as well as to get some useful insight into how the music industry really works.
---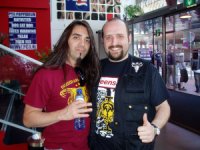 Fates Warning
Have you heard of the old saying 'If Muhammad won't go to the mountain, the mountain must come to Muhammad'? That saying is quite relevant in this case since both I and my fellow journalist Emily had to travel to the Netherlands in order to see Fates Warning headlining the second day of the Headway Festival.
Even though he looked completely exhausted from the preparations for this gig and having just finished with the band's sound check, Ray Alder was quite happy to answer the questions I had to ask in the few minutes he could spare...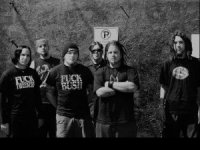 Bleed The Sky
Most new bands out there have difficulty determining what they want out of their music or the music industry. However, this was not the impression I received from Bleed the Sky, when I asked Noah, the band's vocalist, to tell me about the release of their debut album, 'Paradigm in Entropy'. He showed me the face of a self-aware and down-to-earth collective, which knows what it wants to achieve and how it intends to accomplish this.
---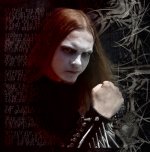 Crionics
By taking the decision to name themselves after a classic Slayer composition, Polish Black Metalers Crionics have managed to confuse a few people out there, but also to generate a lot of interest for their band. With the new release of Armageddon's Evolution, the band's second studio album, I have managed to arrange an interview with the band's leading member Waran. The friendly Pole was quite generous in his responses to my questions and proved once and for all that extreme Metal musicians have many really interesting things to say.
---
Maze Of Torment
Do you really need to be a thirteen-year-old band and have five studio albums in your suitcase in order to start getting recognised by the music industry? Unfortunately, this was the case for the Swedish Thrash Metal outfit Maze of Torment who have quite recently released their latest opus "Hammers of Mayhem". This interview with the band's vocalist Eric Sahlstrom made me once again realise that there are a few bands out there that take so much pride in their work, that they deserve all the respect they can get!
---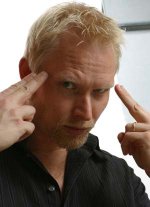 Space Odyssey
When we're talking about Space Odyssey, we're actually referring to the musical vision of one man - Richard Andersson. Taking full advantage of the fact that we're only a few off from witnessing the release of his band's second full-length album "Astral Episode", I managed to arrange an interview with this multi-talented artist.
---