I knew that sooner or later I would be given the opportunity to interview the Greek guitar legend Gus.G. Why? Simply because he is involved in so many different projects that it would be simply impossible not to do so. On the evening of the 2nd of February, I received a call from the beautiful city of Thessaloniki, the place where Gus grew up. The vibe was good, Gus was more than friendly, and this is exactly what was discussed about Firewindís latest studio release 'Forged By Fire'.
OK, Gus. You have been creatively involved in many different bands, but the purpose of this interview is to discuss the release of Firewindís latest studio album 'Forged By Fire'. The album was released on January 24th Ė what has been the reaction so far?
Gus: Yes, itís been almost a week since the release of 'Forged by Fire'and from what Iím told, itís been doing really well so far. Chity, our singer, lives in Germany and he told me that it is also doing quite well there. Same applies for Greece. Ah by the way, we will also be visiting England in the near future.
You are going to be supporting Nevermore if Iím not mistaken.
Gus: Yes that's right. This show will be Firewindís debut on English soil and it will take place under the best of circumstances. Thatís because the whole of the English press is going to be there, since Nevermore are going to make the official presentation of their latest CD...no, let me rephrase that Ė journalists from all over Europe will come to that gig and that of course is really good for us.
It may sound quite cheesy to you, but every time I come across a Metal release with your name written on it, I feel really proud as a Greek person. On the other hand, I really find it difficult to believe how many projects you are involved in at the same time...do you manage to get enough sleep?
Gus: (laughs)...well, look. Being a musician is what I do as a profession. I am involved with music 24/7, and since I do not have to worry about anything else job wise, I have enough time to get involved in may different projects. The truth is that I am also quite impressed with the amount of bands that Iím involved with but you need to understand that when I started writing music, It was just a case of me jamming with some of my friends like Dimitris Liapakis (Mystic Prophecy), Fredrik (Nordstrom: Dream Evil) and Marios (Iliopoulos: Nightrage). I had the opportunity to compose music with many different people, and I was trying to make sure that I would not reject any offers, hoping that one of these collaborations would one day become beneficial for me. I still cannot believe that four years down the road, all four bands have managed to sign contracts with big labels, and are going on tour for months. I just saw an opportunity there, and I grabbed it Ė thatís all really.
It is true though that Firewind was the first band that you got involved with after you finished your studies at Berkley.
Gus: Yes that's correct. The first really professional demos that Iíve ever recorded were those of Firewindís. The whole idea about putting together Firewind started in 1998, when I was still a student at Berkley College in Boston and you can also say that they are my main band too.
How did you manage to get in touch with David T.Chastain in the first place and also released your first two albums with his label Leviathan Records?
Gus: I was sending all of my demos to David since early 1998, or maybe 1997 when I was still seventeen (!!!) years old. In the early days, I used to write instrumental songs, which I would then send to two people: David Chastain and Mike Varney. Thatís because they were the only talent 'scouts' which were in the States at the time, and I was very interested to hear what their opinion of my music was. I sent promos to Mike Varney twice if I remember, but he never bothered to answer back. On the other hand, David always used to write back to me, telling me how much he liked the style of my playing and urging me to continue practising and composing new material. He was also urging me to hire a singer, because he though that this would be the only way for me to attract the attention of the people in general. I followed his advice by hiring a singer with whom I recorded a few songs and sent them to him. Anyway, since that day and for a period of two years, I was recording and sending him material until 2001 when he offered Firewind a three album contract. I didnít have a good singer at the time, so David introduced me to Stephen Fredrick, our first singer, who used to live near by in Atlanta. David Chastain did a lot of things for Firewind: he closed a deal for us with Massacre Records in Europe, a deal with EMI in Japan...he helped me more than anyone else.
He must have been quite impressed by your skills, because David Chastain isnít just anybody in the music business.
Gus: Exactly. David believed in us, and still does. I think that Firewind is one of his biggest 'discoveries' as a talent hunter.
Ok, letís get to the point where you signed the agreement with Century Media. How did that happen?
Gus: I have been working with the people from Century Media since 2002, when I was still a member of Dream Evil and our relationship has been really good. They have treated both Nightrage and Dream Evil really well, and I am very pleased with them for that reason. Firewind had a lot of problems with Massacre in Europe, and since I had a contract for one more record with both them and Leviathan records, I spoke with Chastain and suggested that he should start considering 'giving' us to a bigger label in order for things to work out for us in Europe.
I cannot believe that for a minute!
Gus: Imagine my surprise John. I hope that they will live to regret it, but eitherway they are a small label and I donít think that even if things were different, they would have been able to promote us correctly. I had so many different ideas as to what we could do to promote the band, and I was sending them e-mails all the time and they were not even capable of supporting even one tenth of them. Generally speaking, they are a small label that gives a couple of thousand CDs in the market and is waiting for miracles to happen. I have the impression that all they want to achieve is their 'daily bread'. On the other hand, Century Media is a label thatís supporting their bands quite passionately Ė something that I have seen for myself the last couple of years that Iíve been working with them. You can also tell how important this label is by the way it has evolved throughout the years. Back to how we signed the contract with them: I got in contact with the label, asking them if they would be interested in 'buying' us from Leviathan and Massacre, and after eight to nine months of negotiations, they managed to make us part of their winning team. It is important to mention that before any of the negotiations had even begun, I sent Century Media a demo version of the album which they liked a lot. After that it was obvious that we would end up working with them. They immediately said that they would pay for us to go into the studio and record 'Forged By Fire', and that is something really difficult to find these days.
It is indeed a very rare thing, but itís not like they didnít know who they were dealing with.
Gus: Yes...I made sure that they knew that they were to sign a band whose members are quite dedicated to what theyíre doing. The members of Firewind are working really hard, trying to achieve the best possible result each and every time. We cannot wait to go on tour and show to people what weíre really made of.
It is true then that the reason why you decided to leave Dream Evil in the first place, was in order to concentrate more on Firewind.
Gus: Yes, it is quite true, but let me explain what really happened. There was not an argument between me and the rest of Dream Evil. The average age of the people who are involved in that band is between 35 and 38 years. They are people with families and everyday jobs and are interested in different things than I am. Their priorities are not the same as mine. I am twenty-four years old, and I am willing to do a hundred gigs per year if thatís what it takes.
Well, it does make sense in deed. Also the fact that Fredrik Nordstrom has participated in the creation of 'Forged By Fire' proves that the relationship between you and Dream Evil is quite healthy.
Gus: Yes, I also used his studio last August in order to record the last Nightrage album, so our relationship is indeed quite good. There is not a problem between me and him. He is of course unhappy that Iíve left the band as much as I am, but life goes on.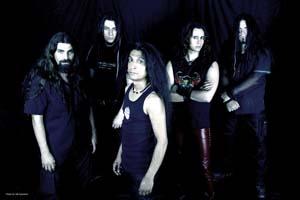 Letís start talking about 'Forged by Fire' now. I really donít know where to start really...I do know, let me just congratulate you for choosing Chity Somapala as the singer of the band. His voice is simply amazing!
Gus: Thank you John. I have to admit that I was quite worried as to whether I made the right choice. The fans of Firewind were quite attached to Stephen who has also a great voice, and I was quite interested to see their reaction. I really believed though in Chityís vocal abilities and knew that we would write some really good music together. The good thing is that, so far, the reaction of both the fans and the media has been quite positive. I have not heard a single negative comment about Chity in general and I am really proud of that.
He is a very passionate singer, and that comes across in all ten compositions of the album.
Yes, he is indeed a very passionate singer. His voice brought more melody and colour to the band, something that Stephenís voice didnít manage to do before Ė he was more of a shouter. Chity can do hard vocals, but can also sing like Tony Martin which is something that I like very much.
Well Gus, when did you start composing the ten songs which are featured in 'Forged by Fire'?
Gus: I had a couple of songs ready for over a year now, but there was a period after that where I didnít record a single note. Maybe it was because I was really anxious about this release. This was going to be our third album, and I wanted to make the difference with that release. Finally I told myself 'just write down some of the riffs that you like playing and letís see what happens', which I did. I started working on the new album last April, and imagine that the eight remaining songs were composed and recorded in three weeks time.
Three weeks? Are you joking now?
Gus: No, I am being very serious. I really donít know what to say rather than I felt very inspired after I stopped feeling all anxious and stuff. I think that I was writting one song a day or something like that (laughs).
Am I to understand then that you are the sole composer of these ten songs then? Didnít the rest of your colleagues offer their services at all?
Gus: Bob (Katsionis:keyboards) wrote the main riff for 'Beware the Beast'. Chity wrote all the lyrics of course as well as all the vocal melodies.
It is almost inevitable for the people who like your music to compare Firewind with Mystic Prophecy Ė only because itís the only other band that you play in whose music is closer to that of Firewind.
Gus: The main difference is that Mystic Prophecy have quite a few Thrash Metal elements in their music Ė they sound like a Bay Area band in places.
Exactly, thus Firewindís music is a bit more Hard Rock orientated.
Gus: Exactly that. In Mystic Prophecy you will find influences from bands like Nevermore & Forbidden, which Firewind donít have. While the recordings of 'Forged by Fire' were taking place, we were listening to Black Sabbath albums such as 'Headless Cross' and 'TYR' (note: good man!!!).
What about the Scorpions, Gus?
Gus: Of course! I love everything that this band has recorded - from 'Virgin Killer' to 'Unbreakable', their very last album.
One of the things that I really liked about your new album was the fact that, in a way, it demands your constant attention. Thatís not only due to Chityís great vocals, but also because of the really good guitar work that you did, and especially your solos. I donít think that Iíve ever heard a Greek guitar player who has managed to make his solos as precise as you do, if you understand what I mean.
Gus: I understand exactly what you mean John.
I know quite a few people who have mentioned names such as Randy Roads or Michael Schenker after listening to your solos.
Gus: Thatís unbelievable. Quite recently, Klaus Meine said while being interviewed by the German Metal Hammer, that the song 'Book of Heavy Metal' sounds a lot like Scorpions. He also said that the rhythm guitarist sounded like Rudolph Schenker and the lead guitarist like Michael Schenker (laughs).
See, it is true after all.
Gus: You understand that when I heard that thing I called the guys at Century Media and told them that, after such a comment, I was ready to retire from the music business (laughs). Talking about solos: what I am really trying to do here John, is to play the right notes that every solo really needs Ė nothing more and nothing less. I have received quite a few e-mails from fans who were asking me why I do not make longer solos in general. The point is not to try to prove to the people how good you are at playing lengthy solos, but to play all the right notes Ė something that all the great guitar players like Gary Moore and Michael Schenker did in the past. That is also the reason why their name is written in big shiny letters in the book of Heavy Metal history after all. That is what I am also trying to do in my songs.
You can accuse 'Forged By Fire' of many things but not for being a predictable album. There is a variety of different compositions presented here, yet when the time came for you to choose the soundtrack for the bandís video, you went for the most straight forward composition of the album which is called 'Tyranny'. Why?
Gus: As you correctly said, 'Tyranny' is the most straightforward song of the album. Itís also a radio friendly composition with a duration of three and a half minutes, which is the best thing for a video. We could have chosen a different composition and adjusted it to the needs of the TV stations, but I didnít see the point in doing so since 'Tyranny' was meeting all the standards. The guitar parts were created in such a way so as to stick in one's memory straight away. Do you remember the song 'Save Yourself' from Michael Schenker Ė well thatís what I mean.
I usually have a problem with catchy songs, but I think that 'Tyranny' is the exception that proves the rule.
Gus: Yes, I agree with you, and I believe that itís one of those songs that will sound really great live too. A band needs arena rock songs like that. We are a classic Metal band and I donít think that people would expect us to go on stage and perform songs seven or eight minutes long.
I have not yet seen the video, so you will have to fill us in. What are we to expect from it? Any similarities with that of Mystic Prophecy?
Gus: We used the exact same company that we worked with for the Mystic Prophecy video, but the result is totally different this time. The video can be found in the new album as an enhanced format. The people who are going to buy our new album, will get the video, as well as a fifteen minute bonus documentary which presents the history of Firewind the last year that the five of us have been together. It was filmed by our keyboard player Bob Katsionis while we were touring Japan and shows parts from the recording process of the new album as well as some really funny moments. It is what you would call 'value for money'.
It is quite unfair to ask such a question, but I will have to ask you to name the songs that you choose as your personal favourites.
Gus: This is very difficult. I am the one who created those ten songs and I like them all equally...
Ok, letís change the rules of the game. I will mention the songs that I really liked the most, and you will comment on them. Letís start with 'Hate World Hero'.
Gus: This is one of my favourites, because it is quite unpredictable. It kicks off as a ballad, and ends up as one of the most dynamic songs of the album. When I started composing this song, I decided that the first thing that you would hear was the vocals Ė something that I never did in the past, so I like it a lot. It is also the song that has the most lengthy solo of all, and a great vocal performance by Chity. Whatís next?
What about 'Perished in Flames'? It seems that the more I listen to it, the more it grows on me. I like the fact that it starts as a very rhythmical song and ends up strong as a hurricane that sweeps away everything that gets in its way.
Gus: Bravo, thatís it. This song has pretty much a 70ís feeling. For us itís like a tribute to Black Sabbath. I wrote that song with Chity in one afternoon, sitting with my acoustic guitar and jamming with him. This is a classic Heavy Metal composition that many other people seem to like as well Ė something that I didn't really expect. Thatís why it was placed as the penultimate track of the album.
It is also the best introduction for the last song of the album 'Land of Eternity', your ballad that sounds more Scorpions than anything else Ė from the backing vocals to the main guitar theme.
Gus: It is a song that belongs in the category of songs like 'Still Loving You'. This song has some really amazing lyrics, which Chity wrote for his country Sri Lanka. This country has been through some really difficult times with Civil Wars and natural disasters. Chity wrote the lyrics before the deadly Tsunami waves did their deadly deeds, and thatís quite a scary concept if you think about it. We were thinking about releasing it as a single in Sri Lanka for charity reasons, but it was rejected by them because of the lyrics, which talk about the Civil war.
It seems that Heavy Metal music is still 'dangerous' after all.
Gus: Thatís exactly what I thought. I donít think that's the songís fault that makes them kill eachother all these years.
Letís talk about all the different studios that you used again for the recordings of 'Forged by Fire'. How do you always manage do this thing Gus?
Gus: (laughs). It may sound weird but believe me, itís easier this way. We didnít do it like that so as to brag about it like Rock Stars do. I have a home studio here and Petros our bass player lives pretty close to me. Bob lives in Athens, which is not that far away so we can get together and record our stuff. Chity lives in Germany, and works with Markus Tesker who has also worked with bands like Vanden Plas and Symphony X, and who he trusts a lot. Stain has his own sound technician in Norway, so heís doing his recordings there. We have been working like this since the very beginning, and thatís much better than having to travel to the other side of Europe.
It must also save you quite a lot of time that way.
Gus: To tell you the truth, we end up spending more time that way. Moving music files from one country to another is not an easy task. The most difficult thing about it though is the fact that people use different recording equipment, and when the time comes that you have to put together all those different parts, you need to make quite a few adjustments.
Is this the same way that both Marty Friedman and James Murphy sent you their 'contributions'?
Gus: Yes. I donít know James Murphy in person, but I admire his work a lot. I had a 'free solo' available, so I contacted him and asked him whether he was interested in doing the job. He was more than happy to do that. He also told me that he had a couple of my records and that he is a fan of my work which is something totally unbelievable. I knew Marty Friedman from the days that I spent in Japan while we were there touring. We hung out together and we became good friends. I see him every time I visit Japan, and thatís how I took the liberty of asking him to participate in a solo for the album. This was a real honour for me since I grew up listening to bands like Cacophony and Megadeth...I still cannot believe that I have played music with him.
One thing that I quite recently realised is that Bobís contribution to 'Forged By Fire' is not that obvious. Why is that?
Gus: I will explain why. When I decided to bring a fifth member to the band as a keyboard player, I thought that it would be wiser to give more emphasis to our new vocalist at this moment in time. None of our previous albums have keyboards, and I didnít want to impose them on people straight away.
Since you mentioned it, Gus, it is very difficult to find your previous two efforts in the record stores. What are we supposed to do in order to get a hold of them?
Gus: As I told you before, Massacre has scre*ed us up completely in Europe. You will be able to download them from the Internet. There are also many on line shops where you can get them from if youíre really interested. I donít know if you will ever manage to see them in your record store though. I have stopped any contact with Massacre, so I will not even bother to ask them to send some more copies abroad. I do not have the rights to the songs, but Leviathan records does not want to hand them over to me. They can see that the band is doing well at the moment, and theyíre obviously waiting for the right moment in order to put some money in their pockets. David has helped us a lot in the past, but heís a businessman and heís trying to do his job too. Thatís not the best thing for me, but I have to respect his opinion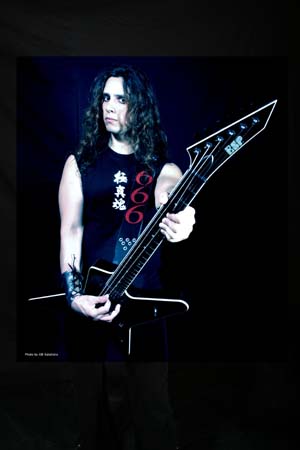 What about live shows. You were quire recently in London playing in the Swedish Festival (The Haunted, Dark Tranquillity, Arch Enemy) with your other band Nightrage. What was the reaction of the English crowd? Was that the first time that you played in England?
Gus: No, I have played twice before in England Ė once with Dream Evil and also with Mystic Prophecy. Dream Evil played in the London Underworld along with Falconer. Later that year, I visited London again with Mystic Prophecy while we were opening for Death Angel. Third time was as you said with Nightrage, and finally, I will play with Firewind in the near future. I like playing in England, because the experience so far has been really good. That has happened in the past couple of years, because before that things were not so good for Heavy Metal bands in the United Kingdom.
Apart from the gig that you are going to do with Nevermore in the London Underworld, do you have any other gigs lined up in the British Isles?
Gus: Unfortunately not. The original plan was to make a proper UK tour with Nevermore, but they decided to do that later in the autumn when Nevermore will make a proper European tour. Thatís really bad, because we are losing a great chance to play in front of more people. Do not worry though because we plan on returning soon. We have also booked a European tour with Hammerfall in April where we are going to take part in the Icebreaker festival along with Thunderstorm. These are only going to be five shows but in bigger arenas in countries like Germany, Sweden and Switzerland. We will do a short headline tour in Germany and Denmark in between those dates and Iím also looking at the possibility of doing some extra gigs in both Greece and Japan. After that weíll see.
Any other projects that youíre working on at the moment? Any new recordings?
Gus: I am not recording anything at the moment. I heard today that I will probably do some gigs with Mystic Prophecy in Germany and Sweden, supporting Freedom Call, but nothing else. I am currently working on the promotion of 'Forged By Fire' and also collecting ideas for our next release.
What should we expect from Firewind in the future, Gus?
Gus: What should you expect? We will try to play as many shows as possible, and expect many more good quality releases like 'Forged By Fire'. We promise to do our very best.
Ok Gus, I have finished my 'interrogation'. I will see you in person at the Underworld gig, but before that, can you give a message to our subscribers?
Gus: I would like to ask them to check out 'Forged By Fire' and that I hope to see them on the 18th of March at the London Underworld. I hope that they wonít get disappointed by our performance.
---
Interview © 2005 John Stefanis