FIREWIND 'Forged By Fire' Century Media (2005)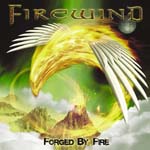 It was not long ago that the Greek axeman Gus G decided to part ways with the Swedish Power Metal outfit Dream Evil. I can still remember the day I received the newsletter from Century Media, informing me that the reason which led the young musician to make that decision was his desire to concentrate more on one of his other bands called Firewind. Now, my fellow-countryman has managed to keep himself busy with two more outfits (Nightrange, Mystic Prophecy), both of which have been embraced by the music press world-wide.
I am also not willing to keep quiet about the fact that I am a huge fan of the last Night Prophecy release "Never Ending", so I was more than curious to find out what Firewind are all about.
Let's start by saying that even though "Forged By Fire" is Firewind's debut album with Century Media, the idea of forming this band was first conceived back in 1998, while Gus was still a student at Berklee College in Boston. Gus recorded a few demos under that name, which managed to attract the attention of David Chastain - guitar legend and owner of Leviathan Records. Not only did David offer Gus a contract a few years later, but he also helped him find the right members that formed the first ever Firewind line up!
Even though the band's first two albums "Between Heaven and Hell"(2002) and "Burning Earth"(2003) were released through Leviathan Records, it was more than obvious that the five musicians would soon be offered a deal from a bigger record label. The most obvious choice would be Century Media, since it is also the home of Gus' other project Mystic Prophecy. Halfway through 2004 the deal was confirmed and Firewind are about to release their third studio album "Forged by Fire" in the third week of January.
When I have to deal with artists like Gus G, artists that perform with many different bands, I put an extra effort into trying to remain as objective as possible. Subconsciously, though, I knew that in this specific case, I would not manage to completely avoid the comparison between Firewind and Mystic Prophecy. After I finished listening to the album for the first time, I realised that what Firewind's musicians have to offer is a totally different musical proposition from the one that the guys in Mystic Prophecy are involved in. Yes, it is true that there are a few common elements between the two bands, and that is totally understandable since they both enjoy the services of the same main composer, but Firewind's music is definitely more Hard Rock orientated than that of Mystic Prophecy.
"Forged in Fire" is not the kind of album that will have to try a lot in order to win you over, and that is not only because of Gus' guitar skills. There is a new frontman on board that answers to the name Chity Somapala (ex-Avalon) and originates from Sri Lanka. The other three musicians that decided to join forces with Gus, are Petros Christo (ex-bass player of the amazing Greek Progressive Metal outfit Breaking Silence), Bob Katsionis (Nightfall/Imaginery), and also drummer Stian Kristoffersen.
The five musicians have done quite a good job in creating the ten compositions that are presented in this new release. "Kill to Live", the opening track of the album, will immediately demand your attention with its flamboyant riffs and well-presented guitar solo.
Other songs that I got really hooked on were the Helloweenesque "Tyranny" (a very commercial but also quite enjoyable song), the quite Epic "Hate World Hero", and "Feast of Savages" - which also features Marty Friedman as a guest musician.
Finally I want to make an extra reference to Chity Somapala's amazing vocal performance in "Land of Eternity" - a Scorpions-influenced ballad. I don't think that I have ever listened to another singer whose voice sounded so similar to that of Klaus Meine, who at the same time manages to make the performing composition so damn impressive!
With that as the final track, "Forged in Fire" has managed to gain and preserve my appreciation. It's not just the variety of the compositions or the names of all the important guests (James Murphy has also participated in "The Forgotten Memory") that helped me in my decision to support the band's work. It is the existing vibe that gives promises for an even greater future. Let's see.
Review by John Stefanis
****
Related>>Interview