Most new bands out there have difficulty determining what they want out of their music or the music industry. However, this was not the impression I received from Bleed the Sky, when I asked Noah, the band's vocalist, to tell me about the release of their debut album, 'Paradigm in Entropy'. He showed me the face of a self-aware and down-to-earth collective, which knows what it wants to achieve and how it intends to accomplish this.
Bleed the Sky have been around as a band since February 2003. How far do you feel that you have progressed since that time both in terms of musical ability and becoming known in the underground circles?
Noah: It has been a fast couple years for us. If you went and listened to some of our original stuff, you would laugh. We have matured very much in our musical ability over the last 2 years, and I believe the best is still to come. I don't really know much about how we are doing in the underground scene to be honest, in our area it's somewhat difficult to locate a lot of the underground, but apparently we're doing alright with it all.
How easy was it to start playing the style of music you espouse in California? Is there a scene there with which Bleed the Sky are able to easily fit in?
Noah: There really isn't a big scene for our style of music out here. We have a loyal fanbase, but the bigger scenes out here are the punk and hardcore, and we try to stay clear of those ones. It's very difficult in southern California to become established as a metal band.
You were fortunate enough to be able to open on tour for Opeth back in 2003, and this was even before you had released your demo album. How important was this experience for you and did it in any way influence the way in which you think as musicians?
Noah: The main thing we got out of that show was our asses handed to us on a plate. Holy sh*t they're awesome! We were so inexperienced at the time, we really had no business taking the stage with a band as reputable as Opeth. We did however learn a lot about how to really get a crowd into your live show. It was an amazing experience overall.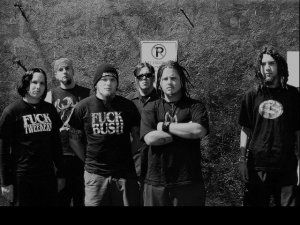 You have been compared with bands like Shadows Fall and Chimaira, known as metalcore bands. Based on what I heard on your debut album, 'Paradigm in Entropy', I would describe you as a more 'progressive' hardcore-metal outfit. Do you agree with this classification of your music?
Noah: We're OK with the 'metal-core' label only because there are so many great band with this label, it's an honour. However, we have absolutely no hardcore influence in us at all. None of us were ever really into hardcore, always metal. We just like the way that metal is constantly evolving.
You signed a contract with Nuclear Blast at the end of 2004, but it is known that you had been touring prior to that for one and a half years. How did you manage to support and fund yourselves during this time?
Noah: Well we didn't tour non-stop for one and a half years, we went out for a couple weeks, then come home and work some more, then go back out for as long as we could afford. Our merchandise sales were what basically kept us afloat while on the road.
Tell us a bit about how you landed the Nuclear Blast contract and was it something you had been expecting, or did it come completely out of the blue?
Noah: Our heads are still spinning, I don't think its really sunk in, it doesn't seem real to us yet. Maybe after the album drops and we've been on tour for a couple weeks, it will hit us like a ton of bricks and we'll be like 'Dude, we're signed to fuc*ing Nuclear Blast!' We are a relatively new band (started Jan 03), and we didn't plan on things coming together as fast as they have.
Please introduce the past and present members of Bleed the Sky to us and describe their involvement in the band?
Noah: Okay, we're Bleed the Sky from the 'OC'. There's six of us; Wayne: guitar, Noah: vocals, Austin: drums, Daylen: Bass, Puck: samples, and Kyle: guitar. Each person has different responsibilities. Wayne and myself (Noah) handle most of the business. Kyle deals with most of the paperwork and contracts, and also fully manages our website. So everyone has something to do whether or not we're on stage.
What was you original vision for the band when you first formed? Was it a concept that evolved during the recordings and touring or did you set out with a clear-cut picture as to what you wanted to achieve?
Noah: We just wanted to hang out jam music that we ourselves enjoyed listening to. Once we realised that we were turning into a more serious band, our only goal way to get signed. I've always wanted our band to be signed, but we thought at first that it was kind of a pipe dream. Now, here we are.
You started working on the songs for 'Paradigm in Entropy' after you had the Nuclear Blast contract under your belt. Had you already composed some of the tracks prior to this?
Noah: Yes actually, about half-and-half. We already had songs like Killtank, Leverage, Skin Unskin, and God in the Frame. Some of the newer ones were Minion, the Martyr, Paradigm in Entropy, and Borrelia Mass.
Who are the main composers of Bleed the Sky and how easy is it for you guys to create a song that you would all be happy with? What are the techniques employed by the individuals responsible for the compositions and what are the elements that you cannot do without?
Noah: We definitely all take part in the writing process. We do all have certain duties in our song writing that I think makes our music better. Our drummer and I usually structure the initial 'riffs', then we pass it on to our guitarists (Wayne and Kyle), who then mould it into an actual song. All in all it seems to be working all right for us so far.
'Paradigm in Entropy' is a ten-track album. Which of the compositions would you say are the most successful and will attract the attention of metal fans?
Noah: In my opinion, I believe that Minion, the Martyr, and Killtank are going to be the ones for us to be remembered by. Those are the songs that show everything that we love about music.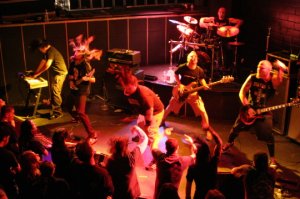 The album appears to have two faces - the beginning seems to be predominantly 'metalcore' based, whereas the second half is much more atmospheric, with clean vocals and melodic guitar parts. Is this division intentional and does it create a specific concept on the album?
Noah: We didn't do it intentionally, and I don't we would have pulled of the contrast had we tried. We just tracked the songs how we felt like they fit together the best, but after hearing you say that I definitely see the comfortable division.
Who came up with the concept for the striking cover art of the album and do you feel it reflects the feelings and emotions you have created with those ten compositions?
Noah: Our cover artist Aaron Marsh heard our full-length album and threw the album art together in about 4 days. He captured a new element of our music, the dark side of what we do, and we are all very pleased with the way the album artwork compliments our music.
You used Ben Echigel for the production of 'Paradigm in Entropy'. He is also known as the producer of Chimaira, Integrity and Drowning Pool, all of which are 'metalcore' bands. Did you have any say in the choice of producer or was he imposed on you by the label? Do you think his association with the metalcore bands had anything to do with the choice?
Noah: We chose Ben Schigel solely for his amazing production, and ability to work with a variety or different bands. Of course we support those other bands you listed, but that really didn't have a lot to do with our decision to work with him overall.
As a young and inexperienced band starting out in the studio, did you manage to avoid being dictated to with respect to the direction and sound that Bleed the Sky should be taking?
Noah: Working with Ben is always a pleasure, because ultimately he wants you to be happy with YOUR album, not the record company's album. He was able to push to our limit with every song without telling us how to sound, and I think that's rare for a producer in today's music.
The album's release is scheduled for late April. Do you intend to carry out any promotion for this album other than the interviews, which you are having at the moment? How do you feel about being involved in the promotional part for the release of 'Paradign in Entropy'?
Noah: The promotion for the album is almost as exciting as the actual release of the album. We love promoting and do it as much as possible. Some small touring is the other big way we can promote this album well.
Your gigs to date have all been in the US. Do you intend to make it over the Atlantic to have a tour at all? Do you think that Europe is a viable market for the music of Bleed the Sky?
Noah: I think Europe is going to benefit us more than we really realise at this point. We'll see what the future holds and we'd love to play overseas as soon as possible.
You have managed to achieve a lot in a short space of time, something that you are probably quite pleased about. What is the next big step for Bleed the Sky and how do you think this will come about?
Noah: We're working on getting out on the road asap, that's gonna be our next big step. We've already begun work on new material also, so look for a follow up album before too long.
Can you name some of the artists and bands that you feel have influenced you in your songwriting for Bleed the Sky?
Noah: Overall I'd say Alice in Chains and Meshuggah are our two biggest influences. Alice in Chains was one of the most impactful lyrical bands on the planet at they're time, and still today I think they school any band on how to relate lyrics to your listeners. Meshuggah has the ability to 'one-up' themselves every time they release a new album, and they're creativity is fuc*ing not of this world!
Thank you for doing this interview. Can you end it in your own words for the readers of Get Ready to Rock?
Noah: Thank you for the opportunity to do this interview, the pleasure was all mine. Be sure and check out our debut Nuclear Blast album 'Paradigm in Entropy' in stores April 25th. Bleed the Sky will see all you motherfuc*ers on the road!
---
Album review
Interview © 2005 John Stefanis