If there is one place in the world that knows the real meaning to the words Metal and Hardcore, that's definitely the United States of America. From land that gave birth to some of the most important bands of this genre, came the relatively new outfit Winter Solstice. Having just released their debut album with Metal Blade "The Fall of Rome" the band's drummer and founding member Duke Cuneo was available for an interview.
What we talked about was his opinion about the Hardcore scene, religion and the current political situation that exists in his own country.
Hello guys. The place of origin of Winter Solstice is Richmond Virginia. What is it that makes this specific location such an ideal place for a hardcore/metalcore band to flourish?
Duke: Well, I am from the Richmond area, but we all actually met in Lynchburg, VA at college. I think Richmond is a great area though. Some great bands have come out of Virginia and I've always enjoyed living here.
Metalcore has been around for many years now, and the scene has evolved quite a lot since the early days. Being a musician that serves this genre, how would you judge the evolution of the scene and how satisfied are you by the most recent releases of the currently "important" representatives?
Duke: I feel like metalcore is becoming overdone these days, but the best bands out there are going to continue to be successful. The key to me is staying original, and writing good songs that flow well, and not stopping every 30 seconds for a breakdown. I definitely think there are some awesome releases in the genre. The new Unearth is awesome, as well as the new Lamb of God. I'm really looking forward to the new As I Lay Dying album coming out as well.
The band was originally formed in the year 2000, so you guys are currently involved in a five-year-old project. Which would you say are the most important moments in the band's history so far?
Duke: We actually did not get serious as a band until 2002, so it has not been quite that long, but definitely signing to Metal Blade is the biggest thing.
One thing that this band has experienced quite a few times is line up changes. The only members from the original line up, if I'm not mistaken, are JT Turner and yourself. Can you please present to us the band's current line up, and let us know how you guys ended up playing together?
Duke: Yeah line up changes seem to have been part of who we are. I know now that we have a very solid line up that will be together for years to come. It is Duke Cuneo (myself) drums, JT Turner guitar, Caleb Goins guitar, Nathan Smith bass, and Peter Walters vocals.
Winter Solstice is a great name for a band, but one would think that it would be more fitting for a Heavy or even better Epic Metal outfit. How is that name relevant to the band's style and ideology?
Duke: It has nothing to do with us as a band. I thought of the name a long time ago, we liked the way it sounded, and it stuck, but yes it does sound pretty metal, but so do we.
We are making this interview in order to present the band's second studio album "The Fall of Rome", which will be released pretty soon. Before we concentrate on that release, tell me a few things about your debut album "The Pulse is Overrated" like which was the line up that recorded it, and how different is it in comparison with "The Fall of Rome"?
Duke: The EP was recorded independently and released on a small label. It was actually intended to be a demo, but turns out we have sold a decent amount considering the low level of promotion. The Fall of Rome is much better produced, more focused, and comes across much stronger and smarter in my view.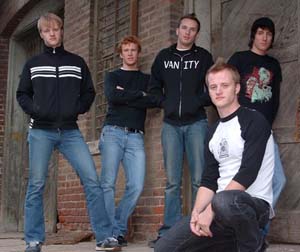 "The Pulse is Overrated" was released by your previous label Harvest Earth Records in 2004. How well did it do and how is your relationship with the label now that you have moved to Metal Blade?
Duke: Harvest Earth was awesome to us. They are a small label but they do all they can to help. We are happy with the performance of the EP, but we are ready to move on to the new release.
Metal Blade has been investing quite a lot in bands that belong to the same genre as Winter Solstice. When did the German label first approach you, and what kind of deal did they offer?
Duke: Well Metal Blade USA offered us the deal. The European end was part of the deal. We began negotiating in March of 2004, and signed with them in July of that year. I would rather not discuss the specifics of our deal, but we are very happy with the label.
OK, let's concentrate a little bit more on "The Fall of Rome". First of all, let's talk about the very interesting album title, which, as I already know, is more of a statement. Would you care to explain to our subscribers the message that you felt the need to spread with your new release?
Duke: The album title is a metaphorical comparison between ancient Rome and our current society in America today. Rome and the U.S. started in very similar ways. Both nations were republics, based on moral codes of law. Both societies became the most affluent and advanced in the world. With that knowledge came arrogance, and Rome began to cast aside its faith, its belief in family structure, and morality in general. People became selfish and self absorbed to the point that they served only their own personal interests. This greed and selfishness, along with a moral decline and deviation from the established form of government, led to Rome's slow decline. I believe we are headed down a frighteningly similar path.
You have described "The Fall of Rome" as an album with a conscience. Do you believe that albums with a similar character are rare in the Metal scene nowadays? Which was the last album that you heard and gave you that feeling?
Duke: I definitely feel like their albums out there with a conscience. One of the best things in my mind about the hardcore influence in metal today is that metal is being written with lyrics that are meaningful. I think it is pretty prevalent today in American metal, but definitely Zao "Liberate Te Ex Inferis" comes to mind.
In one of the interviews that the band did in the past, you've mentioned that Winter Solstice is a Christian band. What do you mean by that? Is there a reason why anyone should try to associate Winter Solstice with bands like Stryper and Believer?
Duke: All of us are Christians. We believe Jesus is the Son of God. That is what we believe about life. It shapes everything we do, including our music. That is what a worldview does, it effects your whole life, how you view everything. I donít think you could really associate us with bands that push their beliefs on others. We want everyone, no matter your beliefs to enjoy metal and enjoy Winter Solstice.
It seems that terms like "vegan" and "Christian" band are almost exclusively used by metalcore US outfits and do not apply so much to European bands. Would you say that American people in general are more religiously orientated than the Europeans? How important is religion to you as a person?
Duke: In America right now, there is very much a battle over whoís ideas about morality and religion will control the nations schools, government, and culture. I think that this forces people to identify themselves in a certain way. I donít know about Europe's cultural climate right now. The perception in America is often that Europe is a "postchristian" society, and that religion isnít a big part of peoples lives there. The word religion makes me think of ceremony and my faith isn't about that. I believe that God wants a personal relationship with everyone, and Christ is the means to that relationship. Going to church really doesnít have anything to do with that.
OK, let's talk about the ten compositions, which are featured in "The Fall of Rome". In past interviews, members of the band have said to be musically influenced by many different bands/artists such as Elvis Presley, Jimi Hendrix and The Cure. Where did you guys draw your inspiration from in order to record this album?
Duke: I donít know how much our music is influenced by those artists. Some of us are personally influenced by them, but as a band our influences are bands like At The Gates, In Flames, Soilwork, The Haunted, and Killswitch Engage.
The music of "The Fall of Rome" combines elements from two totally different scenes, the American Hardcore scene and the Scandinavian Thrash/melodic Death Metal scene. How well in your opinion do these styles mix together?
Duke: I think we pull it off pretty well. The key in my mind is keeping things flowing and writing good songs, and not letting the structure deteriorate for the sake of the elements.
You have composed ten songs for your latest release. Which are the ones that manage to stand out in your opinion and why?
Duke: I think Following Caligula, Courtesy Bow, and To The Nines are my favorites. They bring together the best of what we do in my opinion, and come off really smoothly and completely.
Have you formed a common strategy with Metal Blade as to how you will successfully promote "The Fall of Rome"? Which are the targets that you have already set?
Duke: Yes. The Metal Blade staff is amazing, and we are all working hard to promote the release. Our end mostly involves touring our butts off, but the label will be doing quite a bit of advertising, and we will also be doing interviews like this one, and a music video to be released in mid April.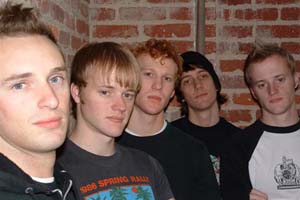 As far as touring is concerned, I have seen that you are currently touring the States. What about Europe? Do you think that there is an audience for Winter Solstice here in the "Old Continent"?
Duke: We will be touring the U.S. and Canada for most of this year. Hopefully we will be making it to Europe in late 2005/early 2006. I definitely feel like Europe will be a great place for Winter Solstice. We have a sound that would appeal to people everywhere, including Europe I hope.
How would you describe the live performances of Winter Solstice? Do you enjoy touring in general?
Duke: Our live performance, in my opinion is what sells the band the best. We have a high-energy set, and play our music in a tight fashion. We bring the American hardcore performance element to European style metal. We love touring, it is our life at this point. We will be touring non-stop until it is time to write another album.
Which are the bands that you would like to share the same stage with, and why?
Duke: There are so many bands we love. We are getting to tour with As I Lay Dying and Throwdown and we certainly love both of those bands. Weíd love to hit the road with Soilwork, or The Haunted, as well as Unearth, Shadows Fall, Cradle of Filth, Lamb of God and many others.
A message to the subscribers of Get Ready to Rock.
Duke: We really appreciate all of you, just for reading this interview. We hope you will check out 'The Fall of Rome.' It is a fun and driving record that will stick with you and hopefully make you think a little as well. We hope to see you all in Europe soon!
---
Interview © 2005 John Stefanis