WINTER SOLSTICE 'The Fall Of Rome'
Metal Blade(2005)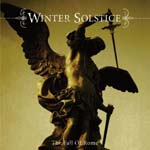 Metalcore music seems to have become quite popular over the last couple of years, since quite a lot of new bands, but also many traditional outfits, such as Agnostic Front, are releasing albums that combine the aggressiveness of Thrash Metal with the attitude of Hard Core music. You understand, of course, that one of the oldest and most traditional labels, Metal Blade, could not refuse getting involved in this situation - that, of course, by signing quite a few of these young and quite promising bands, such as Winter Solstice.
It is true that both the name of the band as well as the album cover of their debut album "The Fall of Rome" would be more appropriate for an Epic Metal outfit, but if you decide to invest in that album, you will realise that there is a certain meaning behind this title which completely justifies the band's choice.
As far as the music of the album is concerned, there is a mixture of influences which originate from both the Swedish Trash/Death Metal scene and bands like At The Gates and The Haunted, but also from the US Hardcore scene - the country that gave birth to the five musicians that make up this outfit. That means, that if you ever decide to attend any of their shows, you will find that half of the audience will be headbanging with the fast guitar riffs that both JT Turner and his band mate Caleb Goins have prepared for this release, and the rest will indulge in one of the many different moshpits, which are normally created at such gigs.
On a lyrical level, Winter Solstice seems that they are more of a hardcore band, with a great interest and preference for metaphor. For them, Rome is our modern day society, which in their opinion, is going through a phase of decline - similar to the one that the great empire faced thousands of years ago. That is the reason why Duke Cuneo, the band's drummer, chose to refer to "The Fall of Rome" as a "Metal album with conscience". Strong, in your face lyrics? You bet!
How good is Winter Solstice's debut album? Well, that's something totally objective as far as I'm concerned. I cannot say that I was blown away by any of the ten compositions, which are featured in this forty minute long release, but I do believe that "The Fall of Rome" is more than just a decent effort. There a quite a few songs like "Following Caligula", "Watcher" and "Malice in Wonderland" whose structure and general idea show the full potential of this band. I also found quite interesting the idea of putting a song like the same titled "The Fall of Rome" halfway through the album - an acoustic track which manages to decompress the tension which was already built by the first four songs of the album.
I bet you that you will see quite a few reviews on the Internet in the next couple of weeks which will try to convince you either why this is a good release or not. I will not attempt to do that, though. I will just say that I found this album quite interesting, but that I am expecting much better things in the future - simply because I know that they are capable of proving me right.
***
Review by John Stefanis