I don't think that many fellow-journalists believed that Liv Kristine would continue to have a successful career after her departure from Theatre of Tragedy, but both her solo efforts as well as her work with Leave's Eyes has proved beyond any doubt that the charming Norwegian vocalist is doing equally well on her own. Following the birth of her son Leon Alexander, Liv has also another good reason to be happy, and that is the release of the second Leave's 'yes album "Vinland Saga". If you can appreciate some traditional Viking stories, accompanied by flutes, oboes and Liv's beautiful voice, then I think that you really have to read this interview.
Hi Guys. First of all, let me thank you for taking the time to do this interview with Get Ready to Rock. It's been only a few weeks since the release of the second Leave's Eyes album entitled "Vinland Saga". What has been the initial reaction of the music market, based on the reports which I assume that you have been getting from your label?
Chris Lukhaup : Vinland Saga is already the second album ( after the debut " Lovelorn ) and guess we can say we are proud and very happy how this finally turned out. The first big surprise was that the single" Elegy" entered the German Charts. After that the Album made it also into the Charts and so the deal was perfect. You can see that at the moment we are very busy with preparing the live presentation of the album.
You are currently making promotional trips to support the release of your new album. Which are the places that you are scheduled to visit this time round, and what are the plans and goals that you have already set for that purpose?
Chris: Concerning promotional trips we don't have a fixed schedule. We will tour Europe and America, including Mexico and Russia. We are starting in September. Of course we would love to play every continent on this planet…if possible!
This is the second album that Leave's Eyes release with Napalm records. How would you describe the relationship between the band and the label, and what is it that they do which convinced you that they should be the ones to handle the promotional duties of your band's music?
Chris Lukhaup: Napalm records is a medium-sized company compared to some of the major Record Labels but the advantage is that these guys are specialized on this kind of music and they know exactly what to do. We also have experience with bigger Labels but the communication with this Napalm is more direct and a lot easier.
Liv: Napalm is doing a fantastic job for us.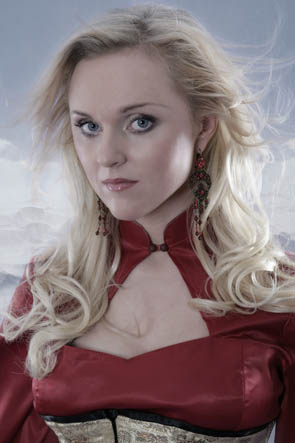 There were quite a few people who treated Leave's Eyes as another one of your projects. Do you think with the release of "Vinland Saga" will put an end to such arguments? Could it be the fact that you have the whole Atrocity team behind you that such comments and ideas are generated?
Chris Lukhaup: Leaves Eyes is a band and not a project from Liv or from Atrocity. It's a new Band with its own style, own thoughts and where all of us work on music, concept and sound. This is not just a mixture between Atrocity and Liv Kristine or even Theatre of Tragedy. Of course there are the people from Atrocity and there is Liv but as you can see it is totally different from what most of the people think it is.
Talking about the guys from Atrocity, do you believe that their own musical direction has influenced, in one way or another, the compositions of "Vinland Saga", and if yes, which are the elements in the album that we can credit them for?
Chris Lukhaup: Most of the Music of Vinland Sage was written before the concept of the Album was there. We started to write songs straight after the Lovelorn album. In fact the process of writing songs did not stop and so the album Vinland Saga is just the logical step forward from Lovelorn and of course the own musical direction influences a album. At the time of writing most of the Vinland Saga songs i was very impressed by the movies like King Arthur and Van Helsing or even one of my favorite movies of all times ,Gladiator. A very special element in the songs is also the way of how Tosso is playing the Guitars. The kettledrums, flutes and oboes are also a part of this special sound and of course the work on sound and on the rhythmical elements that Alex did. Liv knows what the musicians of Atrocity have in mind when they compose this music, we have nearly the same thought of working on a Leaves Eyes album.
The story that "Vinland Saga" is based upon is that of Leif Erikson's trip to Greenland in 1000 AD. What made you decide to work on that story in the first place, and how easy was it to write music and the right lyrics for such an epic concept?
Liv: It was actually the music itself which inspired me to go back in history and concentrate on a certain point in the Vikings' history. After having composed about 8-9 songs for the album, I started concentrating on the concept and the lyrics. I just let myself get inspired by the music itself, and what I felt when listening to the music was "ocean", "brave Vikings in long ships", "adventure", and "the west coast of Norway (where I grew up)", to put it short. Then the Vinland Sagas entered my mind. I hope this will happen to our listeners, too. The cover artwork and the booklet are also important for the visual affect next to the audiative effect. The pictures you see in the booklet show the place in Norway where I grew up. The "Vinland Saga" begins exactly there, namely at the west coast of Norway about 1.000 years ago, as a group of ships sailed towards Greenland to visit Eiriksson's father (Eirik the Red). Due to bad weather they passed Greenland and ended up discovering America instead. What a journey! And for such a story you definitely need natural classical instruments.
Chris Lukhaup: In fact some of the music was written long before the concept of the album was there. For us the album, 'Vinland Saga', started right after [the debut] 'Lovelorn'. As we are in the lucky position to have our own studio we can record ideas any time we want to. I personally am a big fan of the movie " The 13. Warrior" a story about Ahmed Ibn Fadlan, a 10th century Arab ambassador from Baghdad whose mission is to interact with and learn the ways of the Vikings.
I think I've seen this movie about 15 times. Therefore I guess I am a bit influenced by the sound of the movie by the whole story behind this movie and by the impressions you get when you watch carefully. In the composing of some of the songs ( Like Farewell proud man or New found land ), I always had these vikings ships on a raging sea in my head. The ideas where there, the only problem was to bring it to sound in a proper way. Another very important fact is that Liv is from Norway and she knows all the history of the Vikings and how the lyrics and her vocals should fit into this sound.
One thing that is really worth mentioning is that the lyrics of the song "Amhran", are written in a language that was invented by you. Now, I am pretty sure that I will not be the only one who will assume that Tolkien's work in the "Lord of the Rings" has been significantly influential on you. How difficult was it to come up with a language of your own? Do you think that you will use this language of yours in any of your future releases?
Liv: I had actually hoped to find a Gaelic teacher for Amhran, which means song in Gaelic, however I didn't succeed. I joined stems from Gaelic, Old English and Old Norse words to create the perfect pattern of sounds (phonemes) for this song in particular. There is no grammatical structure behind this language as it is mainly based on sound, however I'm sure I will continue what I have started as I am VERY interested in linguistics and the history of languages.
One of the things that you will realise straight away about "Vinland Saga" is that it is a very emotional album. This is the first album that you have released, if I'm not mistaken, after you gave birth to your son Leon. Has this very significant event of your life influenced the way you perform and work as an artist? Which are the things that you can see in yourself today, that didn't exist a year ago?
Liv: The pregnancy was a fantastic experience as I felt extremely well and healthy all the time. Even my voice changed in a positive way. Leon Alexander was born 2 hrs after having recorded the last song for "Lovelorn". Perfect timing from Leon's side! Being a mother, my life has become even better than before! I've become more emotional, happier, less hectic and do not worry so much about "problems" which appear in your daily lives. To be both a mother and an artist is the best combination for me – two dreams have come true! Leon comes with us to the studio every day. When we are very busy or have to go on tour he stays with his grandparents. However, the most fantastic thing which has happened to me is the birth of Leon. He is the most important thing in Alex and my life!
You have mentioned in your press release that "Vinland Saga" is more complex than your previous effort "Lovelorn". Is it more complex simply in terms of musicianship, or are there any other aspects that you were referring to when you made that comment?
Chris Lukhaup: When we started to write songs for Leaves Eyes this way of songwriting ( in our own Studio with the lots of different instruments and sounds) this was all new for some of us and the songs have been very straight and it was easy to bring these ideas to sound. Meanwhile the songs are more complex because we got more and more into it. I think in these songs there is more to discover while listening to the songs. While Lovelorn was straight to the heart this is more something like for the heart and for the soul. There are also new instruments we couldn't work with during the 'Lovelorn' recordings. The kettledrums, flutes and oboes we have used on this album have a very special note.
At the moment we are already working on the next Leaves Eyes album.
Another interesting fact regarding the comparison between the two albums is that it took you twice as much to record "Vinland Saga". What is the reason behind that? Is it in any way related to what you said earlier about this being a more complex release?
Chris Lukhaup: Well, like I said before, all in all its different things why this album is more complex. The first album was very easy and clear with a straight message. Vinland Sage is more than a straight message. We have also used a lot more instruments on Vinland Saga, we had people in the studio playing piano, violins , cello and Moritz our new drummer played the kettledrums. We have learned a lot since Lovelorn and therefore we also wanted have more time to do the recordings for Vinland Saga.
Is there a specific composition on the album that you feel represents better the current musical direction of the band? Which song would you use as a single for the new album, and how easy would it be to choose one, especially since "Vinland Saga" is a concept album?
Liv: "Elegy" was our first single, and I don't know if there will be a second one. I would guess the candidates are "The Thorn", "Farewell Proud Men" or "Leaves' Eyes" but this decision has to be made by not only the band but also our label.
Have you thought about the prospect of making a video that would support the release of your new album? What, in your opinion, would the most suitable visual representation of Leave's Eyes music?
Chris Lukhaup: In my opinion there is not just one song to represent Leaves Eyes. You need the whole album to see what the Band is all about. A good optical representation of the concept album Vinland Saga for me could be Farwell Proud Men.
Once again you have used the "safe" environment of the Mastersound Studios, which we all know belong to your husband Alex Krull. Is it just because of the obvious reasons, that you are guaranteed to get all the attention you want while recording your albums, or is there something specific that this studio can offer that you cannot find anywhere else?
Liv: I feel at home here and it offers the best opportunity to develop as a band and as artists. We also take Leon with us some days in the week as we have our own apartment here. Leon has 400 square meters to play around!
Chris Lukhaup: Mastersound is something like a family business because we are all involved in this. Therefore it is easy to do good work when you feel at home.
Tell us a few things about the recording process of the album? How much time did you spent in the studio every day, and how easy was it knowing that you had to be away from your son during this time?
Liv: After we had been on tour in the fall/winter last year, I'd expected every one to stay at home for Christmas, however, one after the other turned up in the studio feeling eager to start recording some new ideas. We needed about 6 months for the production. We are so lucky to have our own studio, Mastersound studio (www.mastersoundstudio.de). Moreover, we don't plan much; we just follow the creative flow and stop when everybody in the band is happy and satisfied. But our days are sometimes long and we often sleep over here, but this is like Leon's second home. When we are very busy (me doing e.g. interviews) Leon stays with his grandparents and I know he is doing fantastic there. To me my son and my husband and my family come first, then everything else. However, a good plan every week makes it easier to be both a mother and an artist.
Now that the final product is on its way to the record stores around the world, which are the things that you would choose to change if given the chance? Are you satisfied with all the efforts that were made by both you and the members of the band?
Chris Lukhaup: In fact we are very satisfied with the product and also with the presentation of the Band. I dont think that we would like to change a lot. Now we would like to play all over the world to present the material live.
Which are your plans as far as touring is concerned? Is there any possibility not to go on tour, based on the fact that Leon is still very young?
Chris Lukhaup: At the moment we are planning several tours. In December we will be on the road with Subway to Sally in Germany, there are some shows with Paradise Lost in England and Wales and there are some dates in Mexico and Russia. For the US we are also preparing some touring and it looks very good.
Liv: Yes, we will be touring. It's hard for Alex and me, but Leon is lucky to stay with his grand parents when we are on the road. The life on tour in a tour bus with little space and less safety is not good for a baby.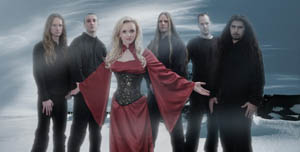 If you had to make a short-length tour, which are the places that you would have chosen to visit? Which countries have been the most supportive to Leave's Eyes music?
Chris Lukhaup: Well, it depends on where the show is. In southern Europe like Spain, Greece and Portugal the crowd is more than enthusiastic and the people are very communicative, they scream and sing along right from the beginning. It is a bit different in the northern part like Norway, Sweden and Germany. Here the crowd is also enthusiastic but it looks like they need a few songs to let themselves go.
Liv, you have had a quite rich career so far. Which are the artists that you have enjoyed working with the most, and which are the best memories that you have as an artist?
Liv: Except from working with Leaves' Eyes I really enjoyed working with Nick Holmes (Paradise Lost) and Dani Filth (CoF). However, it's hard to choose. The best memory for me as an artist was to sing while being pregnant! I could feel through the kicking that the baby liked it! We have also played so many concerts in front of a fantastic audience. Greece, France, Mexico, Portugal were great just to mention a few.
If you were offered the opportunity to become once again the singer of Theatre of Tragedy, would you have accepted? Do you get any e-mails or letters from people who want you to be back in the band?
Liv: It was the decision of ToT to kick me out of the band, not mine. I don't think they would ask me again. I'm glad people give me such a fantastic support now with Leaves' Eyes. I've heard no complaining about going back to ToT, and I wouldn't either, because I'm so happy with how everything is now. It was bad luck for me to be kicked out of ToT but Leaves' Eyes is definitely my good luck!
What are your plans for the future? Should we expect many more albums featuring Liv Kristine's vocals in the years to come?
Liv: YES! Many. My second solo album will be released later this year and there will be many solo and Leaves' Eyes albums to come.
Do you listen to music in your free time? Which were the last good albums that you have bought and that you believe are worth mentioning in this interview?
Liv: I love the soundtrack of the brilliant French movie "Amelie" and the soundtrack to "A Very Long Engagement" composed by Angelo Bandalamenti. I listen to music non-stop, however I also sing a lot together with Leon.
I would be really grateful if you were to close this interview with your own thoughts.
Liv: Thank you so much for supporting Leaves' Eyes by all your friendly messages in our guest book (www.leaveseyes.com)! At last I want to send my warmest greetings to Kevin, one special little fan and friend of mine in France, who suffers from the Kabuki syndrome and I want to wish him and his family all the best. I hope other artists and people out there inform themselves about how we can help these children. And last but not least – thank you for doing this interview with me!
---
Interview © 2005 John Stefanis