LEAVE'S EYES 'Vinland Saga' Napalm Records (2005)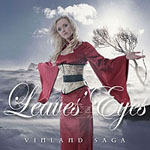 On of the positive things that unfortunately comes only with age, is a general change of perception of what good music really is and an uncontrollable willingness to expand your musical horizons in many new and sometimes totally different directions. If you were to tell me a few years ago that one day, I would make a review for an album, in which Liv Kristine (ex-Theatre of Tragedy) would handle the vocal duties, I would probably have laughed in your face. Well, not only was I assigned to make a review for "Vinland Saga", the second album under the project name Leave's Eyes, but I have also managed to become quite fond of it, believe it or not.
Now, I am afraid that at this point I am unable to start writing elegies for Liv's previous recordings with Theatre of Tragedy nor to begin comparing the twelve compositions that are featured here with those of her successful past, simply because I have never in the past bothered to listen to the works of this northern European artist. Why? God only knows! Maybe because at the time when I was wearing my tight jeans and my silver bullet belts, the softest thing that I could allow myself to listen to were bands like Iron Maiden and Saxon...maybe because I was so afraid that by getting involved with such a "different" musical style, I would jeopardise my Metallic identity...I know, you don't have to tell me!
Anyway, looking at things from a positive point of view, I realise that I was one of the few music journalists out there given the chance to listen to "Vinland Saga" with a "clear head". The first thing that immediately raised my interest in the album are the Epic proportions of the story line, as well as Liv's decision to use traditional instruments (strings, kettledrums) as well as cellos and violins - instruments that helped the female vocalist to create the ideal atmosphere for an album that speaks of Leif Erikson's adventures in the Atlantic Ocean and his landing in America. "Vinland Saga" is an album that's divided between Gothic Metal hymns such as "Farewell Proud Men" & "Elegy", and folk-orientated compositions like "Leave's Eyes" & "Mourning Tree" the sound of which will remind you a lot of the female folk bard Loreena McKennitt.
Even though Alexander Krull and the rest of the musicians from Atrocity have done a really good job in terms of production and musicianship, the only protagonist of this band is Liv and her beautiful voice. I would really love to see how she will manage to re-create the quite demanding vocals that she has recorded for this album on stage, especially since the majority of the refrains feature multiple backing vocals which, I am pretty sure, are recorded exclusively by her. While most of you are going to be struggling between trying to categorise "Vinland Saga" or comparing it with some of Theatre of Tragedy's classics, I will continue enjoying listening to "Elegy" and "Farewell Proud Men" and who knows - maybe I will even try to invest in some of her oldest efforts to date.