Some of the most enjoyable experiences in my life have happened by accident. On the early afternoon of the 21st of January I headed towards the London Mean Fiddler knowing that I would be interviewing a member of Therion, but when I saw Chris Boltendahl (vocals) enjoying a drink in the foyer of the venue, I realised that this would be one of the few opportunities for me to Interview Grave Digger's frontman on English soil.
Friendly and in good spirit, Chris talked about the band's latest release 'Liberty Or Death', their experiences touring with Therion and their plans for the future.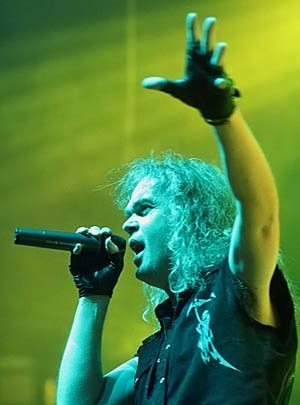 Welcome to England. It's nice to have you here. You've just released a new album 'Liberty Or Death', it's quite a good effort, classic Grave Digger album, heavy riffs and nice melodies. How do you feel about the album now that you can sit back and listen to it again.
Chris: Oh we are really satisfied with this album because we worked a long time on it. With the previous one, 'The Last Supper', we did it a little bit faster, the compositions and everything. So we were not 100% satisfied with it, but with the new one we are 110%, we think it is more in the real eighties, old-style metal stuff, but with the sound of the new millennium. So I think it's a perfect combination and the kids like it.
That's true. What would you say are the similarities and differences between the last two albums that Grave Digger have released? I found the new album personally to be slightly more on the heavy side, like fast riffs, in-your-face metal.
Chris: I think what we've been playing on the new one is more the metal that we grew up with, like Judas Priest or Saxon. I think it's the real face or sound of Grave Digger, like we did in the eighties or nineties. With the last one, 'The Last Supper', it was a little bit more progressive, we did some different stuff on it. But the new one is really 'real' metal.
Since Accept decided to call it a day, I've always thought of Grave Digger as the one German heavy metal band that sticks to the same rules as far as metal is concerned. Do you see yourselves as part of a long tradition of Teutonic metal bands?
Chris: We do what we want. Everybody in the band likes heavy metal, and that is what we want to play. We don't want to play progressive music or modern rock. It's all cool music but it doesn't fit very well to the sound of Grave Digger and if people buy a Grave Digger record then they like to buy Grave Digger music and they won't be disappointed by a new Grave Digger album. We try to develop ourselves within the borders we have set ourselves. Sometimes you have some different influences but we're not going over the top that people might say 'nah, that's not Grave Digger'.
So in a way you're saying that Grave Digger have decided to follow a very specific style that if you're not quite in tune to it you may not understand it or really accept it. Like bands like Running Wild for instance, the same with them?
Chris: Yeah but Running Wild I think that is the biggest difference between Running Wild and Grave Digger. We have four song-writers in the band, and Running Wild have one, so it is on every record, nearly the same what is playing. But with Grave Digger if you compare 'Liberty Or Death' to 'The Grave Digger', or 'Heart Of Darkness' or 'Heavy Metal Breakdown', it's really four different records. But it's always you can tell that it is Grave Digger. If you have one sound that you hear, you can tell it's Grave Digger.
That's true, that's actually very true. I was always surprised at how you manage to come up with a new album so fast, because you have a nice continuity in your work and yet they always sound so fresh and so really grabby like the last one.
Chris: The previous one was two years ago, so it's not so fast behind. The next one will be a little bit faster than the last, that's the new one. We have a lot of creativity and Manni, H.P., Jens and me, we have a lot of ideas, also we have started thinking now about the next one. We are not a machine, but we are four people with a lot of creativity and everybody is a very individual person with his own ideas and then we try to bring it all together to make a Grave Digger album from that. That is the most difficult thing because there are so many influences in the band that to find out what is Grave Digger and what is not is the most important thing before we enter the studio. And sometimes we don't have the right way but on the other side, with the new album we decided that all the songs are 100% Grave Digger which are on the record. So we are pleased with that.
Still talking about 'Liberty Or Death' what is the one sound that you find closer to what represents the spirit of the band?
Chris: Well what you just said are all trademarks - a good guitar riff, a good chorus, a good groove and a fine guitar solo, a nice intro - that's all that a metal song is, nothing else.
It sounds as if the songs that are created for the fans too, because I found myself singing most of the tunes after I listened to the album. Do you take the fans under consideration?
Chris: We want to give every story on our record, every lyric, a special atmosphere with the music. So 'Liberty Or Death' is something big for me, it's a question of life, liberty or death, so we tried to give a big chorus to the song and a memorable guitar riff too.
I was quite surprised to see Locomotive Records being your new label. I didn't even know that there were plans to leave Nuclear Blast. Why did that take place and how do you feel about working with the Spanish label now?
Chris: Nuclear Blast are something like a metal machine. They are a major label in metal now in the world, and they have so many bands. And we don't want to be number 15 or 20 in an artist roster so I've been working for Locomotive for a couple of years, and doing business with them so we decided to go to a smaller label to be number 1 and for us it's good. We are number 1 in the label, I can take care of everything from distribution to marketing, promotion, everything by myself. And so they employ us in the company. On the other side, for Locomotive it's very good for their reputation to have one of the best German metal bands on their label. We have a lot of requests now from other bands.
Do you feel refreshed or liberated now to pursue what you really want, because we all understand that you have some pressure over how your albums come across, how many copies it must sell? Do you still have to worry about things like that, after 20 odd years?
Chris: No, no, because we sold, last week we sold Trendchart is a daily chart in Germany about the selling of the record and I think we will reach the second best result in our career in Germany.
Seriously? That's fantastic!
Chris: Yeah. Because the highest chart entry in Germany was with 'Excalibur', which reached 21, and with the new one we will do a little bit lower but I think we will do the second best in our career. So I think we did everything right - we did a good record, the change to another label was a good decision and we are happy. We have this big tour this year, and we play now the fourth time I think in London.
It's about time!
Chris: The last time I think we played in the Underworld in Camden.
I missed that show, I was still living in Greece at the time!
Chris: Ah OK.
I can take your word for it! Tonight sounds cool, the package is quite interesting - Therion, Grave Digger: totally different bands, totally different crowds. How does it feel to be on tour with them so far, this is the fifth or sixth gig.
Chris: It changes - Germany, Italy and some other countries are very strong countries for Grave Digger, and Belgium and I think London too, and Spain are a big market for Therion. And every evening for us is a challenge, because when we play Germany the crowd is celebrating, it's very easy for us to be on stage then. But yesterday in Belgium we had to fight, fight to get the people, and to be motivated to bring out the best from ourselves to show the people that we are a very good live band and our sound is okay and that is challenge. And every day and we sit and wonder 'how will the evening go, how will the show go?' but since yesterday we have seen that we can handle the Therion public and there also, there were 25-30% of Grave Digger fans there, and at the end we had all hands in the air. That is the most important thing for us.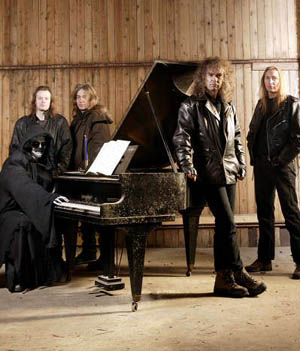 The English crowd is renowned to be difficult; it's a funny crowd, you probably remember from the previous time you played. But do you think that this time for Grave Digger it will be slightly easier to cope with, because power metal is not extremely strong in this country?
Chris: We will see, because we are playing heavy metal and it is not so far away from Therion who play also metal with some different influences. We will see. I hope that they don't spit on stage or something like that!
No! (laughs)
Chris: That was in the eighties, it was very popular to throw things on-stage and spit on- stage.
I don't think you have to worry about that. Plus in London you have a variety - I come from Greece and you'll find many Italians or Germans here also shouting for you guys. Okay, I have a problem. I've listened to Grave Digger since the 'Days Of Darkness' album. And I really don't know what to expect - I don't know which songs I want to hear - I wish you guys could play for 3 hours but I know this is not going to happen. So which period of the band shall we expect for you to cover tonight?
Chris: I think most of the nineties and new millennium, and play also two songs from the first album, not from 'Witch Hunter' and not from 'War Games', but from the other - none from 'The Reaper' but from 'Tunes Of War' or from 'Excalibur' or 'Knights Of The Cross' or from'The Grave Digger'. Most of the latest albums but also from those.
That's fair. Are you going to play 'The Grave Dancer'? That's my personal favourite.
Chris: Let me explain what we are doing. In Germany we have added to this tour from 'Heart Of Darkness' - not the complete album but the song 'Heart Of Darkness'. We played it last time in 1996.
I don't know if it's my understanding of things of course but most of your classic fans have a soft touch for two specific albums, one of them is 'Heart Of Darkness' and the other one is 'Tunes of War', probably the albums that made the breakthrough for the band. Do you feel as an evolving musician, which is important, that's something that you always have to fight, with the reputation that these two albums have given the band in the past?
Chris: No, but what makes me a little bit angry is that everyone compares every new record with 'Tunes Of War'. That is stupid because they do it also with Metallica, they do it also with Iron Maiden, they do it with Queensryche. It's very stupid because if you pick up the best album from a band's career - like for Judas Priest 'Painkiller', then everybody said 'we need a new 'Painkiller'', but you will never get a new 'Painkiller' and we will never write another 'Tunes Of War', because these albums were written and recorded in a special period of the musicians' lives and their career. But we never sought to do another 'Tunes Of War'. We never ran behind that. It brings you into some kind of stagnation if you try to do that and we never sought to write a new 'Heavy Metal Breakdown' either. So we write what we want, we write what we think the fans like, and then we see what then we see what happen also.
How do you see yourself in the next 5-10 years - sounds like I'm giving you an interview for work ha ha!!
Chris: That's right! It depends also depends what it's like for the health of everybody in the band, and various situations, but if everything goes normal I think 5, 6 years is possible.
That's cool, well we do hope to see you again in the next 5 or 6 years!
Chris: Maybe we can open some doors tonight!
Okay - well you certainly will as far as I'm concerned. Thank you very much for doing this interview for Get Ready To ROCK! A message to your English fans, for the people who are going to be shouting for Grave Digger?
Chris: I think we have come here with no expectations, and I think we can go with a big hope in our hearts. So I hope that we can show the people what we are and that they accept that Grave Digger are entertaining. We keep playing heavy metal for the fans and that's all.
Excellent, thank you very much for that.
---
Interview © January 2007 John Stefanis
---
| | |
| --- | --- |
| | Print this page in printer-friendly format |
| | Tell a friend about this page |