I was looking forward to attending the second Metal Cruise festival for many good reasons. Apart from meeting up with some really good friends from Germany and a few litres of good quality beer, as well as some amazingly tasty food, I would finally be given the opportunity to interview one of my childhood musical heroes - Sodom's frontman Tom Angelripper. In the noisy backstage' area of the now legendary M/S Drachenfels, I spoke with the friendly frontman about the band's latest release 'The Final Sign Of Evil', the band's current plans and the possibility of seeing the explosive Thrash Metal package that is Sodom, Kreator and Destruction on British shores.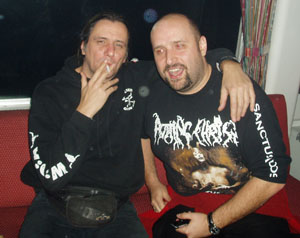 Tom, thank you very much for taking the time to do this interview with Pure Metal. How did the idea of performing on the Metal Cruise II come about? I never expected a band as big as Sodom to participate in such a relatively underground event.
Tom: I knew that the organizers were trying to find a bigger band and Haski (aka Tormentor: drums) from Desaster (a Koblenz-based outfit), one of the organizers here, is a good friend of mine and when he asked me whether Sodom would like to perform here
I said no problem...We always want to have contact with our audience - we are not Rock Stars, you know? Big bands do not want to play in such small gatherings because they can't have their own area backstage, but we don't mind such things. We just want to make this show a big party. We get free drinks and everything and that's OK. We have actually played on a boat before, the one they do every year on Sweden Rock where they make a cruise from Sweden to Norway. We played there once and it was crazy - I liked it,it's something different, you know?
What kind of material should we expect to listen to today? Have you decided on a specific set list?
Tom: We do not have arranged for a set list,we have a couple of classics that we want to play and that is always a problem when you only have one to one and a half hours on stage. We have classics, we have new songs, we have some rare songs,we try to do a best of' program, but we cannot play every song, you know? We cannot play the whole of 'Obsessed By Cruelty', you know?
...much as I would like to listen to the whole thing live (I laugh)
Tom: Maybe but, (laughs). There have been so many people, especially guitarists, participating in the band and such a wide range of material to cover, so we will try to do the best we can. We also have a few German songs to play,
Tom, tell us a few things about the band's latest release 'The Final Sign Of Evil'. Why did you decide to re-record this classic EP after all these years? This, by the way, was a very brave move on your part, seeing as Sodom's fans are very attached' to the band's classic era.
Tom: Yes, I am aware of that and that was the reason why we decided to do this whole thing in a totally different way than most bands. The record company was only interested in doing a remastered version of the 'In The Sign Of Evil' EP. I told them that they could do that if they wanted, I couldn't stop it anyway, but I told them that I could help them do this whole thing much better. I told them my idea of re-recording the five track EP and add to it some unreleased tracks which we were supposed to record back in 1984 but we were never given the chance to do.
So why did these songs never make it to an album back then?
Tom: The problem was that the record company back then was not willing to pay much money for studio and all and Grave Violator (guitars) left the band right after we came out of the studio and that was a real problem. At that point we got ourselves a new guitar player, namely Destructor, so all these songs were eventually forgotten. The idea was to make a full length album at the time, but that idea never materialized. So, when the record label found out that we had some unreleased track on demo tapes, they asked me to re-record them with Bobby (drums, current line up) and Bernemann (guitars, current line up), but I said no, that is not the way'. For me, the only chance to make a decent re-recording was by using the original band members and that would be Witchhunter on the drums and Grave Violator on the guitars. That is what I've got to do and I believe that this was something really special for the fans. I really didn't want to make a best of' album rerecording classic material with the current line up - that is not the way.
You know what, Destruction recently went for the modern' approach in a similar attempt of theirs and, much as I like this band, I think that the whole experiment' went completely wrong. I was personally quite disappointed, because I believe that each era has its own distinctive sound and that is not something that artists should experiment with.
Tom: Well, I also listened to these new re-recordings of the classic Destruction material and I also like the classic stuff better. I also felt that the unique spirit of these songs was gone. It was in the attempt to keep this unique spirit intact that I decided to re-record our classic songs with the band's original line up.
The sound that you have created for 'The Final Sign Of Evil' is quite old fashioned and that must have been quite difficult to achieve, am I right?
Tom: This guy here Toto (I am being introduced to the band's webmaster at this stage) was the man responsible behind the production of this album. We did the whole thing in a rehearsal room of a small studio, and that was mainly due to Witchhunter's current alcohol problems. You cannot go to a professional studio, doing a highly polished production and having to pay 300 Euro every day - we simply couldn't do it, so Toto said 'I am going to produce it, no matter how long it will take'. There were quite a few problems' that needed to be taken care of, seeing as Witchhunter is no longer a member of the music scene - he no longer is a drummer, you know? I am so glad that this whole thing was finally materialized, due to all these different reasons and the difficulties behind this whole thing.
I was really happy by the quality of some of these bonus' songs - some are close to competing with the classic material, not just simple fillers.
Tom: When we started the band back in 1984, our intention was to become the fastest band in the world, that is why our early material consisted of songs like 'Blasphemer', 'Burst Command Til War' and 'Sepulchral Voice'. Our aim was to record the heavy and fast music first and record songs such as 'Sons Of Hell' much later. Grave Violator recorded every rehearsal session we did back in 1984 and we are talking about hundreds of tapes here. We may have indeed made a few new arrangements such as slight changes in a couple of choruses and refrains, but ninety per cent of the material featured in 'The Final Sign Of Evil' was kept exactly as it was recorded back in 1984.
Sodom have involved quite a lot since these early times, having invested in many different musical directions and having evolved both individually and overall as a band. How did Tom feel when he first listened to this material with his more trained' ears after all this time?
Tom: To me it was like having invented a time machine and having gone back to the early 80s - I really cannot explain what I felt. Nowadays, we are doing a totally different music, even though Sodom never really changed as a band, regardless of the many changes in terms of both direction and line up. We always kept our unique spirit alive! When I listened to these rehearsal tapes, I felt like taking a trip back in time- it was great! This kind of music was the product of the 80s and you cannot copy it. I am aware that there are many bands currently out there trying to copy the music of classic 80s Thrash bands like us, but they hardly ever make it because they cannot recreate the feeling and spirit of this great music, you know? I like these songs simply from the point of being a metal fan myself.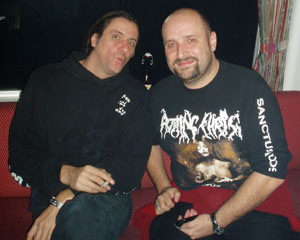 Sodom is an ever evolving band, so what are the plans for the near future? Are we to see the release of the second part of the 'Lords Of Depravity' DVD anytime soon?
Tom: First of all, let me clarify that we will not be performing the material from 'The Final Sign Of Evil' with the band's original line up, simply due to the fact that Whitchhunter is in no position to perform live these songs. I want to add a couple of the bonus' songs from this last release to the band's main set list when we go on tour next time - I really cannot see why not, you know? We are currently working on our next DVD release. In two weeks I will be heading to Berlin to view some of the material that we have put together for that release. We have also already prepared a couple of songs that will be featured in the next Sodom album.
Well, that is really interesting indeed. So, you have already decided on what the album's musical direction is going to be then.
Tom: It's going to be a killer, that's for sure! The songs we have prepared so far are quite Thrashy, typically Sodom,it's going to look towards the band's past in terms of spirit. I really believe that our next effort will be the most typical Sodom release that you will have heard in years.
First time I saw Sodom was during the 'Agent Orange' tour, the first time that you played in Greece, and I have been following you career ever since (Note: I think that what I was trying to tell him here was that I am a devout Sodomaniac), so I believe that I am entitled to say that the current line up is one of the strongest that the band has enjoyed in its long and successful life.
Tom: I think that the current line up is the strongest one that we've ever had and we've been together for eleven years now. Even at times when I had to kick someone out of the band in the past (Note: I believe that he's referring to Chris Witchhunter here), there was always a very good reason behind my actions. I kicked Witchhunter out of the band in 1992 (Note: there you go!) because we had to cancel recordings and shows due to his alcohol abuse, but now I have absolutely no reason to kick anyone out of the band anymore. I am always interested in retaining a solid line up for the band because I need to have that creative feeling in Sodom. I am not some sort of a dictator, even though as a singer I am the natural leader of the band. I always try to keep a steady line up but if I feel that someone cannot help me to take my music forward, then that somebody has to leave the band.
A few years ago we had the pleasure of experiencing one of the best Thrash tours ever - one that included the Holy Trinity of German Thrash Metal, which is of course Sodom, Kreator and Destruction. Can you see such a tour taking place again sometime in the future?
Tom: That's,I don't know, but that is definitely one of my dreams. I talked to Schmier (Destruction's bass player and vocalist), who is a good friend of mine, and he also seems to want to do it. I don't talk to Mille (Petrozza: Kreator's frontman),I don't know man,I really want to do this again.
Your answer was quite diplomatic, so I do not intend on putting any pressure on you in order to reveal the problems behind this idea.
Tom: Kreator are doing their own thing at the moment, going on large tours and creating their albums. I do believe though that, at some point, this package will have to be put together by someone, because I know that our fans and fans of Kreator will also like Destruction's music, and having all those three bands performing at the same stage in one evening is a wonderful idea. Obviously, you cannot do this thing every single year, but it could happen every second or even third year, you know? We are not getting any younger here - on the contrary we are getting older each passing year and they day will come that we will not be able to do this thing because we will be too old for it. My aim is to do that kind of thing again and I know that Schmier is also very interested.
Well, I hope that we'll see this package again and I hope that you will make it all the way to London.
Tom: London, yes,the last time that we played in England was back in 1988!
That is a really long time!
Tom: Yes, it's a long time indeed. I don't know if we will ever get the chance to play there again! If there is any serious promoter asking Sodom, then we will definitely go. We are sitting at home, waiting for offers to come and we always like to perform shows world-wide, so why not in England, you know?
Well, you definitely have quite a few fans there that hope that you will indeed make it. Thank you once again for this interview Tom - I hope that you enjoy the show tonight.
Tom: Thank you very much.
---
Interview © November 2007 John Stefanis
Album review

---
| | |
| --- | --- |
| | Print this page in printer-friendly format |
| | Tell a friend about this page |