SODOM The Final Sign Of Evil SPV (2007)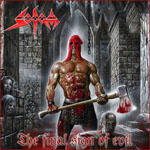 Sodom is one of those Thrash Metal bands that I literary grew up listening to and one that I have supported throughout, regardless of the numerous and often contradicting 'musical excursions' that they have chosen to follow in the past - excursions that indulged in such diverse styles as Punk, Classic Metal and...Traditional Bavarian Beer music. The prospect of Tom Angelripper and Co re-releasing classic material, especially the one originally featured in the band's 1984 debut EP "In The Sign Of Evil", though, is a totally different case altogether - one that justifies both my reluctance and scepticism, especially seeing as I have recently been through the bad experience of reviewing Destruction's collection of re-recordings entitled "Thrash Anthems".
Much as I hate comparisons between bands, especially when it involves two of the members of the Holy German Thrash Metal Trinity, I have to say that Sodom's approach was far more successful than that of their fellow countrymen and this is due to the following reasons. To begin with, "The Final Sign Of Evil" provides you with the unique opportunity to listen to new performances by the band's original members Grave Violator (guitars) and Chris Witchhunter (drums), being the product of the same line up that recorded the band's legendary 1984 EP. Staying true to the spirit of the early 80's the band has chosen a hard and dirty sound rather than the option of investing in a polished modern-sounding production and most importantly, there are seven new tracks on offer here- compositions that were originally intended to be included in the band's debut release.
I would not blame you people if I was to find out that your expectations of the quality of these bonus tracks were not particularly high, because that was definitely my feeling prior to listening to this album - yet, much as I believe that competing with classics such as "Blasphemer", "Witching Metal" and "Outbreak Of Evil" is more or less a lost cause, I found quite a few of the 'bonus' compositions definitely worth being included in this twelve track release. The opening track "The Sin Of Sodom" is a killer rhythmical mid tempo composition with simple but numerous changes in its structure and a very catchy refrain - one that you will often feel compelled to sing along to at the first given opportunity.
Tom Angelripper's manic screams are the main attraction in "Sons Of Hell", whereas the massive riffs of the three and a half-minute rhythmical opus "Hatred Of The Gods" betray the band's appreciation of the music of the Swiss masters Celtic Frost. Now, as far as the re-recordings of the classic "In The Sign Of Evil" material is concerned, no major objections are to be made, excluding the band's decision to significantly slow down the tempo in my all time favourite "Outbreak Of Evil". On the contrary, both "Blasphemer" and "Witching Metal" are provided with a much expected dynamism, and the quite improved guitar sound that's audible in "Sepulchral Voice" gave this amazing composition a much deserved vibe and energy - one that will certainly please the most demanding Sodom fans amongst you.
If your intention behind buying this release is to get your hands on an improved version of "In The Sign Of Evil", then I believe that you have totally missed the point. Most Sodom fans will agree with me that the unique 80s Thrash Metal atmosphere cannot be recreated nowadays, not even by the strongest representatives of the scene. "The Final Sign Of Evil" is a tribute of a great band to its glorious past - a tribute that has been created with all necessary attention and respect to a set of songs that have influenced a whole generation of music fans and bands alike and by having achieved that, this release certainly deserves both your attention and appreciation.
****
Review by John Stefanis
Interview
---
| | |
| --- | --- |
| | Print this page in printer-friendly format |
| | Tell a friend about this page |