When we're talking about Space Odyssey, we're actually referring to the musical vision of one man - Richard Andersson. Taking full advantage of the fact that we're only a few off from witnessing the release of his band's second full-length album "Astral Episode", I managed to arrange an interview with this multi-talented artist.
Hi there Richard. Your career in the music business is quite impressive, but you also have a very interesting musical background. How much did the fact that your father is an organ player influenced you in becoming a player of a similar instrument such as the keyboards?
Richard: It was then natural for me to get hooked up with the keys as my father had a bunch of instrument like that at home.
From a very early age you have been exposed to the works of many classical composers such as Bach, Vivaldi and Mozart. Can you detect any of their influences on the music that you have recorded throughout the years?
Richard: Many of the melodies in my songs are inspired from classical music. I also am trying to have some classical instrumental songs on every record that I do. I like the energy having keys and guitars equal in a classical piece.
Which are the best memories that you have from your childhood?
Richard: That I have had the opportunity to be healthy having my whole family a live with no sorrow things. I also remember meeting my wife when I was 12 years old. We have stayed together since then.
At the age of fifteen you were first brought in contact with artists such as Jimi Hendrix, Deep Purple and Yngwie J.Malmsteen. Who's responsible for your initiation to the heaviest sound and which was the reaction of your family when they found out about your new musical preferences?
Richard: I have to blame Mr. Magnus Nilsson for inviting me in to the heavy world of guitarists. We both jammed around in our parentís home until we became about 18 years old.
In the early stages of your career you were an instrumentalist. Which are the positive and the negative elements of being the sole composer in a project? Do you believe that musicians that choose to go solo have less chances of evolving as artists?
Richard: I have always tried to focus on the songs and the melodies. I have also been able to play very good on the keys. So! Basically doing only instrumental music is boring. I like a good song with good vocals.
Before starting the Space Odyssey project with Magnus Nilsson, you participated in two more bands, Majestic and Time Requiem. From what I understand, both of these bands were Progressive Metal orientated. Tell us a few things about them. Are you still actively involved in any of these projects?
Richard: Yes! Very much indeed! When I am not busy with SO I am hooked up with TR.
Space Odyssey is a project that was brought to life by both you and guitarist Magnus Nilsson. How did you two first get together - were you ever involved in any other music project in the past?
Richard: I have known Magnus for many years and we go way back in times as musicians. We started to play together at the age of 13 and kept on for like seven or eight years. When I started with Majestic Magnus and me went separated ways. I started to develop my own style and Magnus went in to other things. Then we bumped into each other last summer at a cafť. I've always thought the metal world should be able to hear Magnus, this massive talent of a guitar player. Just listen to "A Perfect Day" on the album. Very few people can play that sort of sad vibrato with perfect timing. Magnus can do it with ease and just as good as Yngwie Malmsteen. Anyway, Magnus and me decided to jam in my studio. Soon it was clear we had the foundation for something great. "Let's do a record", we said. A different record compared to my other band, Time Requiem, as Space Odyssey is more progressive. Iīd say the style we have is good old Rainbow mixed with Tony Martin period Black Sabbath and some early Malmsteen. Cool music that I personally would buy.
Magnus and me are both totally autodidact and have learned how to play just by listening to the music. Nowadays itís kind of rare for musicians to do that.
The first Space Odyssey album "Embrace the Galaxy" was released in 2003. After almost two years, do you still feel that it is the kind of debut that you envisioned for the band?
Richard: Absolutely! Great songs! Great musicians and a great concept!
Between the release of "Embrace the Galaxy" and the second studio album "The Astral Episode" which will soon be released, you've had a few member changes in the band. Tell us a few things about the new member of the band Andreas Brobjer, and your decision to trust Magnus with the bass guitar duties.
Richard: It was fun recording with Marcel, but we did no gigs for that record and when me and Magnus Nilsson started to work on the new album, Magnus was the one playing the bass on the pre-production. He turned out to be a monster on the bass so we just decided to let him play the bass on the CD too. Also Marcel Jacobīs performance on the first album did not generate a lot of extra sales, I mainly used him because he is an old idol of mine.
I got a video from Andreas. I put the tape into the VCR and went shit, this guy can really play! I only need to hear someone play five notes to know if the musician in question is any good, and Andreas was far beyond very good. I remember playing the tape to Jonas Reingold, my co-producer, and he liked Andreas performance too. I talked to Andreas and found out that we had a lot of favourite players in common.
Which are the main differences that you can detect between the old and the new line up of the band, and how have these changes affected the sound and style of the new album?
Richard: Andreas has more of a metal approach to the drums. Zoltan is more of an fusion drummer. Both extremely good musicians.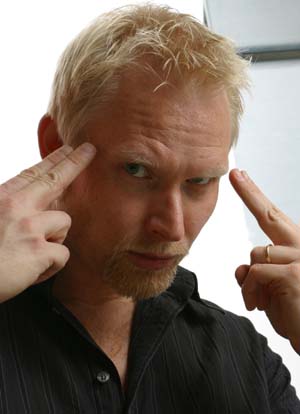 I was really blown away by Patrick Johansson's vocal performance in the vast majority of the compositions. I don't think that I've ever heard another singer that can so easily reflect the singing styles of living legends such as Ronnie James Dio and Tony Martin. You must feel quite privileged to have him in your band.
Richard: Yes! He is very good! But though you must have in mind that he is very hard produced by me as he is singing stuff written, arranged and produced by me.
"The Astral Episode" consists of eight impressive but quite different compositions. Who are the main composers in the band, and how much has Patrick Johansson's previous involvement in bands like Astral Doors and Wuthering Heights influenced the musical direction of the band's new album?
Richard: Like I said before! The music is collected from my brain and my strong vision. Patrik is just my tool to fulfil my dreams! He really does!
You have elements from both Progressive and 80's Heavy Metal music in your compositions. Which one of the two do you find most to your liking? Do you believe that Space Odyssey will be able to attract a variety of music fans with "The Astral Episode"?
Richard: Donít know! I do what I feel like not paying any attention to whatís in the charts right now!
Most of the recordings of the new album took place in your home studio. Now that you have experienced this "new way" of recording your music, do you think that you will be doing this in the near future? Why do you think that the majority of musicians are afraid of getting involved in the recordings of their albums?
Richard: This second SO record is recorded by in my studio except for the drums. Itís a tremendous feeling being able to control everything from the smallest drum fill to the biggest chorus!
Which was the composition that gave you a real hard time during the recording process. Is there a song in "The Astral Episode" that you specifically feel proud of and if yes, why is that?
Richard: The last song 'The Seventh Star Fantasy' took the most out of me to compose. Itís also the song I am most proud of. Why? Well itís so different from what I have done before and might tell you a bit about which direction the third record will take!
Having not listened to your previous studio album, and judging from what I've been listening to on this CD, I assume that "The Astral Episode" is a concept album. Who is the main lyricist in the band, and what are the lyrics of the album all about?
Richard: As I said earlier I am the man behind the musical concept in the band. The songs are arranged, composed and produced by me. The lyrics are totally based upon pure fiction. The stories are about life and death and the thin border between heaven and hell.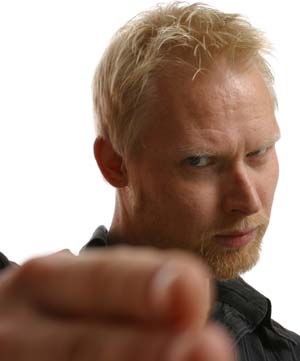 Can you explain to us the meaning behind the artwork chosen for the album cover? Is that you by any chance in the picture?
Richard: Yes! Thatís me in the picture! The picture tells you about the way I feel after finishing an album, totally drained, like there's nothing left but an empty head. Usually I feel like calling it a day after a massive album session, like I have nothing more to offer. Also I've done so much lately, so many albums! But I love it!!!
Do you have any specific touring plans for this year? Which are the countries that you would like to play, and how possible will it be for people in the United Kingdom to witness a live performance from Space Odyssey?
Richard: If the sales are good and my record companies would like to spend some money we are ready to hit the road! Definitely! In your country! Well! Itís very rare that I do interviews in UK! Sadly, if I must say so!
What is your future plans with Space Odyssey? Are we to expect many good quality albums such as "The Astral Episode" in the years to come?
Richard: You cab bet on that! I will never stop creating good music! As long as there are people out there, enjoying my music Iíll continue.
Thank you for doing this interview with Get Ready to Rock. The last words are yours.
Richard: Thank you! Very nice questions! Well! Take care and STAY METAL!!!
---
Album review
Interview © 2005 John Stefanis