One of the 'oldest' and most experienced Greek Heavy Metal bands is back. After ten years of absence, Sarissa are back with their new studio album "Masters of Sins", and Jim A.D.Selalmazidis is here to answer my questions regarding the past, present and future of the band. The Greek Macedonian army is marching with full power, and their long spears (Sarissa) are well sharpened and ready for battle!
Hi Jim. It is very good to have Sarissa back with a new album, ten years after the previous self-financed and self-titled release "Sarissa". I believe that by now, even the most optimistic and loyal of your fans had lost faith in the band ?ut yet you proved us all wrong by releasing "Masters of Sins". What made you decide that this was the right time for the band to make its comeback?
Jim: Actually we got together with the original line up from the 1987 release except of the singer in late 1999.
The other two musicians that make up the bandís current line up are Nick Iglezos (vocals) and Bill Kanakis (drums). Knowing that the band has been through many line up changes in the past, I would like to ask you whether you are satisfied with their contribution and if you consider asking any more musicians to join the band in the near future.
Jim: Yeah Iím satisfied with their contribution, and I believe in our next release they gonna have more opportunities to contribute. For the live gigs we gonna hide a session bass player, and the synth parts are to be sampled.
Heavy Metal music has been through a lot of changes during the last twenty years - changes that must have also influenced the evolution of both you and your band. I think though that all those elements, which are synonymous with the bandís name, are still there. Which in your opinion are those elements, and how do they help the band stand out from the rest of the Heavy/Power Metal groups nowadays?
Jim: Always trying to have an own personal identity, the traditional folk elements, having the roots but evolve ourselves every time it comes to write down new songs.
I have read quite a few reviews in both magazines and the Internet about your new album. In both cases, people were comparing your music to that of bands like Shadow Gallery and Symphony X. I have to admit, that I also believe that especially songs like "The Ancient Land Falls" sounds quite like the ones that your American colleagues have been creating lately. Is it these bands audiences that you are targeting with "Masters of Sins", or do you believe that the album has the power to attract a variety of different fans?
Jim: When I was writing the music about these release, I donít was concerned whoís gonna like it, or not.
First of all it must convince me, donít forget I Ďm listening to Metal since 1982.
They are some progressive parts, but I donít think we are that much progressive.
There is a variety of a lot of styles, classical, epic, power, symphonic, eastern music, so I think it can attract a different kind of people, as long they are open minded.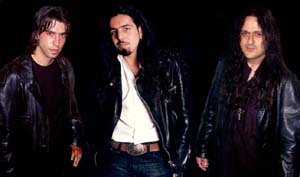 I found the use of all the symphonic parts in the album quite interesting. Did you use any outside help for the required arrangements?
Jim: Ha-ha, no all the arrangements are mine.
Your are a well-established and very skilled guitarist, but in "Masters of Sins" we also see you playing the bass and handling keyboard and programming duties. Do you believe that your knowledge of those instruments is equally good as that of the guitar? Was it a conscious decision to play all these instruments yourself, or was it a case of not being able to find the right musicians for the job? What are you going to do when you will have to perform live?
Jim: In our first two albums I was actually the Bass player in Sarissa, before the release of our second CD I got more dedicated to the guitar. So I think Iím equal at the bass.
It would be easy to call some friends musicians for the parts, but since they would not be steady members in Sarissa, that was not in my interest. The Synthesizers was a new territory for me, and it was quite interesting too.
As for the live performance, I answered you on that before.
Jim, you must have composed thousands of riffs and melodies during the last ten years. How many of the eight compositions were based on "old" ideas, and which are the songs that the rest of the band has also contributed to?
Jim: All 9 songs were written by me, except Envious critics and the struggle, which was written with our former guitarist. Bill and Nick contributed on some ideas, they past the first ritual, and got baptized and in the future they gonna have their chance.
One look at the album cover is enough to make you realise the kind of message that you are trying to pass through in your latest album. In its infancy, Heavy Metal used to be quite dangerous in that respect. Do you believe that this is still the case? Are the people that listen to this kind of music, still interested in what is happening in the world today?
Jim: We are writing down, only some of our believes and what is going on in the world, other bands did it on this matter before us, Queensryche, Saviour machineÖ
Following my previous question: were you not afraid that raising such "delicate" issues in your lyrics might end up harming the band, instead of working to its own benefit? Isnít it possible that there might be some Metalheads that might take offence by the subject that you raised?
Jim: Like I said to you in the beginning of this interview, weíre writing first of all for ourselves, if someone likes it itís ok, if not he has the choice to listen to something else.
I think that someone must be offended, if he donít care with what is happening around us, there is a lot of people which is suffering out there, and if someone get offended with the subjects on Masters of sins, I donít give a fÖ Itís damn easy to sit in your safe coach at home, watching T.V. and donít care what happens to the rest of the worldÖ Serbia, Afghanistan, the Middle East, Iraq, Africa etc.
This is the least we can do as artists, to write about it. To show our aversion and abomination for this kind of things.
Back to the lyrics: is "Masters of Sins" a concept album, or just an eight track album thatís "scatting around" the same issue? Normally it should be Nick that writes the lyrics, since he is the bandís vocalist, still I have the impression that you also had something to do with them - am I right?
Jim: Yes it is mostly a concept album.
The main man behind the Lyrics is Chris Lambroudis from (En Touto Nika)
A very good friend of mine (and at this point weíre working on the remake versions of his older songs.)
Iíve contributed in 2 of the songs, and mostly pointing out in what to write about.
The album was recorded at your very own "Marathon" studio, and from what I read, you spent twelve whole months recording it! I know many bands out there that will become extremely jealous of you guys. Didnít you feel any kind of pressure from your record label to finish the job faster than you did?
Jim: Yeah there was some pressure, donít forget that during the recordings Nick had his army duties, so we was very anxious that we could finished the album in time.
On the other hand the label was very curious with how the record would sound like, cause we denied to go in an official recording studio and persist to spend the budget we got from them to make our own recording place.
Thatís why we spent so much time, not only for the recordings, but also for making the studio, to learn to use all that equipment, for the mixing and so on.
Donít forget I am a musician and not a sound engineer, but in the end I think I managed it well.
Both of your previous releases were self -financed recordings. I donít know if you have used the help of a producer for the recordings of "Masters of Sins", but if you did it would have been a new experience for you, Jim. How would you feel if you had to allow an outsider to interfere with the bandís music in both terms of sound achievement and song writing?
Jim: Like I said the mix and also the production goes on my credit, now to allow someone to interfere with my music, is something that I probably never except. Song writing and song arrangements are subjects that are very personal to me, especially when it comes to my songs, the only exception would be from my band mates, time will tell!
On sound achievements, I think I would be more open-minded.
How much has your previous experience in the studio helped you in the recordings of the new album? Have you reached that stage where you have your own "rules" as to how things should work when youíre sitting in front of the recording equipment?
Jim: Yes for sure experience plays a big part, when you are in the studio.
Itís a big chain of different things, and every time you get out of the studio you learned new things.
Hypothetical scenario: you are sitting in front of the person that has the power to offer an amazing contract to the band and you have to really impress him. Which song would you choose from the album that would serve that purpose?
Jim: This is a tricky question!
I think probably the album title.
Let me congratulate you for choosing to cover "Starvation" from the amazing Socrates. Why did you go for that specific composition? Do you think that you managed to give justice to the greatness of this unique band by recording your own version?
Jim: First of all it was something like a tribute to them, they are probably the first Hellenic rock band which managed to marriage rock with Hellenic folk music, something we did later with Metal music.

There has been a small change in the bandís logo in this release. Is that another way of showing that we are running a new era of the band? Should we expect any more changes from Sarissa in the near future?
Jim: The logo changed a little bit for the need of the concept and the cover.
Except of the sound I donít think that we changed that radically, donít forget that there was a blankness of 10 years. They are some newer influences, but that was on our previous releases also. We always evolved. Check out the 1987 CD and then the "Sarissa " CD.
I think M.O.S. is a mix between this two, plus some progressive elements and a bit more aggressive guitars.
They are still the U.S and Euro power elements from our first, and the Epic and folklore elements from the second one.
Jim, even though things were quite difficult for Metal bands back in the 80ís, the competition was not that big. Nowadays, you have something like seventy different releases each month. How do you think that Sarissa will cope with such a strong competition, and what are your plans that will help promote the bandís music?
Jim: Yes itís quite difficult, today every band plays good and has a good production, but thatís not enough, there are thousands of clones out there.
I just try to concentrate to write good songs, nothing less or more; the rest is the job of our label.
The sad truth is that the most of the Metal world (companies, magazines etc.)are a bit prejudiced with us Hellenes (the right way to call us, Greeks), and that makes things a little bit harder for us, but especially for our label.
Letís talk about potential live performances. Have you scheduled any live dates for the promotion of the album, and if yes, which are the Countries that you plan on visiting?
Jim: Sadly, there are for the moment only live plans for Hellas.
Jim, we had to wait for ten whole years for the band to record another studio album. Now that you are back and running, when should we expect our next studio effort? Do you see yourself recording many more albums in the future with Sarissa?
Jim: With the making of our own recording place, you gonna get bombed every once in a while, thatís for sure.
Thank you very much for the interview, Jim. Any last thoughts that you would like to share with the Subscribers of Get Ready to Rock, and the people who are going to read this interview?
Jim: Thanks for the interview, it was quite a big one for a 3.5-5 points review, huh!
Greetings from Hellas and Makedonia to all of you out there! Check out our new web site www.sarissa.info
---
Interview © 2004 John Stefanis