I believe that it was Ian 'Lemmy' Kilminster who once said that Rock n'Roll demands sacrifices, and one band who really lives and breathes according to this rule is the London-based outfit Kingsize Blues.
Having only recently released their four track E.P 'Live Fast and Die' via Anticulture Records, these five Londoners seem ready to take on the world, and Tori Lucion (drums) and Tom Hannessy (vocals) were happy enough to confirm my suspicion.
Hi Guys. I understand that this is not the most inspiring or unique way of starting an interview, but I promised myself that the first question I would ask you in an interview would be regarding your name. What made you decide to use Kingsize Blues as the name for the band?
Tori: It's our favourite brand of Rizla, we used to meet up and 'jam' and get stoned off our heads… so if it wasn't for the rizla, there'd be no 'jams'
Last time I checked you out was back in 2003, right after you had released your latest demo, so it looks like there is a lot of catching up to do. Were there any major changes in the band between that demo release and the "Live Fast and Die" EP?
Tori: We are just five guys writing tunes. That's the way its always been .I mean we are still the same 5 blokes, but we have gotten better at it over time.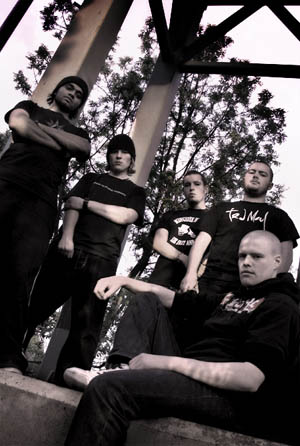 I was wondering, what made you decide to bring out a four-track EP as your first official release? Did you feel that you first had to "test the waters" before you presented us with a full-length release?
Tori: We didn't feel like we needed to test the waters at all, we knew we had to get more material out there and we were planning on doing another homemade demo (like the previous black & white) and release this ourselves in the using the same methods. That's when Anticulture came along and offered to put out the 4 tracks we had just recorded, thus giving us a much better means of being able to get our stuff out there.
Many people would quickly jump to categorise Kingsize Blues as a Swedish-sounding modern metal outfit, but the feeling I got after carefully listening to "Live Fast and Die" was that, even though you are obviously influenced by the Swedish scene, you are still trying to find your "real" identity. Have you guys established what style and sound you want to espouse?
Tori: It's quite easy to make that assumption but in truth, we wouldn't really include the Swedish metal scene in our list of influences. In regards to our style and sound, we just play how we feel at the time, there's no set formula or regime that we stick to. With 'Live Fast And Die', the songs that made it on there, don't really give a true representation of our sound. We didn't plan any songs on that EP in conjuction with any of the others, and there is no fancy concept behind them…they were literally just the songs we had ready at the time. It's not meant to hold any kind of identity as such. In essence, we are about writing songs that get your head nodding, make you want to dance around. The kind of songs that get you out of bed in the morning…. Just generally upbeat and positive.
As far as I'm concerned, this EP is divided in two different parts, and the classic metal mentality of both "Dependancy" and "Weight of Content" makes them more to my liking. Do you think that such a separation is in any way justifiable?
Tori: You are correct in thinking that, but again its easy to pick that vibe up from listening to the cd from start to finish, mainly due to the fact that there are only 4 tracks to choose from, of which 'Dependancy' and 'Weight…' are the more melodic. Again, this layout was in no way intentional. There's a huge array of sounds coming out of our creative efforts and LFAD is just a tiny portion of our overall sound, which is best experienced live, cos that's where all the distinctions go out the window! At least that's where it matter most….
Are there any individual composers in the band, or are your songs products of a collective effort?
Tori: We do what we've done from the very beginning. We just get stoned and jam/fu*k around with ideas and somehow we end up with songs. Melly and Bastad come up with riffs, we then all meet and start piecing the songs together, with each one of us taking an active role in arranging the structures and phrasings of the compositions.
I like the fact that you have also paid an equal amount of attention to the lyrical part of the album. Which are the subjects that you feel the need to refer to through your lyrics, and how important would you consider (the lyrics) to be for the band?
Tom: Lyrically, I try to be as honest as possible, I write about situations or experiences which I've been through or I've seen first hand. I feel it would be pretentious to write about anything else. Far too many bands concern themselves with trying to change the world, or retreat so far up their own ar*eholes, they lyrics become little more than a string of big words with no real practical meaning. I'm a lot more self indulgent. I don't want to change anything, just express myself in a way that's easy for people to understand. The drugs help as well!
Which are those elements that we find in Kingsize Blues' music nowadays that are impossible to find in any other band? Is it easy nowadays for any band to create what we call a "unique" sound?
Tori: We write Ba*tard Heavy Metal that can do just about anything, and its all held together by good songwriting. We write party tunes layered with spiteful vocals. In regards to creating a unique sound, it is difficult, but its not imperative, to being a good band. Just write what you feel, as at least that way you keep your integrity and you actually feel the music you've created, as opposed to just playing it for the sake of playing it.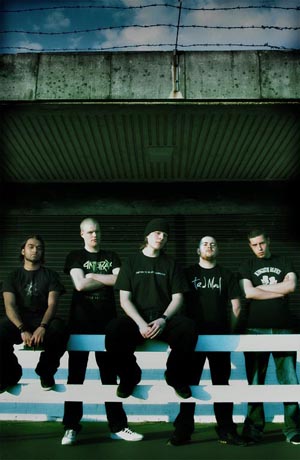 Were the four compositions that were featured in "Live Fast and Die" the only songs that you had prepared for that release?
Tori: There was a 5th track called 'BLOOD' which didn't make it due to the ridiculous time constraint in recording LFAD.
I am really interested to find what the experience of working in a proper studio has been like for the band. Did you have enough time to prepare your material and how satisfied are you with the final result?
Tori: It was pretty gruelling, We were stuck in there for upto10 hours at a time at ridiculous hours in the morning, and we were heading in there straight after a days work. In fact, I think you can hear us all cursing at various points on the record. The material was already prepared before we set foot in the studio and the end result was fantastic, given that it was our first opus and the time constraints involved, we were all happy with it.
Are there any people whose contribution to the creation of "Live Fast and Die" was of such an importance that you feel the need to mention in this interview?
Tori: Yes, first and foremost, Chris Daly, who engineered 'Live Fast and Die'. Chris is probably the most patient guy you will ever meet. He really knew what he was doing, and was awesome to work alongside. His assistants, namely Tim, Afrika and Tom.
Ray Staff at Alchemy Soho who mastered the cd. Last but not least, Dan our manager without whom most things aren't possible.
I was really happy to see that a label decided to finally give you the opportunity to present your music to a wider audience. Tell me a few things about this collaboration between Kingsize Blues and Anticulture records? Is this release a one off deal?
Tori: Yes, this was a one-off deal, where Live Fast and Die was licensed to Anticulture Records. We basically turned up with the finished product and they were happy to put it out for us. Great guys at Anticulture, your probably never going to find another label like them, where they actually believe in the music they put out.
I have received some quite positive feedback about the band. What has the general reaction been so far, and what do you hope to achieve with this release?
Tori: The reaction has been superb, a lot better than we had initially anticipated. We've come a long way since it's release back in October 2005 and we are still riding that wave of success. With the initial pressings having sold out, we've already sold a shed load in France without actually having played their yet and there is still more in the pipeline. Anticulture have just put the EP out in the USA and its being released throughout the rest of the world over the next few months. We hope to grab everyone's attention with this first release. A lot of people, didn't think that we were serious with what we were doing, so here's a big middle finger to all you haters out there. We know we got more songs in the works, we got an album in the making and LFAD is a just a small taste of the things to come…
I am also aware that you are a very active band as far as live performances are concerned. How would you describe the experience of playing on the same bill with acts such as God Forbid and Mendeed?
Tori: It was fantastic, we definitely learnt a lot from the guys in God Forbid and Mendeed. Apart from being total jokers, they were all awesome guys with sh*tloads of experience under their belts. I'd say we faired quite well, given that it was our first tour, our first time on a tour bus too, with only 2 years live experience, our show has improved tenfold since then.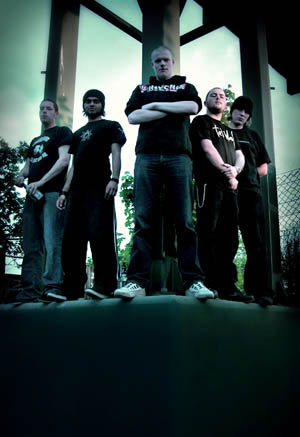 Have you guys arranged any gigs in the near future? Which are the places that you would like to visit, if given the opportunity?
Tori: Yes we have the Crowbar/Will Haven tour coming up in March, which we are all looking forward to. We'd be playing a lot of towns and venue's that we haven't hit yet so it should be interesting. I think as a band we'd love to hit places like Scandinavia, Amsterdam, USA and Japan amongst others.
If I have a quick look at your record collection, what kind of albums am I most likely to find?
Tori: We have a wide range of varied influences: Ac/dc, Sabbath, Slayer, Led Zeppelin, Pantera, Thin Lizzy, Metallica, Death, Sepultura, Pestilence, Motorhead, Deicide, Van Halen, Dio… the list goes on…..
Another cliché question: What made you decide to become a musician in the first place? Who are your all time heroes?
Tori: For Me it would have to be people like James Hetfield, John Bonham, Jimmy Page, just for the sheer passion and focus behind what they were doing, Melly and Bastad share a common love for Dimebag Darrell (RIP), Matt cites Rex Brown, and Phil Anselmo for Tom.
Do you guys have any plans for the foreseeable future? What is the general vision of the band?
Tori: The general plan is to carry on writing for the album, which is untitled as of yet. We hope to hit Europe and the states before the summers out and we'll just keep touring the UK to coincide with our full length. A lot of bands tend to get all serious and go off on a tangent - we just see it as one big party! Sure, we want to take over the world, but then who doesn't? Rest assured, we are gonna have a lot of fun doing it! We got some shit lined up but its all under wraps at the moment.
What is the most appropriate way of ending a Kingsize Blues interview?
Tori: Skin up!.
---
Interview © 2006 John Stefanis