Swedish rockers, Hellfueled, recently released their second album, 'Born II Rock'. Despite the cliched title, it is one of the year's most surprising good releases. I recently had a chance to catch up with Hellfueled's six string slingers, Jocke, who was more than happy to let us in on one of Sweden's best kept secrets, until now!
I must admit I'd never heard of Hellfueled until 'Born II Rock' came my way, I was pleasantly surprised.
Jocke: OK, thank you very much! As long as its good surprise its fun! It's never too late to discover good music.
I know you should never judge a book by its cover, but from the artwork of B2R, I wasn't quite expecting what I got when I pressed play.
Jocke: That's surprise number two! =)
Andy has a tremendous voice; he reminds me a lot of a young Ozzy Osbourne. Is Ozzy an influence on the albums singing?
Jocke: It's just the way Andy sounds. But of course Ozzy is one of the classic metal singers we all have listened to in the past. The funny thing is that it's the way Andy sounds when he sings. We tried out different vocals when we started recording the first album, but it turned out to sing natural is the best thing.
In fact the album has some very Ozzy infuences, specially the guitars, some of them are very Zakk Wylde-que, in terms of style and the in the riffing.
Jocke: Yes I know what you mean. I think its just classic hard-hitting riffing and lead tones. You have to shred a little bit! =)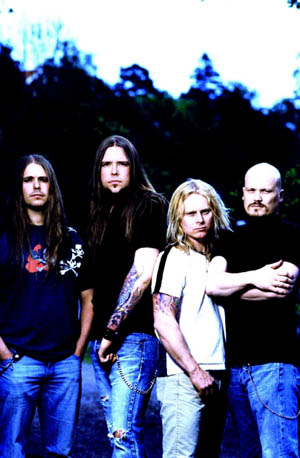 I noticed that you are influenced by Zakk, Norum and Sykes, and that you have a very European sound to your playing.
Jocke: Yes I try to build my own style more and more. All the guitarists you mentioned are players I like. I like when you use your guitar to the maximum, not just play four strings!
The album has a very heavy sound; the guitars are right in your face. How was this sound achieved, were the guitar multi tracked, or do you down tune them?
Jocke: There are only two rhythm guitars on the album. We did a series thing, with two amps at the same time and then played it two times. All the guitar solos are doubled as well, just like Randy Rhoads and the boys used to do. You get a very intense lead tone by doing that. It can be pretty tricky to play the solos exactly the same notes two times but its fun!
This is your second full album, how if any, does it differ from you last album?
Jocke: I think the production is a lot heavier. The songs are more varied comparing to the first one. It's certainly a step forward to build our own sound more.
You must be very happy with the way the album turned out?
Jocke: Yes we are more then pleased! It's really cool to work with Fredrik Nordstrom, he's a great guy! He knows just what we want.
The album has a strong production and quite a big sound, how long did B II R take to record?
Jocke: We were in the studio four weeks recording, and then the mixing took one week. Pretty fast working!
How does the songwriting process work? Do you have a set way, or do you simply let things happen and go with what works best? Who writes most of the songs, is it a collective effort?
Jocke: I write nearly all music at home just riffing around. Then we all jam together and put the pieces where they should be. It's a pretty easy going process, and fun! Later on when we go in the studio Fredrik comes with lots off cool ideas as well. Usually we meet at the half way!
B II R has plenty of diversity, it isn't all heavy stuff, there's some nice acoustic guitar in 'Friends', did you set out to make the album as diverse as possible?
Jocke: We just do what feels cool for the moment. The acoustic thing was all Fredriks idea. Originally we were supposed to have Mike Amott from Spiritual Beggars/Arch Enemy to play on that part but the time thing didn't work out. Hope to have more of that laid back stuff on the next album.
You are on tour at the moment, how is the tour going?
Jocke: The tour went great! Lots of fun, and new fans and friends. Playing live is what it's all about!
You've toured with Europe previously, how did that come about and how was it touring with them? You mention that it as one of his best road memories, it must be great to meet one of your heroes in John Norum?
Jocke: It was totally awesome to hang out with John and talk guitars and stuff. Great guy and an amazing player!
Any plans to come to the UK? Perhaps as support to a bigger band.
Jocke: We really hope to do it that way. It would be great.
Swedish metal is very strong for producing many great metal bands, what do think the reason is for so many quality bands?
Jocke: That is so hard to answer! Maybe its in the water.. I think its real cool that a small country like Sweden produce so many great bands. Something to be proud of!
Is metal more mainstream because of the amount of talent in Sweden, or is it the usual pop stuff that is played on radio and TV?
Jocke: Maybe if you compare to other countries it's more accepted with metal/hard rock. But most of the videos and stuff is the usual crap..=)
Do you try to keep up with all the latest releases from your fellow Swedes? Would this have any influence on Hellfueled sound?
Jocke: No not at all! We just do our own thing. No power metal or pop death just classic good old hard rock/metal!!!
---
Interview © 2006 Graham Boyle