Historically speaking, The Netherlands has always been providing the Death Metal scene with original and quite interesting bands. The latest band that continues this very important tradition is the quartet "The Monolith Deathcult", who are just about to release their second studio effort "The White Crematorium". Guitarist Martijn Moes and Guitarist/vocalist Michiel Dekker are here to confirm why they cannot be labeled as an average Death Metal band, and also to share some historical facts with the subscribers of Get Ready to Rock.
Hi there and welcome to Get Ready to Rock. I have just finished listening to your new release 'The White Crematorium', and I am extremely impressed by it. This album comes two years after your debut album 'The Apotheosis'. Which would you say were the bandís activities in between those two releases?
Martijn: Thanks for the compliment. After the release of 'The Apotheosis' we did 2 European tours, first one with The Crown (SWE) and Skinnless (USA) and the second tour was with The Crown only. Besides these tours we played a lot in Holland and wrote new material for 'The White Crematorium'.
Having not listened to 'The Apotheosis' before, I would like you to describe it for us and to let us know which are the main similarities or differences between this and your latest effort.
Martijn: 'The White Crematorium' is an extension of 'The Apotheosis'. 'The White Crematorium' is more complex. In a way you can say that the manner in which both albums are written is the same, but TWC is in my opinion more intense, more aggressive. Just the way we wanted it.
There are quite a few unusual things about your band, one of which is your name, The Monolith Deathcult. Now, if I had not read the lyrics of 'The White Crematorium', I would probably not have made this question, but now I need to ask you to explain to us the origin of the bandís name.
Martijn: In the beginning it was just 'Monolith' for short. After having noticed that there were lots of bands carrying the name 'Monolith' we changed it into 'The Monolith Deathcult'. It further has no particular meaning, besides that Monolith stands for robust, hard, heavy.
Michiel: UK rock band The Cult called themselves in their earlier days"The Southern Deathcult". That is were we took the extension 'Deathcult' from.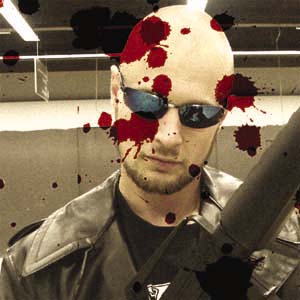 You are currently signed to Dutch label Karmageddon Media, but that was not the case when you released your first demo back in 2002. Tell us a few things about some of the membersí previous involvement in the outfits Altar and Dead Head, the bandís early days, as well as your quite recent change of 'camp'.
Martijn: Well Sjoerd, our drummer, used to drum in Altar and Michiel, vocalist/guitarist was bassist/vocalist in Deadhead for three years. After our promo 'Obliteration of the Despised' we got a record deal with Coldblood Industries. Thatís where 'The Apotheosis' was released in 2003. Since things werenít going well for Coldblood Industries we had to find ourselves another label, and we found one in Karmaggeddon Media.
I donít know if you have yet seen the press release that your label has sent to the music press along with the promo of 'The White Crematorium', but I have to give them a lot of credit for giving such a precise description of the bandís style and music. How would you describe the music of The Monolith Deathcult, if you were in my position?
Martijn: Iíll bring over the compliment to Karmaggeddon ;-). I would say 'The Monolith Deathcult' stands for a brutal composition of extreme fast death metal, alternated with slower, groovy parts, completed with hysterical soloís and varied vocals.
There are quite a lot of extreme Death Metal bands out there, so you understand that having to choose which is the right album for you to buy has become mission impossible. What is the reason that should make people invest in 'The White Crematorium', and how easy will it be for your new album to become attractive to a variety of Metalheads?
Martijn: There are indeed al lot of Death Metal Bands nowadays. We differ from them because of the way our songs are constructed and filled with controlled hysteria, vocals and lyrics and the way we bring our music on stage. I would say TMDC is an illuminating band.
You come form a country with a very strong background in extreme Metal music. Bands like Pestilence, Asphyx and Thanatos are well respected by the international Metal community. Which one of these bands have been the most influential for you guys? Do you feel it is your obligation to defend and continue this huge and very important heritage?
Martijn: Well, as a matter of fact none of the above. Our inspiration comes more from bands like Nile, Slipknot, Slayer, Obituary and so on. I do not see it as an obligation; we just do what we like and what weíre good at.
After the release of 'Apotheosis', you did two European tours - one with Skinless and one with The Crown. Was that a new experience for the band? Which were the positive elements that you gained from these tours?
Martijn: It was indeed a new and great experience. We had lots of fun, good shows, especially in London, where we played at 'The Underworld'. The positive elements were the good reactions for our shows and the thief I kicked out of the tour bus.
Did you start composing the material for 'The White Crematorium' after you finished touring with The Crown? How long does it normally take for you guys to create such demanding compositions as the ones that are presented on your latest release?
Martijn: We seriously started writing new songs after the tours, but in between weíve been experimenting with some riffs. Mostly it goes very fast writing songs, and we finalise them in the studio.
The band consists of four members, three of which have recorded vocals for the new album. How does this work when the band is on stage? Is Robin Kok the main vocalist of the band?
Martijn: In the meantime we have 5 members, we extended TMDC with Carsten Altena on synths, heís responsible for samples and synth parts live. On stage Robin stands in the middle, but the lyrics are divided for him and Michiel, so there is no real main vocalist.
What about the nine compositions of the album? Which is the member of The Monolith Deathcult which has contributed the most in putting these songs together, and what is the general climate within the band?
Martijn: Captain of the ship is Michiel, who is responsible for most of the songs. The climate in the band is very good, weíre all good friends and enjoy being on stage.
You have chosen to use two different studios in order to record your new album, both in Holland. What was the reason for such a decision? Was it based on previous experiences in these exact locations, or just a way of saving precious time?
Martijn: Well yes. We recorded the drums at the Ground Zero studio and recorded the rest ourselves, avoiding soundmen who believe they know our own music better than ourselves. The mix and mastering process was again done in the Ground Zero Studio.
The band was also quite active as far as the production, engineering and mixing of the album is concerned. Who is Pascal Altena, and why did you choose to use him as a co-producer?
Martijn: Pascal Altena is the owner of the Ground Zero studio in Zutphen. His twin brother, Carsten, is now our new fifth member, responsible for live sampling and synths. He also played synths on 'The White Crematorium'.
You have also used some extra musicians to help you with the recordings of 'The White Crematorium'. Would you like to mention them to us?
Martijn: As mentioned above, Carsten, and AJ van Drenth (Beyond Belief) who wrote Babi Yar. He also wrote the song 'The Apotheosis' on our first full length.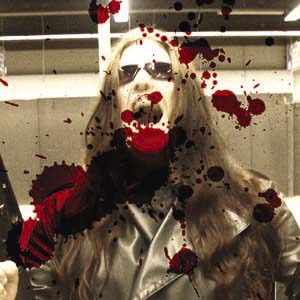 I have to say that you are one of the few 'new' extreme Metal bands that I know who have chosen to invest so much in their lyrics, and that leads me to the following question. Is The Monolith Deathcult a band that uses music as the vehicle to promote their lyrics or is it the other way round?
Martijn: The Monolith Deathcult is a band that makes death metal, but does not want to sing about rotting children, blood here and there and that kind of nonsense. In our lyrics we handle the history of our earth, in stead of shouting out words everyone can think up.
Michiel: A lot of people get pis*ed because we write lyrics about 'gore stuff' that really happened. We are fully aware that certain historically accurate matters are quite sensitive in some countries. The Monolith Deathcult is NOT a political band. We distinguish between race and religion. We know that most people are too retarded to take a good look at our lyrics, but we refuse to lyrically adapt and limit ourselves to suit the IQ of the contemporary metal fan. The Monolith Deathcult treats historical happenings as they occurred throughout the ages. Sometimes it happens that a topic is treated which certain people rather would not be reminded about because of the heinous deeds of their forefathers.
I will stick a bit longer to the lyrics of the new album. I donít know who is the main lyricist of the band, but it is more than obvious that this person(s), is/are well educated in terms of historicaly knowledge. What is it that you guys find so fascinating about history in general? Is there a specific era in history that you like the most?
Martijn: Lyrics are written by Michiel and Robin. Weíre all interested in history, Michiel is even studying for historicus. So thatís the reason why songs are about historical facts. They vary from the origin of mankind (Origin) until The Tsjernobyl disaster in 1986 (Concrete Sarcophagus).
Michiel: I am a teacher in history on a highschool so thatís the reason why we write lyrics about historical subjects. We are very serious in what we do and we want interesting lyrics for our music. We want to show that we are not a silly band with stupid lyrics about killing or rap*ng babies or intestines filled with sh*t. Mankind is sick and we have no problem to show mankind in a lurid mirror. Some people hate us for that but we donít care. Ha!
Karmageddon Media mentioned that 'The White Crematorium' is their absolute priority release for both February and this coming March. Are you satisfied by the support that you have received so far by them? Does it help the fact that both 'sides' are from the same country?
Martijn: Weíre very satisfied with Karmaggeddon Media, it is a professional organisation that knows what itís doing. The fact weíre both from The Netherlands comes in very handy concerning communication.
I was also informed that there are many live shows planned for 2005. Are we to expect you to also visit the United Kingdom, and if yes, will it be as a headline act or by supporting another big band? Which dates have been confirmed for the time being?
Martijn: At the moment we have some shows planned in Holland, and weíre busy arranging one or two tours. I cannot say things about dates because there are none confirmed at this moment. When they are they will be presented on www.monolith-deathcult.com
What is your opinion about the current Death Metal scene? Do you think that this specific genre that you chose to serve has a lot more things to offer to our beloved music?
Martijn: I think thereís more to expect from serious death metal bands, but sometimes I think there are too many bands copying each otherís music. It is going to look like an overflow.
Thank you very much for doing this interview. I wish you all the best for both you and your band.
Martijn: Thank you for your questions and weíll be seeing you in the UK!
---
Interview © 2005 John Stefanis