Good news for all the fans of the Goteborg Metal scene: A new band which answers to the name Within Y is out there, and has quite recently released their debut album "Extended Mental Dimensions".
Seeing that you're a young band, I think that the first thing I should ask of you is to give us a brief bio of the band.
Andreas: It all started with Niklas and Mikael started playing together, after a while they wanted to do something more serious. And since I and Niklas work together he asked me if I wanted to join the as the singer of the band, so I did. Later we wanted a really great drummer, so I called my friend Thim and asked if he wanted to join our project. He did as well!
We started to write the four songs on our demo "Feeble and Weak", and after a few months we wanted to record them. We called Nilkas´ friend Mattias (who later joined us as the bassplayer) and asked if he wanted to record with us! He did and now we're here.
"Extended Mental Dimensions" is quite an impressive debut album, as far as I'm concerned. When did you first start recording the material for this release?
Andreas: Thank you! We started in August 2003 and finished three weeks later!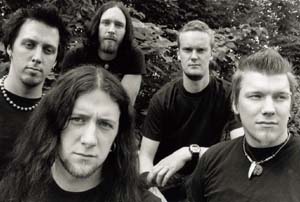 Karmageddon Media is promoting you as a "Goteborg Metal" band. I also believe that your style is quite influenced by this scene, but I also have to mention that I traced quite a few elements in your music that you usually cannot find in the typical Goteborg-based bands. Do you accept the term that the band was given by the media? How would you describe your music?
Andreas: Yes, I can agree! But I also agree with you, that you can find some elements that are not typical Gothenburg sound. We were pretty much aware that people would call our music Gothenburg metal, so it doesn't matter that much. We play the music we like to hear and don't think so much what style it is, but since we all like the same music its natural to play what we do.
I have read many reviews in both the Internet and Metal magazines, and the reaction I saw towards "Extended Mental Dimensions" is quite mixed. How happy are you with the way the Metal press has received your album?
Andreas: I am pretty satisfied with the reactions! Most of them are good, the once that aren't that good, only complains about that we aren't original, but we all ready knew that, so that's no problem!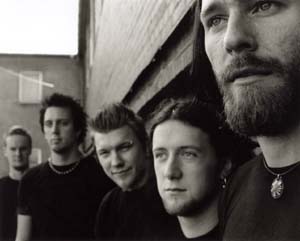 Another thing that probably confused many music journalists, was the fact that you chose not to record your album in Fredman Studios, as most of them would have expected you to have done. Why did you choose not to?
Andreas: Like you said, we play Gothenburg metal. We thought, the least we can do to make it sound a little bit different, is not to record it in Fredman, that's why we choose not to.
Who was responsible for the production of the album, and how happy are you with the final result of the recordings?
Andreas: We're happy how it came out in the end! It was a guy called Baskim who recorded us, but we knew ourselves how we wanted it to sound. So we told him what to do, and he did it!
What was the atmosphere in the studio like? Did you enjoy the recording process, or were you just running in order to meet the deadlines, as most of the young bands do nowadays?
Andreas: We like the recording process! We had a great time, fooling around and stuff! It was great! We all came along very good, so it wasn't any problem!
Why did you choose to play this specific style of music? Aren't you afraid that people will treat you as "just another Goteborg Metal band"? Is there a specific kind of audience that your music is targeting?
Andreas: Like I said before, we play the music we like. And we don't have any guiding line of how our music is to be played.
What's the meaning behind the name "Within Y"? Who writes the lyrics in the band, and where do you normally draw your inspiration from? Is there a message behind the existence of this band?
Andreas: We didn't have any name at the time we recorded our demo Feeble and Weak. We were all thinking of different names, but no one came up with one. Then one day Thim said -What about Within Y? We didn't understand what he meant, but it sounded cool and we kept it! Mikael and I share the lyrics, and we write about things that generally happen in our life, but with a little imagination added to it.
Karmageddon Media is a Dutch label. How did you get in contact with them, and what made you choose them from all these Metal labels that are out there?
Andreas: We sent our demo out to a lot of different labels, and it was Karmageddon that seemed most interesting, and they seemed most eager to get us under their label. That's why we chose them!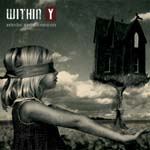 How are you planning to promote "Extended Mental Dimensions"? Have you made any touring plans yet? Are we to see you in the UK at some point?
Andreas: We hope to get out and play as much as possible, but there are now plans for a tour yet. We are doing some gigs in Sweden this summer. Hope to get to the UK as well!
Many bands nowadays use video technology as a way of promoting their music. Do you like the idea of making a video for "Extended Mental Dimensions"? Do you believe that it will help the promotion of the album?
Andreas: Yeah! I think a video would be a great way to promote our band and our album! Then you'd get both visual as well as music! Perfect!
What are we to expect from Within Y in the near future? What would you like to achieve, individually as an artist, and collectively as a band?
Andreas: We are writing some new material right now, and it sounds amazing! I hope that we will get to play as much as possible so that we can get a really great live act!
What inspired you in order to become a musician? Is there any specific artist that you would like to share the same stage with?
Andreas: I don't think there is any certain reason why we all started playing. Its pretty big here in Gothenburg, when you're in school almost everyone plays. I saw Testament the other day, I would love to tour with them!
Which, in your opinion, are the strongest selling points of "Extended Mental Dimensions"? Why should people invest in it?
Andreas: Because it ten songs of really great Melodic Death Metal! It is also a really great artwork with it!
Thank you for making this interview. The last words are yours.
Andreas: Thank you! Buy our album and visit us at www.withiny.com Cheers!
Related>>Album review
---
Interview © 2004 John Stefanis