WITHIN Y 'Extended Mental Dimensions' (Karmageddon Media) (2004)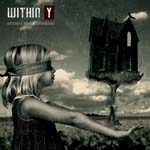 I have been involved in the music business for quite a long time - long enough to be able to say that music journalists can sometimes be more unreasonable than Army officers. The reason for this statement: I recently got my hands on "Extended Mental Dimensions", the debut CD from a Swedish quintet called Within Y. The band originates from Goteborg and was formed by Gardenianís ex-drummer Thim Blom.
Knowing nothing of the bandís history, I surfed on the Internet in order to collect as much information as possible. What I came across with was a huge number of interviews, half of which were referring to Within Y as a band with no inspiration that shamelessly copies The Haunted, and the other half to a new Swedish phenomenon with a very good album in their hands. That of course made me more curious as to what my opinion would be about the band.
It didnít take quite a lot of time for me to realise that I belong to the category of those who believe that Within Y is a band with quite an impressive debut album. I canít understand how anyone can expect anything better from a debut album: The production of "Extended Mental Dimensions" was made by the members of the band and is simply amazing. A nice collaboration of heavy and melodic guitars, with the first providing the rhythmical foundations of every song, and the latter creating some of the most interesting and impressive melodies. The music of Within Y is a battle between heaviness and melody, and the fact that the melodic parts are the ones to prevail is exactly what makes them differ from their main influences, which are bands like At The Gates and The Haunted.
This ten-track album has many catchy moments, but I believe that itís songs like "God in Silence", "Feeble and Weak", and my very favourite "Injection" with itís beautifully composed outro that will make you fall for this album. It is true that Within Y are not presenting the most original album to the Metal world. It is also true though that there are many new bands out there with more than one release in their hands whoís quality is much inferior to that of "Extended Mental Dimensions". I also feel the obligation to remind some people that when The Haunted released their debut album back in 1998, people were referring to them as a bad Death Metal imitation of Slayer!
I will gladly add this album to my music collection, and I hope that it wonít be long before Within Y impresses me even more with an equally good and a bit more "personal" second release.
****
Review by John Stefanis