When I first got introduced to Wake Pig, I came to the conclusion that this very unusual but quite challenging album was a product of a group of people that are well aware of both their capabilities and intentions.
Well, this interview with Joey Eppard, the band's frontman, was indeed all the proof that I needed in order to support such arguments. If you appreciate bands that are not afraid to sacrifice any chance of temporary success in the altar of artistic expression, then continue to read these lines.
Guys welcome to the "Pure Metal" section of Get Ready to Rock. The first thing that I noticed while reading your label's press release was their belief that it would be a great challenge for any music journalist to describe your music. Is that something that you personally agree with?
Joey: We don't think its some great challenge for a knowledgeable journalist to describe our sound. I think the label's intentions were to suggest that one can't rely too heavily on rigid genre classifications and -scene rules to define this musical project.
Well, many people here in Europe may not be aware of the fact that you have been around for quite a while now, so I suggest that you provide us with a short bio of the band. When did the idea of forming the band first occur, and why did you choose your simple but quite unusual name?
Joey: 3 began in Woodstock in the mid 90's. Originally a trio, this had nothing to do with the name. It was a reference to the construct of our reality as having predominantly 3 aspects. For example, we live in a 3 dimensional universe on the 3rd planet from the sun, experiencing time as past, present and future in a form that consists of mind, body and spirit.
As teenagers, we turned quite a few heads when we began performing. We developed a small amount of notoriety for being so young and playing relatively progressive music, which led to our first deal. However, after a corporate merger left us side lined at Universal Records, the first incarnation of 3 dissolved. Lead singer and songwriter, Joey Eppard began assembling a new band, forging ahead with the project. Several years and 2 full length albums later, Joey had finally put together his dream line up including members of the seminol NY prog rock outfit; -Peacebomb. With the new team in place we took matters into our own hands, setting up a studio and recording -Wake Pig, our self-produced Metal Blade Records debut.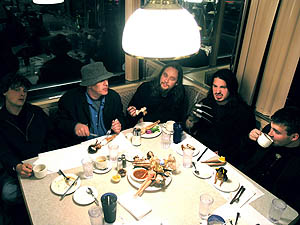 All of the band's previous releases, including "Wake Pig" were originally released by your previous label, Planet Noise Records, yet it was "Wake Pig" that you chose to release as the first product of your new collaboration with Metal Blade. Does that have to with the fact that it was the last album prior to the signing of your new contract, or was that decision solely based on the quality of your material? Are we to see any of your previous albums being re-released by Metal Blade in the future?
Joey: Originally we'd been approached by Coheed and Cambria who were interested in re-releasing Wake Pig on their own label; Evil Made Records. Then Metal Blade approached us with what seemed to be a more serious offer. In the end we decided to put the two together. Because the first release of -Wake Pig was fairly limited in distribution and marketing muscle, all parties involved felt that a re-release was the way to go. Also we were excited to remix as well as add a few new tracks. As far as Metal Blade re-releasing our older albums, it's certainly a possibility. But the truth is we're more excited about future albums than those in the past.
When you decided to part ways with Planet Noise Records, did that happen under normal circumstances? Which are the memories that you are going to cherish the most on the years that you spent as part of their roster?
Joey: Planet Noise is an exceptional label and we would not have gotten this far with out their support.
We're still very close to Tom Benton, PNR's CEO. The decision to move to Metal Blade was in our best interest and because of that Tom was very supportive. The 3 back catalogue continues to remain on PNR as well as Been to the Future, (Joey's solo album.)
The making of -Summercamp Nightmare was a very special time for us. This record was made without the use of computers. We recorded live with very little editing and cultivated a powerful vibe in the studio. Also those were the years that we all shared a large house with a couple of girlfriends. We had some pretty wild times.
If you were asked to critically evaluate the work that you did on "Paint By Number", and "Summer Camp Nightmare", what would be your comments? Do you see any links both in terms of songwritting and sound quality between those albums and "Wake Pig"?
Joey: -Paint By Number has some great songs that are very well recorded. Unfortunately the money ran out before we could make the most of the mixing phase. There are a lot of great room sounds on the drums that never got dialled into the mixes. Also, during the recording process, many of our more conceptual ideas were abandoned by the producer; Michael Birnbaum. The record gives a well-rounded sampling of material. The melodies are potent and each track stands on its own.
The guitar sounds are exceptional. We still get many requests from fans to perform this material. If anything the whole experience left us wanting more control over the production of our next record.
When the time came to record -Summercamp Nightmare we set out to make a more cohesive sounding record. There was a pivotal moment when we turned off the computer and put it away swearing not to use it for this record because it can influence the vibe of the session so much. We wanted to make an organic record. We used all vintage microphones and amps. We wanted the opportunity to explore the -crazy ideas that had been scoffed at by our previous producer.
Although our records are eclectic, there are strong fibbers of continuity running through them. No matter what sounds we have explored dynamically and stylistically, our music has always come from the heart. The lyrics and melody are consistent throughout, and what remains is a living, evolving art project that refuses to be trapped inside itself.
"Wake Pig" was originally released back in 2004, which means that it contains two-year-old material. Which were the areas that you had to work on in order to make the Metal Blade release better, and how did you manage to achieve that?
Joey: The first - Wake Pig was completed in September 2004, we rushed so that it could be available for our first major US tour with Coheed and Cambria later that month. The re-release created the opportunity to put some finishing touches on the record. The song -Monster had new bass added and was remixed. We wanted to bring out more of the acoustic guitar and have the snare crack a bit more. On -Amazedisgrace we recorded a new guitar solo and outro as well as completely remixed the track. There are many layers to this song and we just weren't happy with the earlier mixes. The new mix features more clarity and definition of parts. On -Where's Max We added Max's vocals and remixed the song.
"Wake Pig" seems to be carrying with it a variety of influences from many different musical backgrounds. Would you care to explain the basic ingredients that make up your band's sound, and which, in your opinion, are the elements that can be found in your music that are perhaps unique? Is there such a thing as a classic "3" style or sound?
Joey: Ultimately we fall somewhere under the rock umbrella, sometimes classified as progressive. If you ask us, basically we consider our selves to be a hybrid type of band. We don't follow the rules of one scene or another, we just do our own thing. Mars volta, dredg, and coheed and cambria were some of the consistent comparisons we got during our 1st u.s. Tour. Most likely because they are rulebreakers and so are we. We are a collective of individuals, we don't fit neatly in any one particular genre.
Our sound is very rhythmic. We have 2 drummers, one on kit and one on a large percussion set up. Joey also basically plays drums on his acoustic guitar. Billy covers a lot of ground on electric guitar between hard rock and more subtle ambient textures. Daniel, the bassist is the glue that holds it all together. Part of what makes this band unique is that we all have very strong and very different personalities and we encourage them to shine through the music. The combination of hard rock and flamencoesque sensibilities is on of the most unique aspects of 3. Also the combination of lyrics, melody and musicianship we offer is not exactly what you'd call common place.
Many musicians that I have met need to be in a certain "artistic mood" in order to become productive. Does this thing also apply to the members of this band, and if yes, what was the thing that mainly influenced the creation of the eleven compositions that are featured in "Wake Pig"?
Joey: Some of us enjoy herbal remedies and such before we create, but not as a rule. I think the common denominator is an openness to express our selves in the moment. I think when we come together as musicians we generate our own unique matrix of energies, from which the songs manifest.
Talking about the creative process, what is your attitude towards this activity? Do you work individually as musicians and then combine your ideas, or do you all have to be in the same environment in order to "bring to life" to any of your compositions?
Joey: Much of what we create evolves out of free form Jamming. Sometimes it's just Joey and Chris. Sometimes it's all the band members. Also Joey does tend to cultivate ideas independently and bring them to the table. But he does so with the personalities of the other musician's in mind.
I would really like to take the opportunity to have you analyse a few of your songs for us, and I think that I will go for two slightly different compositions, such as the more straight-forward opening track of the album "Alien Angel" and a song based on an impressive acoustic guitar solo, such as "Bramfatura". Which would you say are their similarities and differences, and how do they both manage to peacefully co-exist under the same release?
Joey: Both songs have similar dramatic qualities. This has to do with the almost classical sounding combination of minor chords. Also the guitar technique in Bramfatura is similar to the one used in the opening riff of Alien Angel. Another similarity is that there was very little editing in the drum performance of Alien Angel, and Bramfatura was recorded live in the studio. Both songs involve conceptual theosophical ideas.
Alien Angel is a song with a multitude of sci-fi concepts and philisophical meanings including; the origin of man kind, on both physical and spiritual levels, and the possibillity of an extra-terrestrial or dimensional inteligent design and covert manipulation of our world. It plays with the idea of an angel falling, in the sense of loss of innocence, but also in the sense of our physical birth being like a spirit crash landing on planet earth, having -fallen into flesh and bone as the song describes. It is a meditation based on my inescapable feeling that we've come from somewhere, someplace higher, more complete. -Are you an angel who's ship ran aground? Cant get a grip on this planet you found.' it's a fair question for any of us.
On a similar note is Daniel Andreev's definition of a Bramfatura:
Almost every heavenly body possesses a number of variomaterial planes that together form a closely integrated system. These systems, united by the commonality of processes taking place on their planes, are called bramfaturas. In the majority of bramfaturas in our Galaxy the chief process uniting the planes of each is the struggle between the Providential and the demonic forces. There are, however, bramfaturas that have completely fallen under the sway of the demonic and those that have freed themselves entirely of it.
The obvious difference is that Bramfatura is a solo piece and offers the listener a break from the dense tracks that precede it. It also provides a clear example of Joey's guitar technique, which is not as easily gleamed from the other, more fleshed out tracks.
These songs not only peacefully co exist but benefit from each other's presence by being included within the same record. Variety creates more of a sense of value and discovery. In other words if it were an album of instrumental acoustic tracks, -Bramfatura would not be such a standout. Likewise, letting the rest of the band take a break makes their return on the next song, more powerful.
Another thing that really needs extra commenting on is the very successful addition of oriental influences in "Amaze Disgrace, which I consider to be one of the best songs of the album. Have you guys ever worked with such sounds in the past? How did that idea come about in the first place?
Joey: Amaze Disgrace began with the drums. Chris developed this Latin rhythm and then the acoustic guitar followed with the chord changes and the melody and mood sprung from that. There was no specific plan to incorporate any oriental or Indian influences they just evolved over rehearsals and performances of the song. As lead singer, Joey has in the past dabbled in Indian style vocalizations during moments of improvisation, but it has only recently begun to solidify into the compositions of songs.
How long did you spend in the studio working on the "new" album, and how did you find the whole experience? Do you guys also get involved in terms of production or mixing?
Joey: Wake Pig is the record that we decided to make ourselves. Joey Eppard produced, recorded and mixed almost the entire album. We spent just about the entire summer of 2004 working on the record. Because it was our own studio we could take time to try ideas and hone compositions.
Next year will find you on the road promoting "Wake Pig". Have you guys already decided which parts of the world you are going to visit? Is Europe part of your touring plans?
Joey: We are all very excited about the possibility of performing abroad. It looks as though our first non-American performance will be in Japan in March of 2006. As far as the rest of the world, no definite dates yet, but we believe they will come.
So far you have been on tour with bands like Coheed and Cambria. Did you enjoy playing with these bands? Name some of the bands that you feel that will make a good bill with "3" and also which are the artists that you would really love to share the same stage with.
Joey: We had a ridiculous amount of fun touring with co and ca. Their audience was very receptive to what we do. Other bands we'd like to tour with are the MARS VOLTA, DREDG, SYSTEM of a DOWN, The Red Hot Chilli Peppers, Les Claypool/Primus and COHEED AND CAMBRIA again.
What kind of audience do you believe that "Wake Pig" is going to attract for the band? Are there any rules that a music fan has to follow in order to be considered a typical "3" fan?
Joey: So far there isn't one stereotypical kind of 3 fan. Some common traits we see would be a passion for good music that extends beyond scene limitations. We attract a lot of musicians, and other bands are usually very supportive of what we do. Sound engineers love us. In the larger arena we tend to connect with male and female, black, white and all shades in between. It's great when you see different scenes and people coming together in harmony. That's really what this band's audience is about. Joey has performed on bills with every one from the Bad Brains to Richie Havens. He's shared the stage with the likes of George Clinton and Heart. He's done extensive touring in the Rock, Jam and Folk markets. 3 has played with tons of emo bands, indie rock bands, some hardcore and some experimental. We can also hold our own in the jam band scene because we love improvisation. All these experiences culminate in the music of 3 and reflect in the diversity of our draw.
What would you do to liven up an indifferent crowd?
Joey: -Break all 6 strings on my acoustic and tomahawk the drums!
How has your relationship with the music press been so far, and how important is someone's opinion to you?
Joey: The music press has been mostly positive so far. We take all opinions with a grain of salt and value constructive criticism as a means of self-improvement.
Have you guys set up any long-term goals for the future of the band, or do you tend to take each day as it comes?
Joey: Our goal is to bring our music to the world.
Which are the albums that one will find lying next to your stereo at the moment?
Joey: Ojos de Brujo's -Bari, Joni Mitchel's -For the Roses, - Led Zeppelin III, Devo's Hardcore Volume 2, Genesis' Selling England by the Pound, to name a few!
Thank you very much for this interview - I wish you all success for the future. Any last words/messages?
Joey: -Fear is the mind killer- Frank Herbert
---
Interview © 2006 John Stefanis