3 Wake Pig Metal Blade (2006)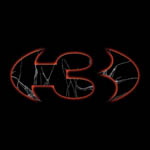 Has any of you heard of a band called "3" before? Well, I really hope that you didn't all think that I was referring to the project that Robert Berry and Carl Palmer were involved in, during the last few years of the 80's. What we have here is a group of five musicians who have been struggling during the last eleven or so years to release their unique and quite uncompromising music to an audience outside their hometown Woodstock, New York.
The band's first album "Paint By Number" was released through Planet Noise records back in 2000, and according to their label sold a significant amount of copies throughout the world. Three years later, the released of the second full-length album "Summer Camp Nightmare" saw the light of day, which proceeded 2004's "Wake Pig" - both of which were promoted under the banner of Planet Noise records. By that stage, the US quintet realised that a change in strategy had to be in order for them to approach a wider audience, so in the beginning of 2005 a contract with Metal Blade records was signed, and both parties decided that a new and more improved version of "Wake Pig" was to become the first product of this new collaboration.
I am really not sure what Joey Eppard (Vocals/guitars) and the remaining four members of the band were thinking when they started working on the material for "Wake Pig", but they have definitely managed to come up with a very unusual and extremely challenging album that will almost certainly trigger a variety of different reactions. I found it very interesting how influences from bands of a totally different background such as Psychotic Waltz, Tool and even My Chemical Romance can work under the same environment, but I'm afraid that I didn't find the whole album to my liking. The songs that do manage to stand out, as far as I'm concerned, are the Psychotic-influenced "Alien Angel" & "Trust", the brilliantly performed "Bramfatura" whose acoustic guitar solo will raise many eyebrows, as well as the nicely-arranged oriental scales of "Amaze Disgrace", which are still buzzing in my ears.
Don't think that the reason why I am not giving "Wake Pig" a really high ranking is because I am not fond of the band's music. These guys have many interesting things to say, and I am hoping that Metal Blade will manage to bring the best out of these five musicians in their future releases. This is a very promising band indeed!
***½
Review by John Stefanis