Having experienced a live performance from Falconer a few years ago, and being totally aware of the true nature of their music, I would expect that an interview with the bandís guitarist Stefan Weinerhall would have been quite light-hearted and relaxed. It seems, though, that all the recent changes in the bandís line up, as well as the anticipation of the release of the bandís latest full-length album "Grime Vs.Grandeur" are too important to him in order to be taken lightly. Being very precise in his responses, Stefan explained what we should expect from this new album and what the bandís plans for the future are.
Hi Stefan. We are only a few weeks away from the release of the band's latest studio album "Grime Vs.Grandeur". Can you give us an idea as of the atmosphere that currently exists in the Falconer camp?
Stefan: Everything has felt better than ever in the band since we got the 2 new members. I would say that their ambition and enthusiasm has been the biggest inspiration to me this time.
In the two years between the release of your previous studio album and that of "Grime Vs.Grandeur", there have been quite a few line up changes. Being the founding member of this band, I would like to know your opinion as to how important you believe that these changes were for the Falconer's future development, and why did Peter and Anders Johansson leave the band in the first place?
Stefan: The line up change doesn't really affect the band or the music, as long as I am around there will be ideas for Falconer. Of course a bad situation may slow you down, just as the new line up has given me more inspiration. The line up change happened because of Andersí and Pederís loss of enthusiasm, and also that we wanted a bassist that lived closer to us and also to get a real lead guitarist which was neither I nor Anders.
I would like you introduce to us the new members of the band, Jimmy Hedlund (guitars) and Magnus Linhardt (bass), and explain what made you chose them to be your new band mates.
Stefan: Magnus is a party dude who is slightly more into hard rock and stoner rock. Jimmy was found through advertising in papers and on websites, it took a couple of moths to get a hold of a person that we knew would fit the band. After the audition it was very clear that he was the guy. He is a typical lead guitarist, he can't see a guitar without picking it up and start playing. So if we're partying we have to hide all guitars, otherwise he will not join the party. I would say he and Magnus are the ones that are the most enthusiastic at the moment, always pushing us to rehearse.
When did you first stated working on the material of the new album? Did you have a specific vision as to how Falconer's fourth studio effort should sound? How much were the Johanssons involved in any of the ten compositions, which are featured in "Grime Vs.Grandeur"?
Stefan: The Johanssons weren't involved in this music at all. I started to find material around the fall of 2003. The only thing I knew I wanted with the next album was to make better music than the music that was on 'SceptreÖ.' The whole thing with intensity and more speed and harder sound just came naturally. The lyrics this time are not as historically based, but they deal more with society, feelings and opinions of me and Kristoffer. After a lot of historical songs and a whole concept album about the 13:th century the historical aspects weren't that interesting.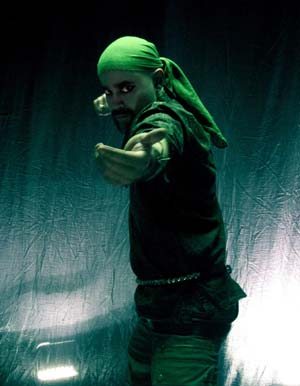 If you were asked to compare "Grime Vs.Grandeur" with the band's previous effort "Sceptre Of Deception", which would you say are their main differences? In retrospect, do you believe that the idea of making a concept album at that specific moment in time was a successful one?
Stefan: I think that the music lacked a bit of quality because of the fact that it was a concept and I had concentrated too much on the lyrics. The main differences is the quality and the self-esteem. This time we didn't care to try to not upset the old fans. We let Kristoffer sing his lungs out and make songs that were good not thinking if they sounded folky or not.
Did the fact that you chose not to create another concept album this time round, promoted the development of many different musical elements in your music? How would you describe Falconer's sound at the moment?
Stefan: The music we have this time wouldn't fit that well on a concept album, I think, because it can vary from rock 'n' roll to metal to folk music. It would be hard to find a concept that would fit all that. Our present sound I would describe as melodic Heavy Metal. It's more varied than ever.
Falconer is one of the bands which were "discovered" by the great Andy La Rocque (King Diamond), who is also the producer behind all of the band's previous releases. The press release was not specific as to who is the person that Falconer worked with this time, so are we to assume that it was once again him that you guys worked with?
Stefan: We know Andy very well and he knows us very well and what we want and might like. We chosed him again, yes... I trust him a lot with the recording, he never releases something that isn't perfect or wellplayed. This time I and Kristoffer were a bit more involved with the engineering and sounds which I think strengthen the band feeling. We could record each other instead of every one recording themselves with Andy. I think this album has got the best sound we've ever had, we made Andy try different things to then apply in his own way.
How much do you personally get involved in the recording process of your band's albums? Do you believe that being part of such a complicated and difficult process gives you a better understanding as far as your own music is concerned? Do you feel comfortable with the idea of giving liberty to the sound technicians in order to interfere with your music?
Stefan: As I said before we did this time involve ourselves more than before. I think it only brought good things with it. You get to see the music somewhat in a different way when you're involved in the recording process.
The new album was recorded between December 2004 and January 2005. Do you think that a month in the studio was enough to help you record the kind of album that you have envisioned? Are you satisfied with the final result?
Stefan: I am very satisfied but we didn't have time to record one of the songs we had. More details could always have been added, so I think that for me to have been completely satisfied, we would have needed one more month.
How well prepared were you when you entered the studio for the recording process? Were all of the compositions prepared before hand, or did you finish some of them while the recordings were taking place?
Stefan: All songs are done. The only things that weren't done to the full were some keyboard parts and vocal and guitar harmonies. All lead melodies are always complete.
The ten new songs that you are about to release are based upon many different topics as far as the lyrics are concerned. Is Kristoffer the one that's responsible for writing them?
Stefan: He wrote Jack the knife completely on his own, both music and lyrics. Then he also wrote the lyrics for a ľ of the remaining songs. It really allowed me to concentrate more on doing good music, we also have more varied lyrics and language. I think this was a very good way to go. I tend sometimes to do the same thing over and over again when it comes to lyrics. I think the music is more fun but also more important, so I gladly concentrate on that and leave some of the rest to Kristoffer.
As a guitarist of Falconer, how important do you feel the lyrics to be to the music you write? Do you normally compose your songs based on a specific lyrical context, or do you write your lyrics after the compositions have already been prepared?
Stefan: The only time I did that was on the songs of 'Sceptre.'. Normally I do the music and vocal harmonies. After that I try to fill the harmonies with lyrics. The lyrics on this album are more important and have more of a meaning than before, but I still think that the music is the main thing.
In the past you have expressed your insecurity as to how your old fans would accept Kristoffer Gobel as the new vocalist of Falconer. Now that he has recorded his second album with the band, do you think that he has managed to convince people that he was the right person to fill Mattias Bladís shoes?
Stefan: He is the right one for Falconer at this time. The people who think that Falconer isnít good without MathiasÖ.well did they care about the music at all then? I don't really care about it. Of course you want people to like what you do but if you don't gain anything from it I see no reason to obey exactly what they say. You can't say that we're selling out, anyway. We just do what feels right. Mathias was the right guy when we were there but he wouldn't fit the new material.
Falconer is without any doubt a live band. Have you made any plans yet as to which countries you are going to visit on your upcoming tour?
Stefan: We have nothing to say about that. It seems like there's gonna be some kind of tour in the fall/winter but that's all I know. Hopefully we will be a support band this time, that way we can play to more people and in more places.
My first and only experience of Falconer was a couple of years ago at the London Underworld, supporting Dream Evil. One thing I do remember from that gig was the fact that you guys were ready to do anything in order to raise the spirit of the crowd and create a party atmosphere. How important to you is the reaction of the crowd towards your music?
Stefan: If the crowd just stands there like zombies it's not really fun to be on stage. If there's interest from the people we get more interested in giving them what they want. So I'm glad we don't play in a black metal band cause then the crowd just thinks about trying to look evil and cool instead of devoting themselves to the music.
Now with your fourth album ready to invade the record stores around the globe, do you believe that this is the right time for Falconer to make a headline tour? How possible would that be, and if given the chance, which are the bands that you would like to tour with?
Stefan: We did a small headline tour last year. I didn't think we were a headline act but we took the opportunity anyway. I think that Falconer would have more to gain if we would support another band that's bigger. And then we are talking about the sizes of Gamma Ray, Edguy etc
How well do you think is the material from "Grime Vs.Grandeur" going to be recreated on stage? Is that something that you take seriously under consideration when you write your songs?
Stefan: I think that the new material is very 'live friendly', not something I can say about all songs from 'SceptreÖ..'. The only real thing I reconsider when I write is that it will be playable on stage, to not have too many strange instruments and singers. Apart from 'SceptreÖ.' That is.
Do you believe that the music of Falconer can apply to a wider audience, or is it the melodic Heavy Metal fans that you are targeting in general?
Stefan: Of course we turn to the metal audience but for a metal band I think that Falconer could get interest from the crowd outside the metal genre but they won't get in contact with it as all advertising happens in metal magazines etc. It's advertising to people who are already informed.
Which are the best memories that you have as a member of this band so far, and what are your plans for the future?
Stefan: The future plans are to soon record a music video for 'Emotional Skies' and try to find gigs. The best memories would have to be when I walked up on the Wacken stage 2002, I will never forget the amount of heads I saw and that I realised it first when the gig was over.
Stefan, thank you once again for doing this interview with Get Ready to Rock - the last words are yours!
Stefan: Falconer rulez!!!!!!
---
Album review
Interview © 2005 John Stefanis