FALCONER 'Grime vs. Grandeur' Metal Blade(2005)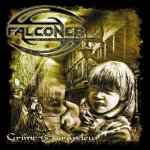 The story of Falconer began back in 1999, when ex-Mithotyn guitarist Stefan Weinerhall decided to continue his musical activities through a band which was to preserve the same epic/melodic feelings as his former outfit, but with more classic Heavy Metal references in its music. The first Falconer line up was formed when ex-Mithotyn drummer Karsten Larsson and vocalist Kristoffer Gobel joined later that year and helped record the band's first ever demo. The response that this first effort received was more than satisfactory, so the trio began composing material for a full-length album straight away.
Having found a very useful supporter in the face of the well-known guitarist Andy La Rocque (King Diamond) the band recorded its debut album "Falconer" in 2001 through Metal Blade records. It is important to mention that at this early stage in their career, Weinerhall and Co were not prepared to support their debut album with any live appearances - something that would change a year later when "Chapters From a Vale Forlorn", the band's second full-length effort, was released.
Now that the demand for live performances was overwhelming, Weinerhall invited Anders Johansson (guitars) and Peder Johansson (bass) to join Falconer. The band's popularity was growing quickly, but that didn't prevent more changes to Falconer's line up.
In 2003, Kristoffer Gobel became the band's new vocalist and a new album called "Sceptre of Deception" was released, once again through Metal Blade records. When Falconer hit the road, supporting Dream Evil, their live performances were so powerful and well co-ordinated, that everyone believed that this line up was here to stay...
After what was described as "disagreement in the general musical direction", Anders Johansson and Peder Johansson were fired and replaced by Jimmy Hendlund (guitars) and Magnus Linhardt (bass) - a line up which has recorded and is about to release "Grime vs.Grandeur", Falconer's fourth full length album.
Those of you who have experienced Falconer on stage know exactly what should be expected from this band. Even though they have been described by many as a "party metal" outfit, I don't believe that there is any room for doubt that the majority of the songs that this band has created throughout the years have been based on classic Heavy Metal riffs (Judas Priest, Saxon) that simply kick ass - something that also applies for the twelve compositions put together on "Grime vs.Grandeur". This time round, the band decided not to go for another concept release, but instead they prepared ten compositions, which incorporate many different musical influences, and sound far more interesting and challenging.
Even though I found extremely simplistic and funny some of the lyrics that the band has prepared for songs like "I Refuse" and "The Assailant", I was drawn by the catchiness of the guitar riffs and the welcoming atmosphere that these compositions are able to create. The production of the album would have been of a high standard if the drums didn't sound so shallow, but after a few tracks you will concentrate so much on all the other nice things that are going on, that you will completely forget about it.
I wouldn't say that I am the biggest fan of this specific genre, but I have to admit that "Grime vs.Grandeur" has won my appreciation quite easily, simply because I decided to let myself loose for a change and not allow myself to take things too seriously. If you decide to do the same, you will probably end up listening to this album more times than you can imagine.
***½
Review by John Stefanis