When you have to cope with the departure of your long-term frontman (Pasi Koskinen), and witness the almost nonexistent promotion of your previous album release ('Far From The Sun'), then you are left with two options Ė either to call it a day, or release one of the best albums of your entire career.
I am really happy to say that the Finnish atmospheric sextet Amorphis have chosen the second option, which lead to the birth of the amazing ''Eclipse''. In a short but quite meaningful manner, founding member Tomi Koivusaari talks about all those great things that are happening for the band nowadays, and explains how Amorphis managed to bring together the 'old' with the 'new'.
Hi there. It's good to have Amorphis back with us after a long period of silence. How did you guys manage to satisfy your artistic creativity during these last three years? Were you working exclusively with the new album in mind, or were any of you involved in other projects?
Tomi: We started to write new material right away. We also had a bunch of side projects that we did. Esa did Chaosbreed, I did with Pasi To Separate the Flesh from the Bones and Verenpisara where also Tomi and Santeri is involved. Pasi had Ajattara were Tomi was playing guitar. We kept ourselves busy. We also helped out Jeff Walker (x-Carcass) with his solo album, it features a lot of musicians from all over.
There are quite a few questions that I want to ask about the band's latest release "'Eclipse'", but before I do that I would like to clarify a few things. What was the reason for such a huge lack of proper promotion as far as "Far From the Sun" is concerned? I am convinced that, even as I write these words, no copies of that release would be available in any of London's big record stores!
Tomi: We signed to Virgin in Finland, it worked ok for some territories but for most it was a disaster.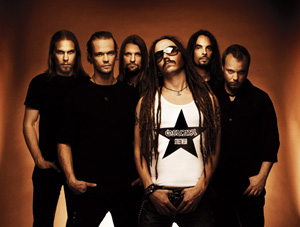 What was the reason behind Pasi Koskinen's departure from the band, and how did that affect you as a unit? Did you guys part ways in a friendly manner?
Tomi: He wasnít just motivated anymore, it all happened in a friendly manner and we support him 100% in the direction he chose. I think we have a stronger unit now because everyone is in it 110%.
If my information was correct, back in 2003 you were all pretty unhappy with the way you were treated by Nuclear Blast, yet the new album is going to be released by that same label. What happened during these last three years that made you decide to work with the German label again?
Tomi: It was released by Virgin not Nuclear Blast, they then released it in North America since Virgin didnít get it out there. It all happened something like 18th months later than in Europe. We had a lot of problems while on Virgin thatís why we are on Nuclear Blast now.
'Eclipse' is a very well-balanced and carefully arranged album, with great attention being paid both in terms of its general presentation (album cover, track sequence) and production. Who created the artwork of the new album? Is it in any way relevant to its title/general feeling?
Tomi: Travis Smith is behind the cover and yes it pretty much gave the name to the album. He did a great job and came up with so many great ideas that we had a hard time picking the right one.
When you began working on ''Eclipse'' did you at all feel pressured from the point of having to convince both your fans and the music world, that Amorphis are still capable of creating good quality music?
Tomi: Not really, we started to work on the songs right after Far From The Sun. Then when we started to have problems with the label, management etc. then when we realized that it will take some time before thereís any point entering the studio. We just continued to work on the songs, we had around 17 song when we entered the studio and then we picked the once that suited the album best. Thereís still many cool songs left.
I admit that I was kind of worried as to whether the band's new frontman would manage to fit well with the rest of the band, but I do believe that Tomi Joutsen's performance in "'Eclipse'" was outstanding. What made him the obvious choice for the position of the band's vocalist?
Tomi: We checked out a lot of singers, but no one really felt right. When we met Tomi Joutsen things changed, we all hoped he was able to take care of the job. Soon after we toured in the U.S. and Canada for 5 weeks on that tour everything clicked and all the worries sailed away.
OK, let's now concentrate a little bit on the new album. The more I listen to "'Eclipse'", the more I realise how this is the one release that so successfully brings together elements from both the "old" and the "new" Amorphis. What was the idea behind the conception of the album, and how close did you manage to come to your original plan?
Tomi: It wasnít anything we planned together but I think the idea was there somewhere in the back of every ones mind. When we finished the basic tracking of the songs it became clear, if we choose these songs we could really make an album that reflects the whole career and still bring something new to the table.
Being a fan of the band's music since the days of "The Karelian Isthmus", I am well aware that there is some connection, but most importantly, a natural evolution between each of the band's releases. Which are these elements that connect "Far From the Sun" with "'Eclipse'", and which are the elements in the latter that justify such an evolution?
Tomi: Well, Jan is playing drums on both of them again. Compared to Tuonela and Am Universum both of these albums are more band oriented. There arenít any instruments in there that donít appear with us live. The evolution is mainly on the vocal work that Tomi Joutsen did, they are more diverse than ever before, growlin, clean & and a lot of harmonies.
Did you start working on "'Eclipse'" after Pasi's departure? How long did it take you guys to prepare the material? Are there any songs that didn't make it through the selection process?
Tomi: We started to write stuff right after Far From The Sun was finished, the idea was to put the next one out ASAP. But then we ran into problems with the label and Pasi left the band so it took a bit longer. Looking at it now it was all good. We had time to prepare the songs properly and get to know Tomi Joutsen better before entering the studio.
There were a bunch of song that we didnít have time to finish, but maybe some of them are on the next album.
How does Amorphis compose their songs in the year 2006? Have you seen any major changes taking place in the way you create/record your material through the years, or do you follow a very specific and well-tested formula?
Tomi: I donít see a reason to change anything, it works fine the way it is. Inspiration is the key word.
Talking about songs, I saw that your single 'House of Sleep' has already entered the first place in the Finnish music charts, so congratulations for that. On the other hand, it is more than obvious that this song has little to do with the eleven compositions that are featured in ''Eclipse''. Does that mean that this late Paradise Lost influenced song was created for, let's say, promotional purposes?
Tomi: I never thought of it that way, itís one of the first songs that we came up with after Far From The Sun and I think it might have a bit of that mood in it. But it also works good for promotion.
Most of the singles are normally accompanied by a relevant video nowadays. Do you have any plans on making a video for that song?
Tomi: Yeah, we already did. Unless you can see it on TV log into our web site.
I am pretty sure that there are a few compositions in the album that you feel strongly for, in comparison with the remaining songs of the album, but let us talk about the ones that really shook my world - 'Under A Soil And Black Stone' and 'Same Flesh'. Tell us a few things about those two that would help us understand how they came to life!
Tomi: Both of them are quite epic songs, they give a good contrast on the album. It took them quite a while until they found their right form, but it was for sure worth the effort. They are both quite different from the songs on the previous albums. They are both a lot of fun to play.
Were there any additional musicians that offered the services for the recordings of ''Eclipse''? How about that beautiful female voice in 'Same Flesh'? Who is the lady in question?
Tomi: Marco Hietala (Nightwish) who produced the vocals did some harmonies. The female voice is by Anu Lilja (Dead Musicians Society) sheís an old friend of Tomi Joutsen.
Last time that I saw the band live was in Athens, during the Am Universum tour, and I was really amazed by your performance. With a new frontman in the band, have you guys considered adopting a new stage approach?
Tomi: Itís for sure more energetic than ever before Tomi J. is a great performer, besides that we continue the way itís always been.
Browsing through your website, I saw that you have announced a few live shows, all of which were located in Scandinavia. Are you guys considering doing a full-scale European tour, or focusing on the big summer festivals as most bands do nowadays?
Tomi: We have some festivals and a European tour will happened at some point but we donít have confirmed yet.
There are quite a few people, such as myself, who really adore the band's first albums as much as the most recent releases. Are we going to listen to any of the band's oldest material in the upcoming tour?
Tomi: On the last headlining tours weíve played songs from every album. On festivals and support slots it might be difficult because we have already 7 albums to choose from.
'Eclipse' is the band's seventh full-length release. Are we to expect many more albums in the future from Amorphis? Are you satisfied with what you have so far achieved as a band?
Tomi: I think Amorphis will still go on for a long time, itís been around for 15 years already and line-up has changes many times. Thereís been highs and lows but we donít see a reason to quit. We are proud of what we do and the fact that the band is still around.
Well, ''Eclipse'' is indeed an amazing album, and I hope that it gets the recognition that it truly deserves! Thank you for taking the time to do this interview - a message to your fans?
Tomi: It looks like we at last get to tour to a lot of places were we havenít been to or in a long time. I hope to see you all there. Cheers!
---
Interview © 2006 John Stefanis