AMORPHIS Eclipse Nuclear Blast (2006)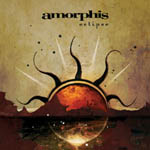 If you are one of those lucky people who have been following Amorphis' career since 1992, when the release of the groundbreaking "The Karelian Isthmus" first saw the light of day, then you must be quite acquainted with concepts, such as "change" and musical progression".
Even though such terms have always been the band's trademark through the years, that fact that they had not presented us with any new material since 2003's poorly promoted "Far From The Sun", and with Pasi Koskinen's recent departure (their long-time singer), even I began to doubt whether the five remaining Finns would come up with an album of such quality that would help prevent their vessel from sinking! Well, I am really happy to say that Amorphis miraculously managed to pull through, and that they are back with us, stronger than ever!
After trusting the position of the band's frontman to the quite talented Tomi Joutsen, the band began working on ten new compositions, with the intention of bringing together elements and ideas from all periods of their very successful career. I really don't know whether the album came out exactly as the band intended, or if the term "one step back, two steps forward" was used intentionally (as Nuclear Blast clearly states in the band's press release), but to me, Amorphis have managed to bring to life one of their best efforts to date.
The band's "real" intentions are obvious from the very beginning, with "Two Moons" being one of the heaviest songs that the six Finns have composed in recent times. The band's first single "House of Sleep" was created having the music of the later period Paradise Lost in mind, and even though it is totally different from the rest of the compositions, its smart refrain and beautiful piano melodies will definitely draw you to it.
The most important thing, though, is that this release features songs like "Leaves Scar" and "The Smoke", where Death Metal growls are mixed with beautiful melodic vocals, and folkish traditional tunes go hand in hand with pure metal riffs - something that guarantees a huge smile to the faces of both old and new Amorphis fans. I don't think that "Eclipse" is the kind of album that will easily allow you to choose your favourites, but it would be impossible for me not to mention the huge effect I felt from songs like the "ballady" "Under A Soil And Black Stone" with it's amazing built up rhythm, and the brilliantly performed female vocals and Hammond melodic themes of "Same Flesh".
My first inclination was to give this album top marks, and the more I listen to it, the more I lose any doubts about doing so. By the end of the day, it all has to do with how much you enjoy listening to an album, and "Eclipse" is indeed a release that I cannot pull my mind away from!
*****
Review by John Stefanis