Switzerland is not only famous for its delicious chocolate and the quite sophisticated railway system. From the misty mountain hops of this central European country came a band whose aim is to extend every boundary that was set by their predecessors, and to pave the way for new ideas and forms of expression in what can only be described as extreme Metal music. Samael have just released their new album 'Reign of Light', and Vorph (guitars/vocals) is here to give us an idea of what the crazy Swiss have been up to lately.
Hi Vorph. First of all, let me welcome you on behalf of Get Ready to Rock e-zine. What is the band currently up to?
Vorph: Hail, we're pretty busy with the promotion of our new album and we just started the rehearsals for the upcoming European tour which will kick off on 22nd of October in Germany.
'Reign Of Light' is released almost five years after your previous album 'Eternal'. What was the reason for such a huge delay?
Vorph: We did work on a different project at some point in early 2002 that never went out but it did take us sometime to finish it; we also had to face a line-up change around that same time when Kaos left the band. We played some festivals later that year with our new guitar player Makro and in 2003 we finally toured Europe and America in support of "Eternal". Since we came back from the US we worked on the new album. "Reign of Light" is the record which took us the more time to complete, 9 months all in all.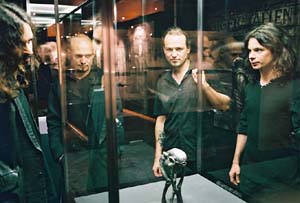 You are now under the protective wings of Regain Records. How did this collaboration occur? Do you experience a different treatment than the one you had when you were part of the Century Media team?
Vorph: That's a different collaboration, we did a license deal with Regain Records for Europe and South America while in Switzerland and North America we have different partners. We're glad of the work Regain is doing, they are on the rise and there's a good energy surrounding them.
Letís talk about the new album. How would you describe the musical direction that the band took in this release, and how different are Samael nowadays compared to 1999 when 'Eternal' was released?
Vorph: We are more of a band today than we've ever been, that's an important thing. It makes us feel better and stronger and I'm sure that is reflected in our music. If I have to compare "Eternal" with "Reign of Light", I would say that the first one was darker, more feminine while the second is a lot more affirmative.
It is well known that Samael are drawing their musical inspiration from many unusual sources. Which source did you use for 'Reign of Light'?
Vorph: Our sound is based on Heavy music and we try to use anything we can incorporate to it, that goes from classical music to electronic, to industrial and to all that move us in one way or another. "Reign of Light" has different poles, there's a kind of Eastern/Western crossover musically speaking.
Was Xy the only member of the band that composed the ten songs that this album consists of?
Vorph: We discuss together the orientation but when it comes down to write it, he is the only one in charge. There's a spirit to which we feel bound to and the songs he composed are a retranscription of it.
There is a certain oriental vibe in the music of 'Reign of Light'. Is this also reflected in the lyrics of the album? Who is the main lyricist in the band, and what are the lyrics about?
Vorph: I'm taking care of the lyrics, I had interest in oriental philosophy since some years now and it might happen that some of it is reflected in what I write. Spirituality doesn't belong to one place, itís a matter of soul.
I believe that the idea of using Sitar in both 'Moongate' and 'Heliopolis' was quite successful. Sami Yli-Sirnio' did quite a good job there. Tell me a few things about your decision to ask both him and Sandra Schleret to participate in the recordings of the album.
Vorph: We actually got in touch with them through Waldemar Sorychta, we originally had a synthesized sitar on those songs and he persuaded us to go for the real thing.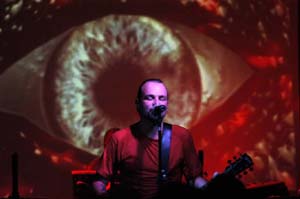 Is there a specific formula that you guys use in order to create a Samael song?
Vorph: As I mentioned previously we sort of share the work with Xy, he's doing the music and I write the lyrics. That seemed to work for us as we're working that way since over ten years now.
The production of the album was handled by Waldemar Sorychta, the man who has handled similar duties for many other bands like Moonspell and Lacuna Coil. Do you think that he has managed to create the sound that you had envisioned for this album? Would you work with him again?
Vorph: Waldemar worked on every album we did except the first one and "Eternal". When we where done with the song writing we asked him to give us an external point of view. That was important to have his opinion, he purged the songs from everything that wasn't necessary.
Talking about the bandís sound, the person who did the mixing was Stefan Glaumann. Did the fact that he has previously worked with Rammstein influence you in the decision to offer him the job? Do you see any similarities between the bandís sound and that of Rammstein?
Vorph: We knew him before for his work with Peace Love and Pitbull and Clawfinger. He is very precise with his mixes and we needed someone who would be able to make everything audible. I wouldn't compare SamaŽl to any other band, the fact that we mix electronic sound with heavy guitars is probably the only similarity I could think of.
What was the atmosphere in the studio like while recording the album? Do you have any funny incidents to describe to us?
Vorph: We took our time as we did record in our area, we where focused but without any particular pressure. Nothing funny took place but we where all in very high spirits.
There is also a CD single that has been released through Regain Records which contains five songs, two of which are 'Telepath' and 'Inch ĎAllah'. Do you believe that these two songs are the most representative of the album?
Vorph: I'm not sure there's one song which could really represent the entire album. We actually chose "Telepath" as the first single because we thought it is a very energetic song and that's what we need to show the bandís current state of mind.
The last video that the band made was 'Infra Galaxia'. Are we to expect a new video from Samael, and if yes which is the ideal song in your opinion?
Vorph: Weíre gonna shoot a video for "Telepath", we have a concept for it so I think it should work fine.
Last time I saw you live was a year ago, when you had Cathedral opening for you. Do your touring plans for the promotion of 'Reign of Light' involve the UK?
Vorph: We will play a show in London on the 5th of December at "Scala" this is the only show in the UK for this year but I hope there'll be more to come in 2005
Have you ever had a negative reaction by a Metal audience in any of your latest gigs?
Vorph: That never happened, the fact that we're heavier than most of the true Metal bands must have something to do with it.
You started of as a typical Black Metal band, but you have moved to a totally different direction with your last three releases. Do you believe that your older fans are still interested in the music that you are currently composing?
Vorph: Definitely, I've met quiet a few people who started listening to SamaŽl back in early 90's and who grew up with us. Every album we did was like a new beginning for us. We of course benefit from the experience of our previous recordings but we've always tried to keep things fresh and interesting.
Which is the audience that you are currently targeting as a band?
Vorph: We don't think in that term, we want to play a music that can be appealing to a large audience without losing tracks with our roots. What matters to us is to satisfy our appetite of varieties, we therefore can't format our music to a targeted audience.
Fenriz from Darkthrone has put together a collection of some of the most influential Black Metal songs ever, one of which was 'Into The Pentagram'. How does it make you feel knowing that some of your earliest material is so much appreciated?
Vorph: It feels good, I'm glad to see our past work still find a way through todayís music industry.
What is the vision that you have for the future of Samael? Any immediate goals that you want to achieve?
Vorph: We already did the album we wanted, we can just expect it will get the recognition it well deserve.
A message to your fans.
Vorph: I hope you'll fall for our new album and I hope to see you on the road...
---
Related>>Album review
Interview © 2004 John Stefanis