SAMAEL 'Reign Of Light' 'Telepath' Regain Records (2004)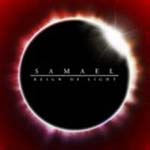 The last time I was in contact with Samaelís music was almost a year ago, when I saw them live at the London Meanfiddler (formerly the LA2). To be entirely honest, the main reason that I went there in the first place was Cathedral, since they were the band that was opening for the Swiss act, and also one of my personal favourites.
I was never a huge Samael fan, but it makes me feel good to know that albums like "Worship Him", "Blood Rituals" and "Ceremony of Opposites" are part of my vinyl collection. A friend of mine also tried to introduce me to "Passage", but this happened at a time when I was looking for something much "heavier" to listen to (Darkthrone, Burzum etc), so I kind of postponed this attempt indefinitely.
If you are one of those people who own every single release from Samael, you can probably imagine how surprised I was after I realised how different the music direction of the band has become during the last ten years. I could not believe that the band that I had in front of me was the same as the one that has created songs like "Into the Pentagram", "After the Sepulture" and "Mask of the Red Death".
Instead of howling vocals and screaming guitars, I was introduced to electronic drum sounds, keyboard samples and Goth-influenced vocals. Well, I have to admit that the Metal element was also there, since the band has not abandoned completely the sound that made people once refer to them as one of the gloomiest bands in Europe and also as pioneers of the Black Metal sound, but in much lower proportion than the one expected.
When I was informed that I would have to make a review for the bandís latest studio release "Reign of Light", I really didnít know what to expect.
I believe that it is always important for an album to be judged by a person that is really acquainted with the music style of the band, but in this case things were not that simple - something that I realised after I have listened to the album a couple of times. It is not clear as to which direction the band wants to follow, and I strongly believe that they kind of prefer things to be that way.
This new album, which is also the first with the Swedish label Regain Records, was co-produced by Waldemar Sorychta (guitarist of the amazing Grip Inc), and mixed by Stefan Glaumann who has handled similar duties for bands like Rammstein and Clawfinger. That fact alone made me quite intrigued as to what the results of this collaboration would be.
I think that it is safe to name Rammstein as one of the main bands that have influenced the sound of modern Samael, and that is mostly revealed in songs like "On Earth", "Further" and "Inch ĎAllah" with the latter also bearing many oriental musical elements in it (you would expect something like that from a song that is named that way). "Telepath" is a song thatís based on electronic music, and also the bandís choice for the first single of the album.
There are some songs though that really managed to capture my attention, like the opening track "Moongate" and "Heliopolis", both of which were recorded with the addition of Sitar that was performed by guest musician Sami Yli-Sirnio. I would also recommend that you listen to "High Above", a composition that was enriched by the female vocals of Sandra Schleret, and "Oriental Dawn" that gives credit to the band for their choice of name.
Overall "Reign of Light" is quite an interesting album. It is true that my preference will always be with the bandís first releases, but that doesnít mean that I cannot respect and appreciate a band that is not afraid to experiment with their music.

The fans of the band, anyone thatís attracted to this sound, should also check the CD single Telepath. There, in addition to "Telepath" and "Inch ĎAllah" that are also featured on the studio album, you have an extra song called "Telepathic", a karaoke version of "Inch ĎAllah" as well as an instrumental version of "Telepathic".
***½
Review by John Stefanis