I always find great pleasure when interviewing people like Jari Maenpaa. The multi-instrumentalist, who has just released his first studio album with his band Wintersun, explains where he drew his inspiration for the release of "Wintersun" album from, his activities with other projects like ArthemesiA, and his plans for the future.
Hi Jari, we are here to talk about your new project "Wintersun" and the release of the same-titled debut album. When did you decide to form the band, and how did we reach to the point of talking about this release of yours?
Jari: I´ve just made lots of music during the years, but my own project has stayed in the shadows. I was very involved with Ensiferum, so I never really pushed my own material to anywhere, but I never stopped writing my own music. I knew that some point I would do my album and now the time just came, at last. Things changed when I got the record deal and so it was time to focus more on my music and to make the record.
Before getting involved with this project, you were a member of Ensiferum with which you recorded two albums. Why did you decide to part ways with them? Do you still have a good relationship with Markus Toivonen?
Jari: Yes Markus is good friend of mine. The thing was that I needed a break from Ensiferum (after the recordings of "Iron"), to record my album. I felt that it was "now or never" situation and also I had booked the studios already long time ago, so everything was set. But then an Ensiferum tour was booked on top of my Wintersun studio sessions and either one wasn't possible to cancel, so we parted ways.
Which would you say are the main differences between Wintersun and Ensiferum?
Jari: The whole atmosphere is different. Wintersun´s melodies are more melancholic and darker. The music is faster and more technical, well there's some slow epic songs too. And the lyrics and image are different.
The person that helped you put this project to life is Kai Hahto, the man who handles the drums for the extreme Metal outfit Rotten Sound. How did you manage to create a band with a musician who comes from such a totally different background as Kai does? Is he a permanent member of Wintersun?
Jari: Well Kai can play anything and his range in musical taste is very wide. He loved my stuff and wanted to join in my band. He played as a session musician in the album, but now we have talked and he has agreed to play live with me and in my future albums. I've been his fan for a long time, so I was f****** happy to "get him"! He was also looking something different to play, so it was also very inspiring for him too, I could say it was a perfect match. :)
I have somehow managed to establish an opinion as to how the album sounds, but being curious as I am I want to ask you: how would you describe the sound of the band to someone who hasn't listened to your album yet?
Jari: Well it´s difficult to put into a certain genre, cause there's lots of variation. But to describe it, I would say something like: Extreme Majestic Technical Epic Melodic Metal.
Most of the bands that originate from Finland have a soft spot for using plenty of melodic parts in their compositions, whether they play power Metal (Stratovarius), or Melodic Death Metal (Children of Bodom). Do you agree with what I just said, and if yes what is the reason for it?
Jari: I can't really say what's the reason for those bands to write melodic music, but yes, here are lots of melodic bands. Personally I just love melodic music and it comes out naturally, when I'm writing music. Sometimes I would just like to play stuff like Slayer, cause I love it! But I guess the melodies are just deep in my roots. But I must say that here are also lots of non-melodic bands, but I guess lots of people over the world likes the melodic music too, that's why some Finnish bands like Stratovarius, CoB or Nightwish have had success. Personally I don´t really like much of those bands, I like the old Stratovarius though.
How much do you believe that your previous experience with ArthemesiA and Ensiferum helped in order to create this well-focused release? Can you see any Influences that originate from these bands in the music that you have created for this album?
Jari: Of course I'm influenced by me :) But in Ensiferum I made songs into that band and that band has a certain style/genre. Same goes for ArthemesiA. I´ve tried to keep all of those styles separate, so that Wintersun wouldn't sound like ArthemesiA or Ensiferum. But that is impossible into a certain limit, cause I have my own style of making music. But in Wintersun I have the total freedom to write any kind of music I want to, and that's what my music is all about, no rules! I think there should be no rules in bands what kinda music they are playing. I've always liked bands like Judas Priest that are not afraid to try something new and different.
Why did you choose to use Wintersun as the name for the band? Is it in any way related to the atmosphere that you want to create with your music?
Jari: Totally connected to the atmosphere. "Winter" reflects the cold and stormy side of the album and also the Finnish melancholy and magic. "Sun" is related to the "universe, space and stars"-feel of the album, which is also strongly connected to the lyrics.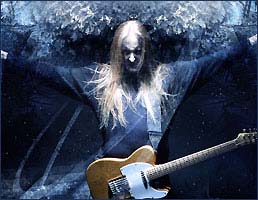 One can detect a few influences from traditional Folk music in your songs. Was this a deliberate attempt? Do you believe that it is possible to combine successfully those different styles of music?
Jari: It´s not deliberate, Ill just do whatever fits and sounds good to my ears. My writing is kind of building and experimenting. Sometimes I get a vision what the song should sound like and I try to reach that vision. I hear the music and then I just try to bring it to life. I believe if you arrange the song well, there can be lots of styles and variation, if the arrangement doesn't work, it will sound like shit.
Is there a specific message behind the album cover? Who was the artist that created it, why did you choose to work with him, and finally, what is it the thing that creates this gleam of light in the heart of the forest?
Jari: It´s painted by Necrolord, same guy who has done Dissection, Emperor, Ensiferum covers, plus others. I just love his work! The idea was mine and it just reflects the music with it´s cold, spacey and magical atmosphere. The man fallen into the snow could represent "death", "despair" and the light between the trees could represent "home", "destination", "birth/healing". So maybe you could call the painting "Death and the Healing" ;)
It is more than obvious that you are the composer of those eight songs, which are presented in this album. Which were the main difficulties that you had to face in creating those eight songs, and how different was this experience that the similar ones when you were a member of either Ensiferum or ArthemesiA?
Jari: The music was easy to write, it comes out just naturally. I´m not that fast writing lyrics though, but when I get into the mood of the song, the lyrics starts flowing. In Ensiferum and ArthemesiA I have/had to push myself little bit, cause I´ve had to write into specific style/genre and I really don't like that. For example the writing I did for Ensiferum, I really had to get into "folkish mood". But I love the styles of those bands too, so it wasn´t that bad. And I love the songs that I´ve made to those bands.
Unfortunately the Nuclear Blast promo that I have in my hands does not have any information as to the lyrics of the album. Can you tell us a few things about them? Do you consider lyrics to be as important for a band as the music itself?
Jari: I think the lyrics are very important in arrangement wise. They don´t necessarily have to have any message or a great story or any deeper artsy fartsy meanings (though it would not be a bad thing). For me the most important thing is that the lyrics fits well to the song and are arranged well. In this album the lyrics are mainly about my life (in the period of time 1996-2004). My feelings, thoughts, visions, dreams and even hallucinations. There´s lots of metaphors and yeah, some artsy fartsy deeper shit too :)
Even though your are pretty close to countries like Sweden and Norway, there is something different about Finnish people and the way they express themselves through music. Do you think that it is because on the different historical background that your country has?
Jari: I´m sure it has had an effect and it´s the same with all music in the world, it´s all about history. But I can say that I love music from many countries too. Right now I´m exploring some Japanese style melodies, so beautiful and magical. You can probably hear some in the next album.
Ok, it is pretty obvious that since for the time being the band consists of just you and Kai, performing live is out of the question. Live performances though are the best way for a band to promote their music to people all over the world. How are you guys going to achieve that thing?
Jari: Yep it´s a bit difficult situation, but I already have two other members: Oliver Fokin (guitar) and Jukka Koskinen (bass). You can see them in the "Beyond the Dark Sun"-video. (You can check it out from www.nuclearblast.de). There´s still lot of things to be organised, like finding a good synthplayer, rehearsal room to practise... these songs ain't so easy to play you know ;) So I can't really say about the future much, but I'm hoping that next year we would be organised and ready to kick some ass on stage!
I have heard that you're looking to recruit other musicians in order to form a proper line up for the band. Are there any specific musicians that you have in mind? Name some of the musicians that you would be interested in working with.
Jari: I think the last answer covered this. But in album/studio I haven't thought about working with anyone particular, since I have mainly got used to do everything by myself and I kinda like the freedom. But some producing help from Devin Townsend would be F****** AMAZING!
Both the albums that you have recorded in the past with Ensiferum were released by Spinefarm Records, thus you chose to work with Nuclear Blast records for the release of this album. Why did you choose to work with the German label and how did you reach an agreement with them? Is this album going to be the only product of this collaboration, or are we to expect a few more albums under the Nuclear Blast banner in the years to come?
Jari: Well I didn´t choose anything, cause I didn´t get a deal from Spinefarm, I got a deal from Nuclear Blast. And the deal was very good, so I had to take it. After one Ensiferum show, this guy came to talk to me and said that he was the boss of NB. I mentioned to him that I have own material and he was really interested. Later I put 3 demosongs into a CD and sent it to NB, they loved the stuff and offered me the deal. It´s a deal for several albums, but since I´m doing different kinds of albums in the future, I will always send a 3 song demoCD to them and they will decide whether we make the album or not.
It is only a week since the album was placed on the shelves of the record stores. What are your expectations, and which are the strong points that will help it differ from the all the other releases?
Jari: Well of course I hope it will sell good, so I have a better budget for the next album and because I made lots of sacrifices and did lots of hard work to get it out to people. Well some strong points are simply that the songs are just AMAZING! And the playing is just INCREDIBLE! And the whole atmosphere is so big that it will give your grandma a heart attack :)
Is Wintersun the only project that you're currently participating in? Do you feel that there are parts of your creativity that cannot be expressed through this band?
Jari: I'm also involved in ArthemesiA as a guitar player and a songwriter and we are recording the 2nd album in this fall. I have also different projects of my own, that I want to do in the future, they will be metal too, but different styles. So there´s plenty ways to express my creativity.
Which bands or artists would you name as the ones that have influenced you the most as a musician?
Jari: KISS, W.A.S.P. from the very young years. Biggest influences are probably Metallica/James Hetfield and Devin Townsend. Then I´ve just listened lots and lots of bands/artists like: Skidrow, Megadeth, At the Gates, Dark Tranquillity, Dissection, Emperor, Satyricon, Symphony X, Steve Vai, Y.J.Malmsteen, Extreme (yep, Nuno is great!)... and the list goes on...
Well Jari, thank you for this interview. I would like you to say a few words to the people who constantly choose Get Ready to Rock as a guide to their everyday search for good music.
Jari: YOU! Yes you! Who have just finished reading my blaablaa, spoil yourself a little bit and go buy WINTERSUN! Thanks for the Interview! -Jari
---
Related>>Album review
Interview © 2004 John Stefanis