WINTERSUN 'Wintersun' (Nuclear Blast) (2004)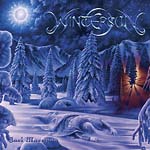 Two of the most well-known bands from Finland are Stratovarious and Children of Bodom. If you mix those two styles and you add a portion of Finnish Folk music, the result will be Wintersun's same-titled debut album.
The band, as you have probably gathered by now, originates from the country of the 'thousand lakes', and is the project of the multi instrumentalist Jari Maenpaa, and Rotten Sound's drummer Kai Hanto.
I want to believe that I am quite an open-minded person, and that my taste in music varies, but if I had to name ten of my least favourite bands, the names Stratovarious and Children of Bodom would have without doubt figured on that list. Knowing that for a fact, I expected a certain reaction on my side towards that album. Well, miracles do happen, and even though I can guarantee that Wintersun will never become my favourite band, I found this album quite enjoyable.
In the beginning I couldn't understand what was the thing that attracted me to this eight track release. Wintersun are not presenting something innovative in their debut album - on the contrary, the formula is well known and probably better used by a couple of bands that I know. So what's the thing with this album after all?
Well, the more I listened to it, the more obvious became the answer: 'Wintersun' is the product of two musicians who are committed to what they are doing.
It takes a lot of effort and creativity to create a ten minute track ('Sadness and Hate') that will preserve the audience's interest from start to finish. Apart from 'Beyond the Dark Sun', the opening song of the album, the shortest of the compositions is the hyper-speed 'Winter Madness' that has a five minute duration.
There are also many parts of this album that will force you to acknowledge the impressive musicianship of both Jari and Kai - for me it was the album's fifth composition 'Death and the Healing' that did the trick. The melodic guitar themes of this composition bewildered me so much that even the Malmsteen-influenced solos that normally get on my nerves sounded quite delightful to my ears.
Well, if this specific style of music is meant to attract the interest of the masses, it might as well be from a band like Wintersun. As with most of the Power Metal based bands, I am very interested to hear how they sound live…well, when their line up is complete, that is!
***½
Review by John Stefanis