It seems that it has become a common practice between music journalists to label as metalcore every outfit that tends to bring to their music elements from both the hardcore and metal music genres.
Now, this may satisfy the promotional needs of some bands, but it certainly doesn't seem to please Flow Velten, the frontman of the German outfit Machinemade God.
In the interview that follows, the friendly vocalist presents us with his beliefs regarding the name of the band, religion in general, and his band's wish to perform the material of their latest album ""The Infinity Complex", at the four corners of the earth.
Flo, thank you for taking the time to do this interview. Let's start by giving us a short bio of the band.
Flo: First of all thank you for your interest in us! We started in early 2003 when Copykill and Drift called their quit. Holger, who played guitar in both bands, started a new project, which ended up as Machinemade God. After the first songs were written we played our first shows as a four piece, including the Bilbao Bash Fest in Spain. For some reason it has always been really good for us, good shows, positive reactions and so on. After several drummer changes we were able to find a fix drummer and an additional guitarist. We re-wrote the old stuff and wrote new songs and recorded our demo CD in 2004.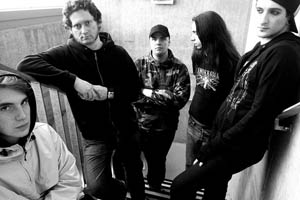 It is always difficult for any new band to come up with an inspired name, but I believe that by choosing the name Machinemade God, you managed to hit the nail on the head. Is there a specific meaning behind it that we should be aware of?
Flo: Were not here to tell people what they should believe in but it seems like our bandname makes a lot of people start thinking about it, which is good, cause that was one goal we had, to make people stop just consuming and start thinking about what they do, believe and so on. We all believe in something but not in God the way the church is preaching it. The church is an institution runned by humans and it seems that people believe more in the church than in god.
Most of the websites and magazines have had no problem in labelling you as a metalcore band, but from what I heard in "The Infinity Complex" I don't believe that this title represents completely the style of the band. How would you describe the music of Machinemade God to the subscribers of this website, if you were in my place?
Flo: Personally I hate the term metalcore because, as you said, it doesn't say anything about the sound a band has. If you take KillSwitch Engage, Heaven Shall Burn, Bleeding Through, Caliban and Machinemade God you have 5 bands that are labelled as "metalcore" but they all sound totally different. We all have the hardcore attitude and we have been in the scene for years. Our sound is definitely metal, so yeah we're playing metal-music in a hardcore band. If someone really needs a box to sort us in, fine, I don't care, as long as they like it it's all good. But it is sad that a lot of people don't even give bands a try just cause of the term "metalcore"…
Some people might say that it was because of this genre's increasing popularity that many young bands decide to follow this specific musical approach, but I want to hear your view on this. What made you guys decide to invest in this style of music in the first place?
Flo: Hardcore bands using metal riffs is nothing that just came out of the blue or has been invented in the past 2 years. Bands like Caliban for example played this kind of music almost 10 years ago, bands like Morning Again or Day Of Suffering had more metal in their sound then hardcore and eventhough they were just hardcore bands. The point is that this sound became bigger in the past years and more popular and every time when something from the underground becomes bigger, people invent new genres to sort them in. Important is that the band knows where they are coming from. Everything else is just gossip. We all had projects and bands before MMG and we grew up with punk and hardcore so it was clear what we wanted to do soundwise. So if anyone thinks that we're just following a trend, fine. We know it better. By the way, the recordings were finished almost one year ago…it just took us that long to release it.
Do you feel that this band allows you to express yourself completely as an artist? How would you describe your relationship with the remaining members of the band?
Flo: Definitely! I mean as mentioned above, we all had bands before and the main reason is, at least for me as a vocalist, was to express myself and to have a good time and do something instead of doing nothing. We all come out really well, most of us knew us way before MMG was formed from shows.
In 2004, you released a self-produced demo. How important was this recording to the band, and how do you feel about it nowadays? Do you see any major changes in the band's style during these last couple of years?
Flo: The main reason why bands record a demo is the goal to get signed, I mean that's the dream of every band. After all this good feedback we got from kids at shows and requests for a CD we recorded a 4-Track-Demo CD to sell at shows and give people something to take home with. We also sent a bunch out to labels. All the songs on the demo CD are on "The Infinity Complex", but now they sound the way we wanted them to sound like. The music we wrote before and after the demo didn't really change. Songwriting became a bit more mature and complex, but we kept our style. We just made some changes in some details on the old songs and I had more time to experiment a bit with my voice.
You are one of the few bands that I know who have managed to get a contract with a big record label in such a short time. How did you get in contact with Metal Blade, and what was it in your opinion that they saw in the band that convinced them to make you a part of their team?
Flo: When we sent out our Demo to labels we chose labels were we thought they might be interested in an unsigned band and in our sound. All the labels were pretty small independent labels. We didn't even try to send something to Metal Blade or any other label in that size cause we thought they receive gazillion demo tapes with the request to get signed and we didn't think they would be interested in an unsigned band. We got reactions from most of the labels we sent something to and chose one were we thought it might be good.
Everything was set up and we went to record our album. For some reason all this didn't work out and we got screwed by the label cause they were just holding us back. We had a recorded album but no contract at all. Metal Blade accidentally heard a song from the record and were interested. Jacob (where we recorded our album at) gave them the contact address and they hit us up. We couldn't even believe it cause we were at this point where we thought our CD would never ever be released. We sent them the whole album and they were totally into it. Then everything went pretty quick and finally "The Infinity Complex" got a release date. That's also the reason why the recordings were finished in April 2005 but the release date is almost a year later.
By joining Metal Blade you are in the same family with bands like As I Lay Dying, Unearth, Since The Flood and The Red Chord. Which are the differences and similarities that you have with these bands?
Flo: All these bands come from the hardcore scene, so I guess the attitude is the same. We are all part of the Metal Blade Family and we all love to be in bands and playing live. Personally I like all these bands, but music wise Id say that we fit best with As I Lay Dying and Unearth. The Red Chord is probably too technical compared to us. But Id still love to play with them. All in all I would say that all these bands have their special thing in their sound.
Your debut album consists of thirteen songs. How long did it take you guys to prepare those songs, and what inspired their creation?
Flo: The good thing about a debut CD is that you don't have any pressure while writing the songs. There has been no press reviews that you have to top, you don't really have a release date or a deadline that tells you "hurry up, you guys need to finish the album in 2 weeks" and so on. So the whole song writing process was pretty relaxed. We had enough time to see if the songs work out live, we had enough time to listen to our stuff and rewrite parts or even dump whole songs.
Inspiration is a good thing as long as it doesn't end up in stealing. I think everything you do, you experience and what you listen to is influencing you in someway. Sometimes you recognise it, sometimes you don't. There are not special bands that I d say they influenced our music. All I can say is, that when we think or recognised "hey, this sounds like this and this band" we dump it or try to rewrite it. Lyric wise I ´d say life is my biggest inspiration.
Which are the compositions that you have personally contributed to the most, and which would you name as the song that will potentially represent the album in a music collection or as a radio track?
Flo: A goal was to create an album with songs that doesn't sound repetitive. According to some reviews I read we reached that goal. In that case it's hard to pick just one song. But I think "losses to lessons" or "kiss me now, kill me later" are good songs that represent us and our sound. Pretty catchy songs without sounding cheesy, brutal, fast and heavy breakdowns.
Since I wrote all the lyrics I did my part in every song (except the instrumental of course).
I would also like you to tell us a few things regarding the lyrical concept of the album. Unfortunately the promo that I've got in my hands does not offer such service, and I am pretty sure that songs with titles such as "Downpour of Emptiness" and "Injected Smiles" have some really interesting things to say.
Flo: A lot of the songs are about personal experiences I made in my life according to relationships, friends, family and life in general. I never wrote a song about one special person, it's more a sum up of everything I experienced. I tried to not make them too personal so that people might think "what have I to do with your problems?". I wanted them in a way that people think " yeah, I know this, I know how this feels" and so on.
"Injected Smiles" for example can be interpreted in two ways. People who do drugs get a good feeling while using them. They know that it's bad but they can't stop and resist the addiction and keep going on with it until they take it too far and destroy their selves. I used this as a picture for a relationship thing. Sometimes you're with someone and it feels right for the moment but deep inside it would be better to quit but for some reason you just can't let go and you suffer more than getting something positive out of it.
"Downpour Of Emptiness" is about this time when someone broke up with me and you realise that it's defiantly too late to work things out and everything you invested emotional wise was a waste. It's about this time when you just feel empty and meaningless.
There are bands that have all their material ready long before they enter the studio, and others who work in a more spontaneous way. Which is the category that you guys belong to?
Flo: Well for our debut it was more that we had our stuff ready before entering the studio. But we can be spontaneous as well. The instrumental for example was born in the studio, 3 days before we finished the recordings. We also changed some little parts in Forever Gone really spontaneously.
For the recording purposes of the album, you had to travel all the way to Denmark. How long did you guys have to stay there? Did you like the whole experience of working in a professional studio?
Flo: We've been there for 12 days. Max left after two days when he was done with the drums. Sven came when Max was done and the rest of us have been there the whole time. The time in the studio was fun and I guess it brought us all even more together. Except for the coldness it was fun.
Whose choice was it to use Jakob Bredahl as the producer of the album? Did the fact that he is a member of Hatesphere played any significant role in that decision?
Flo: When it came up to chose a studio for the recordings we wanted something new, not that worn-out. Most bands went to the Antfarm studios for example and got the Tue Madsen sound. He's doing a great job, no doubt, but we wanted something fresher, something that makes us stick out a bit. End of Days, pretty good friends of us, where there and they said that it's good to work with him. We sent Jacob a demo and he was into our stuff. Sven was psyched because he is really into Hatesphere. But that wasn't a reason to choose him. In the end we're really happy that we worked with him, cause the result is just incredible! The fact that he's doing vocals in Hatesphere and that he plays guitar in Barcode and all his experience makes him a good producer cause he knows how things sound right and how things work. Totally cool dude!
I understand that it is slightly early to have a proper media reaction to "The Infinity Complex", but what is the feedback that you guys have received so far? Do you personally care about whether you are going to get good reviews or not?
Flo: I read about 20 reviews up to now and except 3 they were all really good. Sometimes even better then expected. Of course we're interested in what people think about our stuff, but we're not sitting at home and cry our eyes out if we get a bad review. We wrote music where we all can stand behind and say" this is what we wanted to do". We never wrote songs or added parts because we thought people might like it. If it were like this we would have clean-sing in every song haha.
Have you guys agreed with Metal Blade as per the strategy that you are going to follow in order to promote the new album?
Flo: Metal Blade is not really telling us what we should do or what we shouldn't do. It's up to us how many shows we play, if we tour or not and so on. But the promotion they do is really amazing. We got a lot of interviews and press interest. Of course we have to do the interviews they set up for us, but it's all worked out with us and our time-schedule. All in all we have a lot of freedom as a band.
If I were in your place, I would be really looking forward to hit the road. Now, I looked on Metal Blade's website, and so far there are only three dates announced - two in Switzerland and one in Germany. I really hope that you do not intend to limit yourselves to this specific part of Europe only.
Flo: That's exactly what we wanna do and what we are up to. We are working now with MAD-Tourbooking Agency and they are working more shows out for us. We don't wanna concentrate on Germany, we wanna get our asses out as far as possible. It just depends on the bookers if they take us out or not. We wanna tour the states and Japan someday, hopefully it will work out. All I can say is that we're working on dates, and that there's a European tour planned. Up to now the dates are not confirmed yet. All the confirmed dates can be found on our website, so make sure to check back every now and then.
What is the band's stage philosophy? How do you react up there and how do you interact with the crowd?
Flo: We try to set up an energetic show, cause a show should be entertaining. If we would just play our songs, you could also listen to our CD at home and save up the money. We always have fun playing live and I guess you can totally tell that when you saw us playing. There's no real concept for a show, except a set-list and even the setlist is changing from show to show. The interaction with the audience is depending on the audience and you can't plan that. To sum it up: we wanna have a good time on stage and everyone is invited to be a part of it.
You have acquired a contract, and first album is soon going to be released - what is the next big step for the band?
Flo: I dunno, I guess now it's time to prove that we deserve all this. I think a big tour would be a good start and a reachable goal. Some festivals would be nice as well. And yeah, I wanna tour the states and Japan someday…that would be my personal goal.
Well, I do wish you guys all the best. Feel free to finish this interview in the most appropriate way.
Flo: Once again, thanks for the interview, and everyone out there: Never forget where you're coming from and always support the local scene!
---
Interview © 2006 John Stefanis