MACHINEMADE GOD The Infinity Complex
Metal Blade (2006)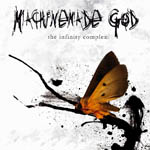 You don't need to be the brains of Britain in order to realise that the award for the most popular and well-advertised genre of metal music has lately been awarded to metalcore, deathcore music.
That popularity, of course, resulted in the sudden increase in the numbers of young bands struggling to receive the attention of labels such as Metal Blade, with the hope of signing a contract that would allow them to release their work in this hungry and overpopulated market.
One band that did make it through that difficult selection process, is a five piece named Machinemade God.
This German quintet was indeed quite lucky from the point that, it only took the release of one demo back in 2004, and their participation at the Pressure Festival in order to convince Metal Blade to give them the opportunity to join the same team with other metalcore/deathcore bands like As I lay Dying, Since The Flood, The Red Chord and Unearth. Half way through 2005, the band travelled to Denmark, and with the help of Jakob Bredahl (Hatesphere's vocalist, and well-known producer) began working on the thirteen compositions that put together the band's debut album "The Infinity Complex".
I will be more than honest in saying that I wasn't particularly impressed by this album after I finished listening to it for the very first time. It was those same average-sounding guitar riffs that you get in most of today's metalcore bands and Flo Velten's not so inspired brutal vocals that led me to believe that this band had nothing new to offer, yet for some really weird reason I decided to give this album a few more spins. After doing so I realised that, even though Machinemade God are indeed creating compositions which follow the strict rules of that genre, they are also capable of composing songs like "Losses To Lessons" and "Downpour Of Emptiness". These songs are filled with really catchy and inspiring guitar melodies, and the constant and unusual manipulation of rhythm proves that we should expect better things from these young Germans in the future.
There is nothing in this band's music that will deprive any fan of the metalcore scene from avoiding investing in "The Infinity Complex", since it satisfies every aspect of the genre, namely brutality and heaviness. The fact that a person such as myself, who is not the biggest fan of the genre, managed to warm to some of these compositions, makes me believe that Machinemade God are more than capable of attracting many different people to their music. This is a very good start, and I wish them good luck for the future.
***½
Review by John Stefanis