I admit that interviewing Sakis (guitars/vocals) from Rotting Christ is one of the things I always wanted to do. I have been a fan of this great band since the days of the "Dawn of the Iconoclast" 7", and have seen them live more times that I can possibly remember. If I was told fifteen years ago that I would one day be interviewing Sakis while living in England, I would probably laugh at that person's face! Well, life is really an amazing thing after all…the band has just released their ninth studio album "Sanctus Diavolos" , and I was lucky enough to spend more than forty minutes talking to one of the most important Greek Metal musicians. This is exactly what was said after the telephone started ringing on the evening of the 26th of September 2004.
Tell me what is happening to the band these days.
Sakis: The members of the band have just witnessed the release of their new album "Sanctus Diavolos" and we are also working on a new tour plan which will soon be announced through our website. We will start with a few shows in Greece, we will move towards the South East part of Europe and countries like Turkey & Cyprus. Next in our tour plan comes Eastern Europe, mainland Europe and then we will visit South America…anyway, we will play as many shows as we possibly can to every place that there are Metalheads who want to see us live. The main thing that the band is focused on at the moment is live shows.
Costas (guitars) has quite recently left the band -did you manage to find anyone who will substitute him on the guitars?
Sakis: We have just recently started working with Alexis, the ex guitarist of Septic Flesh. He is without any doubt a very good guitarist, but if he proves that he has the right attitude, the Punk and "anti Rock Star" attitude that Rotting Christ has, I believe that we will have him not only as a session musician, but as a permanent member of the band. We really want to work with him on a long-term basis. The other two members of the band decided to leave simply because playing in a Metal band after you have reached the age of thirty is not the easiest thing to do really. Economically speaking, you are exposed to many "dangers", and not only that. You have no type of insurance and there is nothing to guarantee that you will have a secure life in the future. We had to sacrifice many things in order to be able to survive as a band all these years. Both Costas and George (keyboards) decided to go for a different style of life - to have a "proper" everyday job…we would simply like to thank them for all their help and their contribution, and nothing more than that.
Ok, it is good to know that the "departure" happened under the best possible circumstances. Tell me a few things about your new release "Sanctus Diavolos"…I feel the need to say that I was once again taken by surprise by your new release.
Sakis: Is that a good or a bad thing, what exactly do you want to tell me with that statement?
It is a good thing of course. If you ever make the mistake of saying to yourself that I expect from Rotting Christ to sound like this or that in their next release, you end up with an album in your hands that even though is nothing like what you originally expected, it always carries the band's hallmark.
Sakis: Basically, our main philosophy as a band is to deliver something new with every release, which of course makes it quite easy for some people to say "I really don't like this new direction that you took, so f**k off", or "this is your ninth album and I cannot listen to you anymore". For that exact reason, we have tried to present something new to our fans with "Sanctus Diavolos" - to give a very good reason to our fans so as to continue listening to the band's music. It is really easy for people to say "f**k off" as I said earlier. We have made things differently this time: I wrote all the keyboard parts all by myself and I was also responsible for the production of the album…we have also decided to use a proper choir this time…we did many new things and that of course demanded not only our full attention but also plenty of our spare free time. I was the one that spent most time preparing the album since the other band members also have ordinary jobs and families to look after - I am the only one who spends all of his time working for the band. It is a great responsibility to come up with new ideas every time.
I totally agree with you Sakis, and you know what's funny? Regardless to how many things you try in every album, you can always tell that what you're listening to is a Rotting Christ album!
Sakis: That is what we're trying to achieve as a band John. It would be very easy for us to play a totally different style of music, a more "commercial" style, and do what most of today's Death Metal bands are doing (note: you hit the nail on the head there Sakis). On the other had, we have a certain history and a name as a band that we don't want to betray neither the band's legacy nor all the people who have believed in us throughout the years. We have spent many years trying to achieve what we did, we're really proud of it and that's really enough for us. You can say that we do not have really high goals as a band…what we're really interested is to preserve and satisfy the main "core" of the fans that has been with us from the very beginning.
You have mentioned that the production of the album was your doing.
Sakis: Yes, mine exclusively.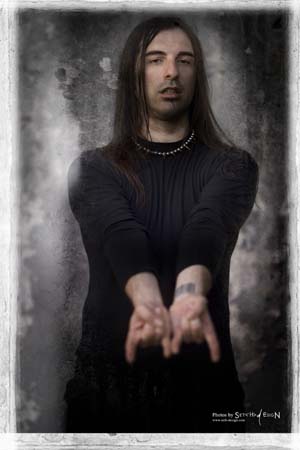 Are you satisfied with the final result? The reason why I'm asking you this question is because even though I like the way the album sounds, I find the production to be a little bit inferior in parts.
Sakis: That could be the case. I respect your opinion, but generally speaking, I am quite satisfied with the final result… maybe because I handled the production of the album exclusively. On the other hand, I do believe that it could have been even better, but nowadays it is really difficult to have the right time and enough money in order to go to the studio and record your album they way you would really want. Budgets are growing smaller and smaller these days. The bottom line is that for the money and the time we had, we created a really good, and certainly not perfect, album that is capable of receiving world-wide recognition. I believe that "Sanctus Diavolos" is an album that can compete with many of today's Extreme Metal releases.
Sakis, I believe that you have achieved that thing since the days of "Thy Mighty Contract"!
Sakis: Yes, but we are going through really difficult times! The main things that every band is expecting from their label is the recording budget, and believe me when I say that many bands are disappointed these days!
You have been part of the Century Media family for a very long time now.
Sakis: This is our last record with them since we're heading towards the end of our contract with the label. We will see how we're going to move on as a band…we may even decide to disband if we do not get the contract that we want (note: what???????). We do not want to sign a contract for five more records with any label - that wouldn't be fair and honest from our part to both the label and our fans. We will see how we're going to handle this situation, but for the time being, the only thing that we're really concerned about is the live shows that we have ahead of us. We want to play all over the world.
Do you want to tell me a few more things about the new things that were added to the band's sound? I really loved the choir parts that you have used. You said that this was a real choir, yes? Where did you find these musicians, and how did you end up working with them?
Sakis: The reason why this collaboration occurred was simply because we decided to record our album in Greece. I had just finished the recordings of the album, so I had one week to listen to it before starting mixing it. I had already prepared some keyboard melodies that I wanted to use, but that's when I told myself: "why should I write keyboards and not try to hire a choir to make things a bit more natural this time"? Of course, I am not a great musician that would know how to make special arrangements of that kind, but I really know the melodies that I want to use. So what I did was I wrote all the lyrics and the melodies, and I gave them to a guy called Christos Antoniou who is working in a project called Chaostar (this band consists of members from ex-Septic Flesh). Together we recorded some choir parts which gave that extra colour to the songs of the album, that natural feeling that you can get throughout this album.
I really appreciate the fact that these choir parts have managed to give a certain "evil" feeling to the songs, which other bands are normally trying to achieve with fast riffs and constant double-bass drumming.
Sakis: Do you remember the soundtrack of the movie "The Omen"? That's the exact feeling that we wanted to achieve by using the choir in this album. I am really glad that you found this attempt of ours to your liking.
Now I believe that we must talk about the contribution of Costas, also known as Gus G (Firewind, Mystic Prophecy) in one of your songs. When I first listened to the solo from the "Visions of a Blind Order" I thought to myself "well, this is something really new here".
Sakis: You probably thought "ah, this is definitely not a solo from Sakis, because it is really good" (laughs).
No, that's not what I thought - I was just amazed because I did expect the band to have melodic parts, but not of that kind! Tell me, do you know Gus personally? How did he end up recording music with Rotting Christ?
Sakis: We, as Rotting Christ, believe that we should always ask for the help of those who are better than us. We made the mixing of the album in Fredman Studios, because we know that this is the best place in Europe to mix an album. As far as "Visions of a Blind Order" is concerned, after I finished the skeleton of the song I thought: "I would like this song to have a really good solo", and knowing that I am not good at solos I decided to ask Gust to come and record a solo for the song. Gus is a very talented guitarist, a rising star as you would say, so I made him fly all the way from Sweden to record this solo from me. I made the exact same choice with the choir. I like the solos that he makes, and I believe that the one he wrote for our opening track is the one that "fitted like a glove".
I have to say in your defence: the solo that for the same-titled "Sanctus Diavolos" is equally impressive and it was written by you, right? Based on that, allow me not to accept your previous statement that you're not good at solos!
Sakis: (laughs) Ok, what I wanted to say is that I'm not specialised at solos - Gus on the other had is a specialist. I can play guitar parts, keyboard parts and lyrics, which means that I cannot commit myself to one instrument.
The keyboard parts were recorded before or after George left the band?
Sakis: All the keyboard melodies were created by me.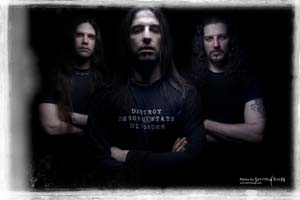 Ok, so how are you going to fill the gap on your upcoming tour?
Sakis: We will use A DAT. We will synchronise everything with a metronome, and even though the keyboard parts that are recorded for the new album are very difficult to be performed live, we will do the best we can.
Based on your experience, how easy is it to find a musician for your band nowadays?
Sakis: Finding a musician is the easiest thing - finding the "right" musician is a totally different story. There are many people out there who can play a good guitar nowadays, but it is really difficult to find someone that will not start acting like a f******g Rock Star after having made ten shows with the band. It is very difficult for one individual to create a negative atmosphere inside a band, so I am really strict when it comes to choosing my partners. I prefer someone to be a less capable musician but to have the right attitude, rather than the other way around.
What are your plans for promoting the new album? Are you going to make a video for any of the songs of "Sanctus Diavolos"?
Sakis: It is quite possible, but to be quite honest, we prefer spending our budget on our live shows instead. We prefer to open up for a big band, rather that recording a video that will be shown once or twice in a random music TV channel and then become forgotten. We wouldn't say no to a video, but the best way to promote the band's music is through our live shows, and also the interviews like the one that we're making just now.
Are you satisfied with the shows that are scheduled for the band? Last time I saw the band was in the London Underground, and I have to say that I am not satisfied having Rotting Christ playing in such a small venue. Is it because I am Greek, is it because I grew up with your band's music, I really don't know. I want to see Rotting Christ on a headlining tour, not supporting a band like Decapitated, which I really like and respect!
Sakis: Do not forget though that, since you have mentioned this, Decapitated are with Earache Records! Being a headliner or a support band depends on the country that you're playing each time, and the Record Label that's involved. We would never accept to be a support act in countries like Germany and South Europe for instance! Decapitated has Earache Records sponsoring them, and they had the piece of the pie! You should also remember though that both bands spent an equal amount of time on stage. These John are tricks that the record labels use from time to time, and it is quite often that you have to put aside your ego and acknowledge the fact that these thing have been happening in the music industry for years and years. I believe that we have managed to attract some people to the band from that specific show. I remember that the people's reaction to our music was quite good, isn't that so?
Yes, of course it was - no doubt about it!
Sakis: People liked what we presented on stage, so being support or headliner is the least of my worries. Don't get me wrong - I don't enjoy it when I have to open a gig for another band (laughs), but that's the way that things work some times…these are the ways of the music industry.
A few more things about "Sanctus Diavolos": the album has ten songs, most of which are a totally different musical proposition. If you had to decide the most representative song of the album…
Sakis: Oh...
- which one would that be and why?
Sakis: It depends on the mood that you're into at the time. If you are more into the old Rotting Christ, you will go for the "Visions of a Blind Order" If you want to listen to a typical mid tempo composition, you will probably go for "Athanatoi Este". Some other people will prefer a totally new musical proposition like "Sanctimonius"…I don't believe that I would be able to choose one song from this album. All the songs are my compositions, and it is really impossible for me to choose. I can say with great difficulty that the three previously-mentioned songs are the best from the new album.
Allow me to say that my favourite song from this album is "Serve in Heaven".
Sakis: This is an old school Thrash Metal song and I also like it a lot to be honest - you see what you're doing to me? I like all ten songs, I really cannot choose!
We have the use of Ancient Greek lyrics in "Athanatoi Este", and in some other parts it sounds like Ecclesiastic music - Byzantine Ecclesiastic music in particular. I believe that you are using a short narration that's taken from the New Testament at some point. How did you come up with that idea?
Sakis: I believe that there is some sort of connection between church music and the new Rotting Christ - musically speaking (note: that's a contradiction if you ask me). Of course Church as a constitution is bringing up some totally different feelings, but our intention was to create the exact opposite feelings with that attempt, and you know that one of the basic laws of physics says that opposites attract! This time we used this type of influence a little bit more, because of the existence of the choir.
What inspired you to record "Sanctus Diavolos"?
Sakis: The dark side of myself. I don't know where it comes from, and I don't even care to be honest. This band is the best type of therapy as far as I'm concerned. When I feel a bit weary, I grab the guitar and I am trying to write music in order to be able to calm down. I really cannot detect a specific source of influence rather than the other, "dark" side of Sakis.
I heard that some Brazilian Metal bands have made a tribute CD to Rotting Christ. That's really amazing isn't it? I feel proud as a fan of this band to see that musicians from the other side of the world have decided to pay tribute to this band!
Sakis: To be honest, we were totally taken by surprise by this project. We know that we have a really strong fan base in South America, but having people making a tribute to your band is a really amazing thing. We feel really proud as musicians, because that means that all the things we did, all the effort and the hard work was worth it after all. When we visit South America, we will try to show some of that respect back to the people who decided to give us such an honour. We really want to thank them.
When I first moved to the UK, I went to Glasgow (Scotland). There, in a very small bar that hardly played any decent Metal music, I found a group of people (hail Steven Murphy and Co) who listen to Black Metal and spoke very highly of Rotting Christ and your contribution to Extreme Metal music. There are not many bands that have managed to achieve such a thing!
Sakis: John, I really think that it happens because we are an honest band. We may not be the band that has made the great step to become recognised by a large number of people worldwide like Dimmu Borgir, but we are honest to our selves and to our fans. What we have managed to achieve is for people to acknowledge our existence, even though some of them have never heard any of our songs. I want to believe that people are smart enough to understand and appreciate music that comes from the heart - if they don't realise it straight away, they will get there sooner or later.
Which is the place in the world, outside Greece of course, where you have the biggest and most positive response from Metalheads?
Sakis: Turkey! We have been presented there even by the Turkish CNN, believe it or not - all over South America - ah, also in Poland where we decided to record our DVD. There are many countries that are quite friendly to the band when we're on tour, but nothing compared to our Greek audience of course.
One complaint from both the fans of the band and myself: "why is it that you never put enough emphasis on your first three studio albums when you're on tour"?
Sakis: Simply because our younger audiences are not that acquainted with them, but thrust me that things are going to be much different in this upcoming tour. We are going to play three songs from "Thy Mighty Contract", two from "Non Serviam", some others from "Passage to Arcturo"…we will play older songs, even if people are not that familiar with them. If we had decided to play "Coronation of the Serpent" in the Underworld gig, how many people do you think that would know this song, or even "The Forest of N' Gai"- songs that we wrote almost thirteen years ago! Maybe though we should stop caring about things like that and simply play these songs for the people that do.
This is a personal request if you may: is there a possibility to be able to listen to" The 4th Knight of Revelation"?
Sakis: It is quite possible. It will also depend on how much time we will be given from the promoters. If we only have one hour to perform, you understand that things are getting a bit difficult there, and we will have to leave some of our fans unsatisfied!
Rotting Christ are considered to be the ambassadors of Greek music abroad.
Sakis: That also makes us really happy, but we need to set things straight here! We are talking about Metal music, not the typical "Greek" music, which is belly dancing nonsense (hysterical laughs from both sides).
Well, if that was the case I would simply assume that the majority of our countrymen would have finally acquired some good taste in music, but no such luck (laugh).
Sakis: Yes, I agree - but anyway (laughs).
Have you managed to detect the influence of Rotting Christ in any of today's bands?
Sakis: Yes, I have seen many of these bands, but what makes me even happier is that there are bands that are more influenced by our attitude rather than our music and that in my opinion is even more important. I like to see decent bands, because I appreciate decent people in general. Heavy Metal is not big enough for Rock Star attitudes, let's not kid ourselves here. People who listen to Black Metal have some specific ideas of what live is all about and decide to live it differently than the majority of the people out there.
Sakis, do you believe that Rotting Christ is as provocative as they were in the beginning of their career?
Sakis: I believe that we are, but in a more mature way. We still have problems in performing some of our shows in specific parts of the world. There are still places in the US where our CDs are not distributed at all. We are provocative, and we really enjoy that. How can you claim that a band that chose to refer to Christ as Rotting is nor provocative enough? We, on the other hand, are not a band that used cliché's in order to describe our feeling and ideas to the people. We are still trying to make our own revolution through our music, and even though we are thirty years old, we still feel the need to do such a thing. The flame is still burning!
And may it burn always.
Sakis: It will keep on burning, that I promise. The only problem is that along with age comes tiredness. We sometimes catch ourselves thinking: "what is happening here"? Ten years ago when we visited a new city and we listened to the word "bar", we were racing to see who is going to get there first. Now all we think is who is going to get the best bed in the hotel (laughs), and that is a natural thing.
Which is the most important moment in the history of the band, and the one thing that you would like to change if given the chance?
Sakis: I would have wanted to change quite a few things in the very beginning, but finally I would leave everything as it is. The only thing that I would probably have tried to avoid is some collaboration with an "old label" whose name I don't want to mention in this interview (note: I am pretty sure that most of you know which label that is anyway). I am very proud of the fact that we have released nine studio albums so far, that we have played in many festivals all over the world and the existence of that tribute album to the band.
What about the rumours that you will participate in next year's (2005) Wacken Open Air festival? Is that true?
Sakis: It's only a rumour - we have not been offered such a thing, but I really wish that it happens to be honest.
What should we expect from Rotting Christ in the near future? Do you have any reserves to continue playing Extreme Metal?
Sakis: As far as I decide to live this kind of life, there will always be enough "fuel" in our "system". We will hopefully manage to create an even better album. That of course also depends on the kind of contract that we will receive from the record label that we will be working with at the time. We are not going to sign a similar contract to the one that we had with Century Media.
So for you, the ideal contract would be for one album?
Sakis: Yes, exactly so as for me to be able to provide the best possible result to the fans of our music. I want people to still want to say "Good Morning" to me when I decide to disband Rotting Christ. I didn't become a rich person playing for this band, and I never will. I would like to get some money out of this band, but that's not my main goal here. I do other things at the same time in order to make a living, but I want to be able to leave the music scene one day with my head up! Life is really short John, and Vanity is for the few! I am not willing to sell my soul in order to reach somewhere, you know?
I wish you all the best Sakis. I hope to see you again soon in the UK, and I promise you that you will once again see all those crazy Greek Metalheads standing in the first row making one hell of a noise!
Sakis: Yes, that's what I want to hear!
One question from my partner Emily: are you going to release a bl***y girlie top? She is driving me nuts every time we approach the Rotting Christ merchandise stands.
Sakis: Well, we do have them, but it seems that she's really unlucky. Next time that we visit the UK, we will arrange something for you (laughs). We will be there in January!
Ok Sakis, once again all the best for you and your band.
Sakis: I hope that all of us will be well in order to do the things we do. I am really happy to know that you are trying to help us from your side by doing this interview, and I really appreciate it. We help each other by doing these things.
One other law of physics says that energy transfers itself and never disappears.
Sakis: Always.
Your message to the subscribers of Get Ready to Rock, and the people who are going to read this interview?
Sakis: Stay heavy my Metal brothers - see you soon in a town near you for a really "rotting" show!
Thank you for this interview Sakis - have a good night!
Sakis: Same to you John.
---
Interview © 2004 John Stefanis