The last four years have been quite difficult for the American Power Metal outfit Jacobs Dream, but it seems that their need of satisfying their artistic calling and their quite numerous fans was stronger than any wish to give up. Two years after its original release date, 'Drama of the Ages' is ready to go on sale and James Evans (bass guitar) is here to explain the reason for this delay and explain a few things about the bandís third full-length release.
Hi Guys. There is a four-year gap between the release of your previous album "Theater of War", and of your latest effort "Drama of the Ages", during which I was made to believe that Jacobs Dream had disbanded. What is it that really happened back then?
James: We never disbanded. After 'Theatre of War', Dave decided to resign as singer and a large amount of the time spent was looking for a new vocalist and writing new material.
After the release of "Theater of War", David Taylor, the band's original vocalist, decided to leave the ranks of Jacobs Dream. Would you say that his departure brought the end of an era for the band? Have you guys kept any contact with him?
James: I donít know if it was necessarily the end of an era since I think the music itself holds most of the integrity of the band. Sure itís a change, but I think we are very much the same as a whole. We talk to Dave and are still friends with him. He has even heard the new CD and likes it.
How much do you believe that David's departure has affected the sound of the band? Would it be possible for the "Drama of the Ages" to have sounded much different if he had participated in the recordings of the album?
James: Daveís departure changed the flavour a bit but I think the sound is still Jacobs Dream. I donít think the album would have been profoundly different with Dave singing. I think both Chaz and Dave are talented and powerful vocalists which is the key to our vocal sound.
The band's "new" frontman is Chaz Bond who is also the singer of Biogenesis. What made him the obvious choice as David's replacement, and which would you say are the main similarities and differences between those two artists?
James: The selection of Chaz was based on how he blended with the new material. We really liked his stage presence, endurance and ability to rip powerful screams. He has a lot of passion like Dave had and sings more in a mid range where Dave stayed in a higher register.
"Drama of the Ages" was supposed to have been released sometime in 2002, so I assume that the "core" of each composition that's featured in this promo is three years old. With all this constant change in the band's line up, how much did the band's current members contribute to the final result?
James: Most of the line up changing occurred during the recording and supporting of 'Theatre of War'. This entire project was started just after 'Theatre of War'. We reunited the original members and the line up at that time was the same as now minus Chaz. So what you hear on this project is very much a representation by those here now. Even with all of the changes in the past these original members have been key on all of our projects despite the names on the albums.
I remember reading a statement of the band, a few years ago, that "Drama of the Ages" would bring the return to the style and sound of the band's debut album. Do you believe that you have managed to achieve that after all?
James: Yes. I think Drama sounds like a natural succession to the first album.
Did you manage to detect any changes as to the way you recorded your music and communicate as fellow musicians at this specific moment in time? How many new elements and knowledge was brought into the band, and how well did it mix with the already established Jacobs Dream sound?
James: We recorded this album in our own studio so the way we recorded was completely new and our communication concerning writing and recording is still very much the same. Chaz is the newest element and I think he fit well with the established sound.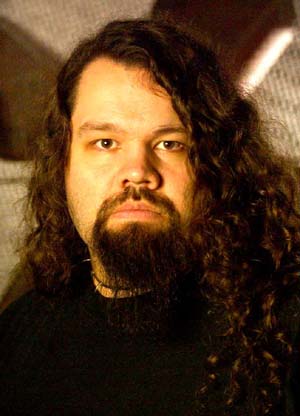 With this release, you are presenting your fans and the rest of the music world with twelve new compositions. Which of these songs do you expect to become more appealing to them and why?
James: I think all of these songs are appealing. On a personal level I like the drive of songs like 'Victory', 'At the Gates' and 'Deceiver of the Nations' and I like the feel of 'Drowning Man' and 'Stand or Fall'. I think the response from the fans will be diverse as well.
Is there a specific song that, in your opinion, would be able to represent the album as a single or even a video, and if yes, which one would that be?
James: Just in my personal opinion, I like 'Victory' in that all this band has gone through and to overcome it all and forge forward.
I hope that you will forgive me for saying this, but I was not extremely impressed by the production of the new album. I think that the rhythm guitars do not sound as strong as they used to in the past, and that results in the songs losing much of the edge and aggressiveness - something that was the band's trademark in all past releases. I assume that you will probably disagree with me on that issue, so I would really like to hear your opinion.
James: Between mix down and mastering there were some things that got pushed back a bit for the sake of evenness. As the bassist I wish the bass could have been a little more up front as well. The only time I notice the rhythm tracks less is during lead parts but on a whole I think they are strong. I may have a bit different of an ear though.
How would you describe the experience of being solely responsible for the recording of the album? Would you say that it helped you understand a few more things about the way both you and your fellow colleagues operate in general?
James: We learned a lot from this experience. It is nice to have total control but there is a lot of work that comes with that. You really have to treat it as though you are paying for your time or you can lose a lot of it. We have all known each other for a long time so the way each of us operates is really no surprise.
What was the atmosphere in the studio while you were recording "Drama of the Ages"? Any funny incidents that you would like to share with us?
James: We keep the studio dimly lit with a scented candle burning usually with one or two members there at a time working on individual tracks. I guess one of the funniest things that happened was during the recording of the drum tracks. Someone rang the doorbell and the dog went nuts with barking and it all bled into the recording. We re-cut it.
Lyrics have always been one of the strongest points of this band. Apart from the album title, there are also quite a few song titles such as 'Stand or Fall' and 'Deceiver of Nations' which kind of give me an idea of what the lyrical context of the album could be. Has todayís political scene influenced the bandís song writing in any way?
James: Most of the things that have happened in the past few years affect us directly so those things naturally affect our music. However those things only partially affect it.
Usually, it is the vocalistís 'responsibility' to come up with the lyrics of an album. Is that the case with Chaz and the new album?
James: Most of the lyrics were already in place upon Chazís arrival. The lyrics to 'Spinning Leaf' were written by Chaz and he had some input on modifications on the other songs. No one person is totally responsible for lyrics and input from all is welcomed.
You have released all your albums through Metal Blade records. It seems that there is a very good relationship between them and Jacobs Dream, otherwise I donít see how they would have waited for so long in order to release your new album. Are you enjoying a good working relationship with them?
James: We kept in regular contact with them through the course of the past couple of years and kept them up to date. They always knew we had every intention of recording another album. The working relationship is good and they do a lot to help promotion.
Which are the bandís and the labelís common plans as far as the promotion for "Drama of the Ages" is concerned?
James: Right now advertising and sending promos is the main roll of the label and we want to get out and support this project live wherever we can get the opportunity.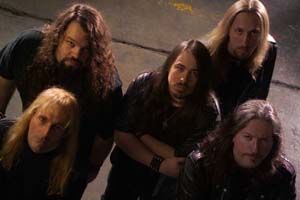 I was hoping that I would be able to see Jacobs Dream live in one of this yearís German summer festivals, but I havenít seen any live dates announced yet. Have you guys prepared your tour schedule yet?
James: No plans just yet. The German office knows we would like to play some festivals there but all have been booked I am told. If any openings should occur we would love to come there and play.
Do you enjoy presenting your material on stage? How would you describe a Jacobs Dream concert?
James: Playing live is the pay-off of all the hours in the studio. We love it. Our concerts are powerful and energetic.
How well do you think that "Drama of the Ages" is going to do sales-wise, and which would you say are its strongest selling points?
James: I think this album will out-sell the last two. We were unified through this whole project and still are and I think that shows. I think the album was well written, has good flow and power.
Now that things are 'back to normal', are we to expect more releases from this band in the years to come? Are you confident about the future of Jacobs Dream?
James: Yes. Expect more. We are planning the next project and we all have a common vision for the future of the band.
Thank you very much for doing this interview with Get Ready to Rock. Any last words?
James: Thanks to all who have waited faithfully. Welcome new fans and we hope to see you all on the road soon. We love you all and you are the reason we do what we do.
---
Album review
Interview © 2005 John Stefanis