JACOBS DREAM 'Drama Of The Ages'
Metal Blade(2005)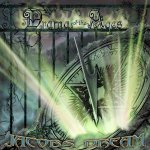 I guess that this will sound quite ridiculous to you, but my introduction to Jacobs Dream happened through a practical joke. I grew up listening to Iron Maiden, and I am one of those people who thinks that Bruce Dickinson is the best vocalist that this legendary band ever had. Well, one day back in the year 2000 and while I was still an employee of a well-known Athenian record store, one of my colleagues decided to play a song from a promo of a band called Jacobs Dream. For the record, the song that he chose to play was the 'Tale of Fears' from the bandís debut album which was just about to be released.
Moments after the song kicked off, I discovered a melodic and quite lyrical voice which sounded terribly familiarÖ'could that indeed be Bruce Dickinson? What on earth is he doing now Ė I thought that he was still in pursuit of his solo career'Öthese were the first few thoughts that crossed my mind, and the fact that my colleagues thought that it would be a good idea to try to convince me that this was the case, didnít help at all.
Well, the joke was pretty soon over, but I had only just discovered a brilliant album by a very promising young band. Jacobs Dream in the year 2000 had everything thatís required from a good US Epic/Power Metal band, and even more! Heavy guitar riffs, beautifully created keyboard melodies and one of the best vocalists that this specific genre had ever heard. Even though the future looked quite promising for the Ohio-based outfit, a few grey clouds started to gather on the horizon. The bandís line up suffered numerous changes, and even though a good second album called 'Theater of War' was released in the following year, it seemed that it was not strong enough to bring stability to the band. The final blow came when David Taylor (vocals) decided to quit, and Jacobs Dream found themselves on a permanent hiatus.
The following two years were filled with rumours that the band was recording their third studio album with a brand new singer, but since that never happened, I assumed that the band has ceased any musical activities. Luckily that was not the case, since we are finally a few weeks away from the release of Jacobs Dreamís third studio album which is entitled 'Drama of the Ages' Ė an album that I received with mixed feelings. Why? Letís seeÖ
Apart from Chaz Bond which is the bandís new vocalist, and Jon Noble who is the bandís second guitar player, the remaining three musicians are the same ones who have participated in the recordings of the bandís debut album. That means that all twelve compositions are 'equipped' with the exact same riffs and guitar melodies that made the world speak of Jacobs Dream with the best words in the first place. Chaz Bond is a good vocalist who shows a preference for heavy straight-forward singing and is also not afraid to use his high-pitched notes. His voice gives an extra epic touch to the majority of the compositions which is quite good, but unfortunately he is not in a position to re-create the theatrical/tragic feeling that his predecessorís voice had and which was in a way the bandís trademark.
That would not have been such a big problem, if the production of the album was not as bad as it turned out to be. The rhythm guitars are so badly recorded that they sound as if theyíre constantly fighting to be heard in the background, and as a result the bandís sound lost plenty of its aggression and edge. It is sad to have really impressive compositions such as 'Drama of the Ages', 'Stand or Fall', 'Drowning Man' and 'At The Gates' loosing in the end because the guitar was not high enough on the mix or the vocals are louder than they should be.
I am not saying that 'Drama of the Ages' is not a good album. Jacobs Dream has once again proven that they deserve to be considered amongst the most important representatives of modern US Power Metal. When you are a member of a band, though, which has set such high standards with its debut album, you need to make sure that you do not let a bad production deprive you from reaching these heights with your following releases.
***½
Review by John Stefanis