RAM have been around since 1999 and have been impressing the crowds at venues throughout Europe, particularly at the metal festivals Keep It True and Headbangers Open Air. After the initial splash caused by their EP, "Sudden Impact" in 2003, RAM are back with a blistering debut album, "Forced Entry".
RAM are all about uncompromising Heavy Metal and I caught up with vocalist Oscar Carlquist to find out the whys and wherefores of RAM's philosophy towards music and their plans for the future.
Your musical style is Heavy Metal, and you've been compared to the likes of Judas Priest, Iron Maiden and Black Sabbath. So I guess the name Ram pretty much sums up what you're all about?
Oscar: Yeah, we play HEAVY METAL the way it should sound, but that doesn't mean that we don't have our own unique style. Ram is a short easy name to remember that has a lot of different meanings, but basically what we are saying with the name is that we are coming through with destruction in our wake.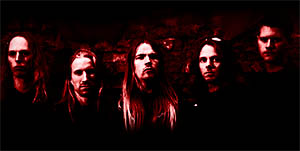 Your style is quite similar to 1980s NWOBHM but it also has a fresh quality. Where do you think Heavy Metal is going today?
Oscar: I hear a lot of pop, synth, hip hop and fuc*ing opera mixed with the metal, and to me that's just tasteless. No form of popular music has the same diversity as metal, everything between Praying Mantis and Morbid Angel is metal, and bands choose to incorporate pop or some other inferior form of music into their sound. I say check your own style out before you sell it out to make an extra buck. Writing real metal is an art form, any fool can make a stupid pop song with distorted guitars. We want to write real metal true to its ultimate form, but that doesn't mean that there is no room for innovation, we twist and turn the riffs and arrangements and proudly bleed out our songs.
Your album, Forced Entry, has been released by Black Path Metal Recordings, who were established in August last year. What was it like working with such a new company?
Oscar: We are co-founders of the label, and we have full control of our products, that's the main advantage of being involved with the label. BP is growing all the time and is now a force to be reckoned with.
How do your practical circumstances compare to the release of your EP, Sudden Impact? Was that self-financed? Are you full-time musicians now?
Oscar: Sudden Impact was also released through Black Path, but BP existed in a slightly different form back then. We are not full time musicians yet, but the future is looking bright!
It must be great having an album out and an EP, and you've released your EP on vinyl too. Is there still a demand for vinyl?
Oscar: The real metal heads want vinyl. To me it doesn't feel like I really have released an album until I have a vinyl pressing of it in my hands.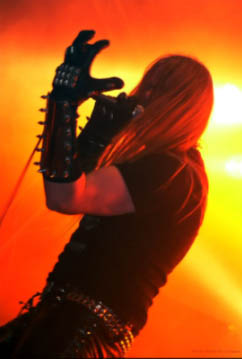 It must be exciting making your first album. Are you pleased with how it turned out? Do you have any favourite tracks?
Oscar: We are very proud of Forced Entry, especially since we did everything ourselves, songs, lyrics, production and cover. I think the album is very well balanced and a nice little audio Journey, I like all the songs.
The last track on the album, Burning Scars, is a departure from the style of the rest of the album. What made you decide to write a ballad?
Oscar: The song is very atmospheric and has a cold eerie feeling to it. I like it because its a very serious song. I think that we probably at times are a more serious band than most metal bands are today, I will rather write lyrics about agony and frustration than dragons and swords.
Are you working on new material at the moment or taking a break? Are you thinking about new directions or will you just see how things turn out?
Oscar: We never rest, we are currently writing new material, and planning ahead. We definitely have a secret master plan, which we are going to enforce. Everything about RAM is very carefully planned. I think one of main things to think about if you want to become successful in the music business is to always keep on working, not waiting for others to do it for you, if things don't work out as you thought they would always have a plan B. Stagnation is death.
You have t-shirts available on your website - do you have a hand in the design of those? Have you noticed anyone wearing one in the street yet?
Oscar: I do all the T-shirt designs, we seen a lot of people wearing our shirts, that's nice.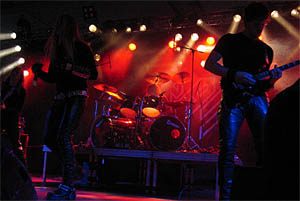 You're going to be playing the Up The Hammers festival in Athens later this year - your first gig in Greece I believe. It must be exciting breaking new ground?
Oscar: Yeah, Greece will be great. The word in the business is that Greece has the craziest metal fans in the world. We are really looking forward to being eye to eye with these rabid head bangers.
I suppose that playing a festival is a great way to gain new fans. You also played Keep It True and the Headbangers Open Air festivals in 2004. What was that like?
Oscar: That was awesome, the fans at those festivals is a perfect crowd for us, excellent fans and excellent shows. We love playing Germany, these people are really devoted to Heavy Metal.
And how does it compare to playing more intimate venues, such as your launch party?
Oscar: Both kind of gigs are great, but it doesn't matter much where I go on stage, I do my thing regardless. I will bang my head off in front of 1 person if that's the crowd. To me its not about who's there or how many they are, when I go up on stage I get rabid, to me its a way of life.
Looking at your list of previous gigs, it seems that you've conquered Europe and you're on your way to Greece in May. What's next for Ram - any plans to extend your domination to further reaches? Are there any particular countries in which you'd like to play?
Oscar: I would love to go to South America and Russia, these places have a really great metal scene but you never hear anything about it here in the west.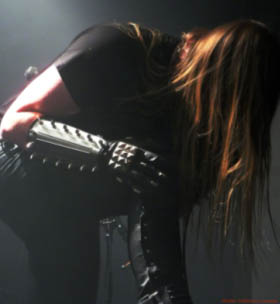 You've also played with many and varied bands such as Alice Cooper, Dark Tranquillity, Primordial and Cancer. Are there any other bands you would really like to play a gig with?
Oscar: Every gig we have done has been great in its own way. When I'm about to get on stage I really don't care who's the headliner, I do my thing regardless. So I suppose that I would choose a band like Iron Maiden, since we probably draw the same type of crowd, the old-school crowd, and there would be approx 20.000 people there. But on the other hand I would love to do a real underground gig in a small sweaty club in Germany with lets say Exciter.
Ram also seem to have received a lot of acclaim - such as being asked to appear at festivals - and had thousands of fans downloading your MP3 and you reached the number one spot on the Underground Records online list. It must be great to be appreciated. Are there any other goals you are aiming for in your career?
Oscar: Of course, we are a new band and people don't really know what we are about. The more material you release and the more shows you play the more people know what you are up to. There are a lot of aspects of the band Ram that people haven't discovered yet. So release more albums and sell more albums, play more shows, we want more metal!
You write the lyrics. Do you fit the lyrics to the music or the music to the lyrics? What are the mechanics of your song-writing - do Harry (Granroth, guitarist) and Daniel (Johansson, guitarist) work together and bring their ideas to the rest of the band or do you work in a different way?
Oscar: I am very much involved in most of the music writing as-well as the lyrics. Songs come about in very different ways, some things are born in the rehearsal room and some stuff is written at Harry's place. Usually Harry, Daniel or I have a vague idea of a song, we present it to the other two guys and we all start working.
Some songs are done in a few hours, others have taken years to complete. Lyrics are written based upon the feelings I get when I hear the song, sometimes I get a lyrical idea after hearing only one riff and then the lyrical idea can inspire the rest of the song writing. Sometimes I have the lyrics first and I say to the boys, we have to write this kind of a song.
You've been around since 1999. What's been your best experience so far? And your worst?
Oscar: My best experience must be either our live gig at the Head Bangers Open Air or our live gig in Bergara, Spain. The crowds there were just magnificent. Actually I am too much of a positive thinker to bother to remember bad stuff that has happened to us, nothing really bad comes to mind!
How would you describe your music to someone who's never heard it?
Oscar: Hard-hitting, uncompromising, real, Heavy Metal.
Thank you very much for taking the time to answer my questions. Is there anything else you'd like to say to your fans?
Oscar: STAY REAL! OBEY THE LAW WITHIN! RAM THE BAS*ARDS DOWN!
---
Interview © 2006 Amanda Hyne