RAM Forced Entry Black Path Recordings (2006)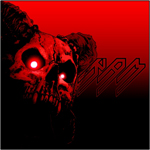 Ram are a five piece hailing from Sweden. They formed in 1999 and their first EP, Sudden Impact, was released in 2003. Forced Entry is their first full-length album.

Right from the get-go you know what Ram are about – everything about them is Heavy Metal. The very name gives you an indication of what to expect, and Forced Entry certainly does not disappoint.

So, they're Heavy Metal. To narrow it down, this is the sort of music that would appeal to Judas Priest, Iron Maiden and Annihilator fans. It is fast-paced riffage with lots of guitar solos and Rob Halford style vocals.

There seems to be a certain tongue-in-cheek appreciation of this form of metal in the UK at the moment, which I feel is a bit of a shame. Listening to Ram I find them musically accomplished and cannot help but take them seriously. Forced Entry comprises ten tracks, the majority of which are fast-paced but each are different enough to retain the listeners' interest and intense without being overly so.

The lyricism varies but is similar in style to Judas Priest or Manowar – mostly about being "metal" and staying true to your beliefs.

The album is nicely rounded off by the surprising ballad, Burning Scars. I say surprising because it is thoroughly unexpected since the rest of album is fast and furious. Similarly to the rest of the album, it is well-written and tastefully performed and I like it a lot. It doesn't feel like an afterthought.

Regarding ingenuity, Ram are treading a well-worn path. Since they follow in the footsteps of the bands I started listening to back in the 80s I believe I am perhaps more critical of bands that aspire to be like them. Therefore although I wasn't surprised to find that yes, I liked Forced Entry, I was surprised by how much. It really appeals to my taste without being too hackneyed. This is quite a subjective point; it would depend on how much you like the genre and how much you've heard before but personally I found it inspiring.

Unfortunately there are no live dates listed on the website at present, which is a real shame since I'd love to see them play live. I think – scratch that, I KNOW - they'd provide a most entertaining live show and I hope I get the chance to see them sometime soon.

In summary, if you like Judas Priest, Iron Maiden or Manowar, give 'em a spin. Forced Entry is an excellent album and has breathed new life into my love of metal.
*****
Review by Amanda Hyne