It is quite reassuring to know that itís not every new Swedish Metal bandís ambition to either sound like The Haunted or In Flames. 'Where Flesh And Divinity Collide', the bands debut album is their answer to all the Gothenburg-based Melodic Death Metal outfits, and a statement on what Swedish Extreme Metal music is all about.
Rogga, former vocalist of the well-known Death Metal act Merciless, helped me to get a better understanding of how things work within the band.
Hi there. First of all, I really feel the need to say that you are probably one of the few bands that I know that doesnít have an official site on the Internet. Why is that? Do you have any plans of creating one in the near future?
Rogga: Hi, we have a friend working on getting a site up, unfortunately heís just moved to another town so his internet connection isnít working at the moment. We hope to have the site up and running in a few weeks. The address to the site is www.satureye.com
I knew nothing of Satureye before receiving the promo from Karmageddon Media, and since it is so difficult to gather any information, I would like you to present the band to the subscribers of Get Ready to Rock. How did you guys first get together, and whatís been happening in the band during the last four years?
Rogga: Henke and Norsken have been playing in various constellations since the late 80ís, the idea to form Satureye came about when they were in the studio recording a demo with their band at that moment, Entropy. They then asked me to do guest vocals on one of their tracks. It all worked out so well that the three of us agreed to start a new band, which became Satureye, Jocke joined the band half a year later, heís a long-time friend of mine and he fit the chemistry of the band. The last four years have been spent writing songs doing demos and plying gigs.
Satureye is a band that comes from Sweden, a country with great tradition in Extreme Metal music. There has been a large increase in Swedish Death Metal bands during the last five years, and the music market is literally filled with hundreds of new albums. You probably have to face an enormous competition, since you have just released your debut album Ė what is the strategy that you are going to follow in order to stand out and make your name known?
Rogga: We canít say that we have a strategy really, what you hear and see is what you get and if you like it itís cool. Weíre not going to do something musically just to sell more records or use corpsepaint or something like that just to get attention.
The band consists of four musicians. Based on my previous experience with Swedish musicians, I assume that you must have various different influences Ė am I right in assuming that? Which bands/artists have influenced you the most, and why did you choose to play Thrash/Death Metal music?
Rogga: Slayer, as for all bands in this genre we assume, is of course an influence but we listen to all kinds of music. We grew up listening to thrash/death, metal and punk, that is the most satisfying music for us to play.
I know that you used to sing for Merciless. Did any of the other three members participate in any other bands/project before Satureye were formed?
Rogga: Henke and Norsken played in "Entropy", Jocke has played in bands like "Chronic Decay", "Dischange", "Meanwhile" and a couple of more bands.
'Where Flesh and Divinity Collide' is the name of your debut album. What made you choose that title Ė it sounds quite symbolic to me.
Rogga: The title is a line from one of the songs on the record. We didnít want to use the title of a track as we believe this always gets you thinking that the band favours that track more.
How long did it take you to compose the twelve songs that put together 'Where Flesh and Divinity Collide'? What is the process that you follow in order to create a song, and who is the main composer in the band?
Rogga: As this is our first record some of the songs are a couple of years old and some were finished just prior to starting recording the album. We often begin with a bunch of riffs and start to piece them together adding drums and vocals as we go, everyone in the band writes riffs so itís a common effort Ė I am the one who writes the lyrics.
I want to ask a few things about the recording process of the album. Which studio did you use, and what was the time limit that you were given in order to complete the job?
Rogga: We recorded the album ourselves, Henke our drummer has a little project studio where all of the recording except the vocals where made. For the vocals we lent Norskens parents house, moved the equipment there and did the vocals. We had no time limit really, but as we have to work to get some money we recorded whenever we had the time, canít say how long it took as the recording sessions were spread out over a couple of months.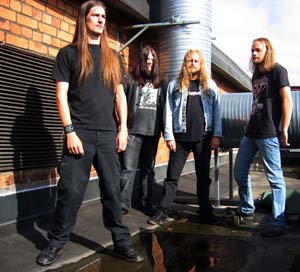 The album has a really good sound, and that is normally really difficult to find on a bandís debut release. Who is to 'blame' for that? Regardless to what I just said, are you guys satisfied with the way the album sounds?
Rogga: Henke mixed the album with input from the other members. We werenít going for that "Gothenburg-sound", more of a "naked" kind of sound as we thought that fitted us better. We are quite satisfied with the turnout, thereís always things you wish you did different but as a whole weíre satisfied.
The band has been advertised, by both Karmageddon Media and the press, as a Thrash Metal outfit. Do you accept that term? Please give us your own interpretation of the bandís sound and style.
Rogga: Yeah, we kind of accept that, canít argue with the fact that thrash is a major ingredient. Itís always hard to label music, some of our songs might be considered more metal than thrash but that opinion will differ between listeners.
You donít really have to try hard in order to trace the influences from bands like Destruction, Kreator & Voivod in the bandís music Ė when I first listened to 'Nothing is Forever' I felt like I was listening to a Voivod song. Which is the element that the music fans will find in both the sound and your style that will make them realise that Satureye is not a cover band, but an outfit with its own personality?
Rogga: Of course our influences will shine through, it does with most bands. We honestly donít think that "Nothing is forever" sounds like "Voivod" but we guess itís up to the listener to decide. Someone actually said that track sounded like "Godflesh" which none of us has listened to! We write our own music so obviously weíre not a cover band.
Is there a song in the album that you find more of your liking and that is capable of becoming the 'ambassador' of the band in a form of a video or a single?
Rogga: The songs Nothing is Forever, One Man Riot, Failure Foreseen and Filled with Dust are kind of favourites to us.
Talking about videos: did you have any offers from Karmageddon Media to create a video for the album? What would be the ideal audio representation for a Satureye video?
Rogga: No offers yet. Depends on which song the video would be for. If itís a fast tune a kind of "live-gig" thing always works, if itís one of the slower songs it would be cool with more of a concept/storytelling video.
It seems that not all bands find that a video can potentially help the promotion of a bandís music to bigger audiences. What do you believe? Is it worth both the time and the money?
Rogga: We hardly think it would be worth it for promotional purposes as this kind of music doesnít get that much airplay (at least not here in Sweden). But for fans itís always cool to be able to watch the bands they like.
Ok, the only way, for both me and the Metalheads of the United Kingdom, to find out what Satureye are all about is to see the band live. Should we expect a visit from you guys in the near future?
Rogga: We are currently trying to get a booking-agency that will take care of those things so we hope to be able to get some shows going in Europe, if someone book us we will try to get something going.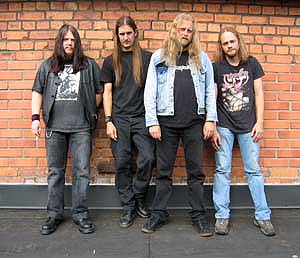 Which was the best gig that you have made so far, which is the band that you would like to share the same stage with, and which is the place/country that you would really like to visit for a gig.
Rogga: Our first gig was played in Gothenburg, itís always exciting playing your first gig with a new band. Apart from that we did a show a month ago in a Swedish town called Sandviken which was really cool, lots of crazy headbangers there. Any country, any band, itís always fun to play gigs!!
What would you have to say to someone in order to convince them that buying 'Where Flesh and Divinity Collide' is a good idea?
Rogga: Listen to it, you will like it.
How confident are you about the reception that the album will receive from both the press and the music fans? Which are the first impressions so far?
Rogga: We are quite confident that the fans of this genre will like it, weíve had some really good reviews and some preconceived ones where they say that everything coming out of Sweden sounds like "the Haunted" which we really do not agree with.
What was the original goal that you guys set when you first formed the band, and now that your debut album is finally released, what is your next target?
Rogga: Our goal has always been to write music that we ourselves like to hear, it still is, always will be. That and to be able to do as many gigs as we can get.
Please feel free to end this interview with your own personal thoughts.
Rogga: Get the album, have a beer, enjoy and hopefully weíll see you soon!!
Related>>Album review
---
Interview © 2004 John Stefanis