SATUREYE 'Where Flesh And Divinity Collide' (Karmageddon Media) (2004)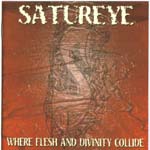 I was always impressed by Karmageddon Media's ability to discover new and quite promising Metal bands. What is even more remarkable though, is that the majority of those bands originate from Sweden. I can almost picture the label's 'scouts' travelling along the Swedish countryside, visiting house after house - trying to discover the band that is destined to become the next 'At The Gates' or the new 'The Haunted'!
I am not going to argue as to whether what Karmageddon Media is doing is good or bad, simply because I believe that there are so many good bands out there that deserve far more that just playing gigs at their local pub, and it is good that at least one record label is willing to give bands like that a chance to prove their skills and abilities to wider audiences. This time, the band that is given this chance is an outfit called Satureye.
I was really surprised by the fact that the Dutch label failed to provide me with much information about the history and the whereabouts of the band, but I soon managed to understand why. It is the first time that I have to make a review for a band that doesn't even have an official site on the internet! All that I know is that two of the members of the band, Henke/drums and Norsken/guitars, started their musical career as members of a band called Entropy.
When ex-Merciless vocalist Rogga became part of the band's line up, they changed their name to Satureye, and started composing their material. They soon released their first demo, 'Silver Souls', which was voted as 'Demo of the year' by a Swedish magazine called Close Up. Now, I can only assume that the 'scouts' that I previously mentioned, discovered the band through these magazines and offered them a contract, which brought to life the band's debut album 'Where Flesh and Divinity Collide'.
It was not accidental the fact that the name of The Haunted was mentioned earlier. The label has categorised the band's music as Swedish Thrash Metal, and I guess that you really cannot expect to find any young Swedish Metal outfit that is not influenced by Dolving and Co - it's like believing that there could be a British Heavy Metal band that would not be influenced by either Judas Priest or Iron Maiden-impossible!
What about Satureye though - do they have anything good to offer, or are they destined to be become part of the pile of Swedish outfits that are trying to become successful by grabbing the crumbs form The Haunted's table?
I was really happy to discover that even though Peter Dolving's band has played a huge part in Satureye's 'upbringing', there are a few more good things to find in Satureye's debut album. There is an equally strong influence in Satureye's sound which originates from the 80's American Thrash/Death scene.
To be more precise, there are moments in this album where both the vocals and the guitar riffs reminded me of the ones that bands like Holly Terror, Exumer and even Voivod were recording in the mid 80's. The album has a killer sound (not that I expected anything different from a Swedish Band) and the songs are well-structured and nicely presented. Yes, it is true that there is nothing extremely original in this release, but I don't believe that we should have more expectations from a debut album in the year 2004 anyway.
If the question is whether I believe that the forty minutes that I spent listening to this album were really worth it, the answers is yes. Songs like the Voivod-influenced 'Nothing is Forever' and the catchy guitar melodies of 'End' will reward you just for choosing to listen to them.
I am afraid though that I am not able to guarantee whether 'Where Flesh and Divinity Collide' is going to become better acquainted with my CD player - I guess that only time will tell. I can assure you, though, that I will keep my eyes and ears open for the band's next release.
Review by John Stefanis
***½
Related>>Interview