Having just released their third studio album "Never Ending", the members of Mystic Prophecy are ready to divide and conquer the known world. I got in touch with the bands friendly and very talkative bassist Martin Albrecht who gave me a complete idea about what both the band and the story of the new album are all about. If you are in doubt as to whether there are still real artists out there, it is very important that you read this interview!
Hi Martin. First of all, let me welcome you on behalf of Get Ready to Rock e-zine and also to thank you for making this interview. How are things with Mystic Prophecy these days?
Martin: Hi John, things turn out pretty nice for the band. Thanks for the welcome and I hope you like our new CD Never Ending.
The band will meet at the 22nd of October again, this time in Athens, Greece, to have a little release-party with our Greek fans as a little "Thank You" for their incredible support for Mystic Prophecy.
Our third CD "Never Ending" will be released on October 25th and the first reviews, which we have already received, are the best we ever got. So we are very excited with what weíve been receiving since the official release.
I am really happy that the reason for this interview is to give you the opportunity to present your bandís latest release "Never Ending". How does it make you feel knowing that the bandís third studio album will be released in the Metal market in just a few days?
Martin: Of course this is a great feeling for us, we are all pretty excited because of the upcoming reactions. After recording a CD you can only wait to see what will happen. But during the time between finishing the mixdown and the release date we have produced a videoclip for the new album. It is the opener of Never Ending, "Burning Bridges". Mystic Prophecy is always busy otherwise there will be no progress to forward the band.
What we have here is the last part of a trilogy - a concept album that continues the story from where it was left in the previous release "Regressus". What is happening in the story this time?
Martin: As far as you know the story starts on "Vengeance", continues on "Regressus" and ends - of course - with "Never Ending".
Well, if you need a very shortened version of what the lyrics are all about, the plot is about a monk who ends up being burned alive, condemned to be a Satanist! When they start to burn him alive he sells his soul to the 7 horsemen of the apocalypse, so that he can extract his revenge on those who tortured him to confess. The lyrical concept of the first album Vengeance is about the monk who is returning to haunt his prosecutors in their dreams. So he is in their nightmares and he is pushing them to the very limits, so they end up committing suicide.
In Regressus our second album, he is coming back to life and each song in the album is a different murder story. With Never Ending he has finally fulfilled his revenge and the 7 horsemen appear to take him back to Hell forever. The monk has a curse on him that he will never get rid off: the curse of God. He is punished to live for eternity so that he has to suffer forever. He is the soldier who impaled Jesus when he was dying, nailed to the Cross. Therefore on our front cover are four crucified people nailed to crosses, not three like in the bible. The fourth cross symbolises mankind who is constantly crucifying itself. The only heritage of mankind is sin!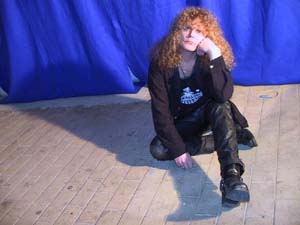 How easy was it for you guys to make not one, not two, but three concept albums in a row? Apart from the lyrical part, do you see also a musical connection with these tree albums, and if yes, which are the common musical elements that they share?
Martin: This came up during the songwriting process of "Regressus" when Lia decided to continue the story. And the same happened with "Never Ending". All the songs fit into the Lyrics with chords, mood and style when you intended to transfer the Lyrics - the music has to fit, too. The common elements are the basics of Metal: a powerful production, huge drums and brutal guitars without any effect-wars. All above there are always melodic harmonies and vocal-lines.
Even though there was a gap of two years between the release of your debut album "Vengeance" and that of "Regressus", it took you something like less than a year to record " Never Ending". When did you first start composing material for this release? Did you have any songs or parts left from the previous releases?
Martin: No, all the songs on "Never Ending" are totally new compositions. Gus, Lia and myself are always collecting and recording guitar-riffs or songideas. Then we meet one week and finish all the songs on a 16 trackmachine as a kind of pre-production. So everyone has the songs at home, rehearses by his own parts, and next time we meet in the studio for the recording-sessions.
The songwriting of "Never Ending" was finished in March 2004. It took 12 days for "Never Ending" to be recorded, and then another 10 for the mixing and the mastering.
Talking about composing material, is Gus the main composer in the band? How much did the rest of you contribute to the creation of these eleven new songs?
Martin: We all work on our own and put a lot of ideas that we individually have on our 16-trackmachines. Then we meet to exchange these ideas so that we can hear what each of us has produced individually and that way we are able to figure out what will sound good and what not. Then we get together for a week and we are working the final arrangements of the songs that will be recorded for the new album. We work out the music together, so if someone comes with a better idea, that idea can be placed within the final "shape" or frame of the songÖwhatever you call that.
But of course every band member puts his personal style and interpretation into the music, which makes it very special.
Both your previous releases were produced by R.D.Liapakis in Music Factory Studio. Did you choose to use the exact same location for the recordings of "Never Ending"? I understand that having produced albums for artists like Jack Starr and David Chastain makes R.D the ideal candidate for the role of the producer. Werenít you afraid though that there was a risk of him not being 100% objective with the final result, being a member of this band and all?
Martin: "Never Ending" was recorded in the Prophecy- and Music Factory Studios again, like the last three Mystic Prophecy releases. There is no reason to change a studio when everyone is satisfied with the location, the engineer and the technical abilities of the studio. Lia makes a great job with his productions and everyone of the band knows exactly how the final result will sound. Of course nobody can be 100% objective when producing his own band, but like I mentioned before: we all are aware of how the band has to sound. So we always try to sound better than our last output because we know how the songs finally shall be. Until now we have managed to achieve that thing.
Do you have any funny incidents to share with us from your days in the studio? Is it still an enjoyable experience for you to record an album, or has it become a part of an unavoidable routine?
Martin: To record an album with Mystic Prophecy will never become a routine, therefore all of us put too much heart and soul into the songs. It is always funny when we meet again so therefore we have a lot of fun even in the studio during the recording sessions.
Mystic Prophecy is not the only band thatís lucky enough to have Gus G as a guitar player. He also participates in Dream Evil, Firewind and Nightrage, and that was obviously the main reason why Mystic Prophecy was considered by many as a side project rather than a proper band. What do you have to say to these people now that the bandís third studio album is about to be released?
Martin: The most important thing for me is the fact that we have managed now to show all the people that we ARE a real band - and NOT a project. This includes Gus G. as a bandmember, too. Unfortunately there have been a lot of people who just proclaimed that Mystic Prophecy would only be a project. But we proved them wrong! Our line-up is still the same like in the very beginning and every bandmember is constantly giving 110% to the band. We maintain a super steady line up, which is totally different from what you call "projects" where musicians change always from album to album. Of course we are happy to have Gus a bandmember, he is not only a fantastic musician, he is a fantastic guy and friend, too !!!
Basically bands should not be just about one individual. Bands are strong when they function as a unit, like a fist thatís ready to punch you. When every single musician only cares about his own stuff, nothing will be forwarded. Gus G. works very very hard every day on his musical career. He makes a living out of playing, composing music and doing shows. He lives the life he was dreaming of, and he definitely deserves it!
Back to the new album. You have chosen the opening song of the album "Burning Bridges" to become the video of the album. Why did you choose that specific song from the whole album? Do you believe that "Burning Bridges" is the best representative of both the bandís sound and style?
Martin: With "Burning Bridges" we have chosen a song, which is Mystic Prophecy. There are all elements combined which are typical for the band and where you hear "this is Mystic Prophecy"! I am talking about up-tempo, double bass drumming, riffs, harmonies and a great vocal line with a fantastic chorus. Of course there are other great songs which could be chosen for a video-clip. But we thought that this would be the best one: the opener of the new CD.
I normally avoid doing that, but I feel the need to say that the trilogy that starts with "Dust of Evil" and ends with "Never Surrender" is my favourite part of the whole album. I also have to admit that Iím quite fond of "Warrior of Lies", especially the part when the Lordís Prayer is narrated in Greek. This is definitely the work of both of my fellow-countrymen Gus and R.D. Have you actually realised though, that there is a short part of the prayer thatís missing from the recordings? Was that something deliberate?
Martin: All of the three CDs are a complete story, a trilogy. So an author can start on a totally different point and tell a story in his own way. Lia did it in his way, you would do it into another one. So every song is a chapter, a story within a story.
To be serious: I did not realise that there has been a part missing during the Lordís Prayer in Greek language. But you have recognised it and therefore Lia has reached his aim.
What about the location that the video was shot? How did Thessaloniki (biggest city in Northern Greece) come into the picture?
Martin: We started in a film studio in Thessaloniki, Greece, where we were all filmed in a green-screen room, with the intention to add later some animations to the pictures. When it started to become dark we went to a place about one hour away from the city for the outdoor-production. So Thessaloniki as a city is not directly shown in the clip. But of course there are a lot of places, which you can use for shots in a videoclip.
As always, there is a story behind the album cover that I would like you to explain. Are you satisfied with Jan Meininghausí job? Did he manage to capture the vibe that derives from this album?
Martin: Like it has been mentioned before our three studio albums are part of a trilogy. This includes the cover-artwork, too. The most important subject is the same face of the main character, which you can find on all our three covers. This gives you a hint that these three CDs are combined. Jan Meininghaus did an excellent job, he captured the atmosphere which we intended to give to the listeners with his cover artworks.
It starts with "Vengeance", on the front cover the monk is an angel, on the back cover he looks evil. On the front cover of "Regressus" he just appears with his horse of doom, in the background you see the town he will hit now to fulfil his revenge.
On the cover of "Never Ending", he opens his coat where the damned and tortured souls try to escape. In the background, there is a fourth cross as a symbol that this will be now his place beside Jesus, who has been stabbed by him just before he died, nailed to the cross.
Finally the black ravens are a symbol for upcoming evil.
Gus G is a really busy man. Correct me if Iím wrong, but I think that he is recording with one of his other projects as we speak! Now that the new album will be out in a couple of weeks, what are your plans for promoting your new album?
Martin: This would be nothing strange if Gus just sits at home recording new ideas or even songs. He is a professional musician and for a musician it is quite normal to play, rehearse, compose or record.
At the moment we are already busy composing new songs and to recording new song ideas for our 4th album, which we will discuss during the end of the year, so thereís nothing thatís not normal to sit and record. If you stop, relax and wait, nothing happens. We collect song ideas all over the year and record them. So Gus might even sit and compose new song ideas for Mystic Prophecy.
What was the original reaction of the music world regarding the release of "Never Ending"? Do you believe that it stands a chance to get equally appreciated and accepted as it happened with the previous two releases?
Martin: We have been totally surprised about the positive reactions on "Never Ending". The first reviews are already out, and we are very satisfied and surprised with the amazing exposure that we have already received, even before the official release date. Basically "Never Ending" is supposed to be our very best CD so far, so we are confident that this album will be a big step forward for the band.
I understand that this is a very difficult and devious question, but which one would you say that is the best album that the band has released so far? If your choice is "Never Ending" (which I suspect it will be) which are the things that will make it stand out from your other two albums?
Martin: Of course it is "Never Ending" and the reasons therefore are quite easy. After three releases we now know each other very well. We know about the weak and strong points of the band members. So the song writing supports only the strong points so that we had the possibility to optimise the whole recordings and to support the musicians in their personal style. As a result, you have now a powerful CD like "Never Ending", full of atmosphere and emotions you can not only hear but also feel.
Further on, we know now after three CDs with the same line-up, how we have to record the single tracks to receive the typical sound of the band, which we now definitely have. You can now recognise the band as Mystic Prophecy within a very short time.
After three CDs our label knows that we work professional: studio, promotional work, song writing and they know that they can rely on us. This all makes things much easier. And the result will be released at October 25th.
I understand that you will not be hitting the road straight after the album is released, for many different reasons. What are your plans? Any specific place that you wish to visit this time? Which is the country that Mystic Prophecy prefer to play live, and why?
Martin: Of course it would be great to be on a tour immediately after the release. Being on tour is always something special for every band. But for Mystic Prophecy with band members from three different countries it is not so easy just to say "ok. guys, lets meet next weekend for a show".
Our plans are to be on tour at the beginning of 2005 to kick some a** again. And every place, which gives us the possibility to perform, is a place where we want to be. For myself it would be great to perform soon in Greece again because of my Greek friends and the incredible support of the Greek Metalheads. And we have two Greek guys in the band, which love to perform in their Motherland!
I also like playing in Japan, because when I was a young boy my deepest wish has always been to receive a possibility to perform there at least once in my life. But in every place where we will go, the Mystic Prophecy will be fulfilled.
Martin, I know that you are a family man yourself, and that you are also a proud father. How easy is it for you to "hit the road" every time that the situation demands it? How do you manage to keep yourself motivated in order to do this kind of thing? Has it ever been a time that you thought "Iíve had enough, I want out"?
Martin: Of course there has been a time when I thought that I should stop making music. Every active musician will think about it sooner or later. But I am glad that I have only thought about it. My time to retire definitely has not come and hopefully this will never happen.
Everyone who is involved in a band knows about the things, which he has to spend and sometimes this is not easy at all. But whatever happens if you carry music in your heart you will do it for as long as you possibly can. It is a kind of destination that you have to reachÖmaybe fate. Sooner or later you will receive what you have spend before - if you keep going on and believe in yourself. Metal is a way of living your daily life and my wife - a metalhead, too - has married a musician. Of course it is not easy for her and the children at all when I am on a tour, but she definitely knows if she will keep me away from my music she will lose me and I would not be happy at all.
In my case there is no lack of motivation at all. If you love something you will do it by heart. And this is motivation enough.
At times when European Power Metal is more popular than ever, Mystic Prophecy chose to represent the scene from the other side of the Atlantic (US). Which are the artists/bands that in your opinion have been the main source of influence for the band?
Martin: We are always told that we sound like an American Power Metal Band. The only explanation might be that we just do what we want to do and that weíre not trying to copy bands and productions, which are popular at the time. We know what we want and we know how we want to sound. Therefore we record in our way, back to the basics of Heavy Metal: Guitar, Bass, Drums and Vocals without effect-wars and walls of Keyboards and Sequencers and tralala-choruses.
All of the members of Mystic Prophecy have been influenced by their favourite bands - bands that they grew-up with, which are not always the same for every member. In my case this has been e. g. Testament, Exodus, Forbidden and - of course, Deep Purple, Rainbow, Dio etc. and the classical Metal-Bands during the Eighties.
Before Mystic Prophecy, you used to handle the bass duties in Stormwitch. Which are the main differences between the two bands?
Martin: The different decades of the two bands and the musicians are one subject. I joined Stormwitch as a substitute on bass guitar in 1990 when the main composers have already left the band. This has been a kind of vacuum, nobody knew where the band was heading to.
With Mystic Prophecy Iíve been a band member since the beginning, when everything started. And therefore it was obvious from the beginning how you want to sound and in what musical direction you will finally go to.
Mystic Prophecy is a much more professional band than Stormwitch has ever been.
With Lia I have now a singer who writes his own lyrics, composes his melody lines alone and delivers all the time splendid ideas - even for drums, bass and guitars. He is always in the band with many song ideas to work out. During my time with Stormwitch this has been unfortunately totally different.
Mystic Prophecy permanently works for the future, every band member always tries to optimise the band, to bring new ideas and power. There are strong characters and musicians composing together, with amazing ideas and personal work. The Mystic Prophecy really lives and breathes.
What would you ideally like to achieve with Mystic Prophecy? Are you satisfied with the bandís progress so far?
Martin: We have reached much more than we ever expected when we started the band and after the release date of our first CD Vengeance. Everyone of the band is satisfied with the progress, everything happened in a very short time, in big steps. But we will continue to come forward, trying to achieve the band name as a synonym for great Metal Music.
Our final aim has always been to compose great metal-songs, but without any effects-wars and keyboard-orgies. To keep what the Metal has been made for. To sound dirty, brutal but with a lot of harmonies and great vocal lines. To deliver songs with heart and soul, feeling and emotions - no dead music.
This is something that we want our fans to recognise, both the Metalheads and press. We do not pretend to be something, and we do not try to force things like that to people. We just do what we have in our minds, to be honest.
Therefore we want to go on tour again and show that the band gives always 110% to the audience so that the people will say that it has been worth to visit a Mystic Prophecy show. Maybe after a lot of years the band will still existent our CDs will still rotate in peopleís CD players. This is something, which every serious musician is dreaming of: not to be forgotten, even after some decades.
Martin, I will not bother you with any more boring questions. Thank you very much for this interview. Do you have any specific message for the subscribers of Get Ready to Rock, and the people who are going to read this interview?
Martin: I was not bored at all- this has been a pleasure. It is always fantastic being asked for things, which you have been doing for a very long time. So I have to say "Thank You!" to you, John, because you gave me the possibility to talk about Mystic Prophecy as a kind of introduction for your readers. Maybe they will start to get interested in the band, or just become motivated enough to tell us their opinion about our music.
Therefore I am happy to have reached something the people are interested in. But I am interested into the different opinions of our fans and the Metalheads in general, too. It would be great if a lot of people will tell us about our CDs in the guestbook of our website www.mysticprophecy.com , I would call it a kind of correspondence between fans and band. And without the fans every band will be - NOTHING!
So stay heavy and keep the Metal alive: GET READY TO ROCK!
Best wishes from Greece, Sweden and Germany!
C u all on tour!
Martin Albrecht
---
Related>>Album review
Interview © 2004 John Stefanis