Well, it finally became true. After years listening to the music of Sanctuary and having been a fan of Nevermore from the very beginning, I managed to meet both Jeff Loomis (guitars) and Warrel Dane (vocals) on the Century Media offices in central London. There, sitting on a very comfortable couch, we talked about the band's sixth full-length release 'This Godless Endeavor', their participation in the Gigantour with Megadeth in the States, Jim Sheppard's near death experience as well as the current situation in the States regarding drugs-related TV ads.
Hi Jeff. It is really nice to have you here with us today, especially since there are many things happening in the band nowadays that we can talk about, like the release of your new album 'This Godless Endeavor' and the Gigantour with Megadeth. Before we do that, though, I would like us to talk about your recent performance at the Bang Your Head festival in Balingen/Germany. I was really surprised to see that you chose not to play any new songs in that festival - which are the reasons behind that decision?
Jeff: There are several different reasons. Initially, we were going to play two or three new songs but…I am not going to say that we are angry for having only twenty minutes available to play, but we figured that it would be best to play stuff from our back catalogue, because a) the record is really not truly out yet, and b) because the night before, when we played at the Grasspop festival, we did some new songs and people didn't seem to understand them yet. We thought that it would be best to wait for the album to be released before we play any of the new songs. These are the reasons, but I believe that if we had more time to play at that festival, we probably would have played a couple of new songs. Unfortunately, when we got there, it was a case of 'get the band on, and get the band off'- it was unfortunate. We will be back for a proper European tour anyway, so we will probably play the whole damn album (laughs).
A lot of your older fans, myself included, were happy to see that you still choose to play songs from the first albums, but I assume that the question occurred because of your decision to play a cover like 'The Sound of Silence', instead of one of your own songs.
Jeff: Trust me, it was not our intention to play such a sort set and both Warrel (Dane: vocals) and Jim (Sheppard: bass) were very angry about what happened. We were supposed to play for thirty minutes, and because of all the problems that occurred, we had to cut our set to twenty minutes. Our friends from Jag Panzer were only given fifteen minutes to play! We are going to save our strength for the upcoming European tour, and since the album will have been released by then, people will get the chance to listen to the songs before coming to our shows. We are not trying to make people angry with us or anything like that (laughs).
I assume that you can fight with anyone, apart from nature itself (laughs).
Jeff: Yes, indeed. It was really sad to hear about those people who got injured. I heard that the day before it was like hell on earth, tents flying everywhere and things like that. Another good reason why we didn't play any new songs was because of the fact that some effects that I use in my guitar were not working. You could probably tell that by the look on my face when we were on stage. I wasn't getting any signal at the very beginning of the show. All of a sudden, when I couldn't get any signal from my guitar, the organisers were introducing us on stage. All and all, it was kind of like a nightmare, but we did the best that we could for the time that we were given.
I have seen the band live quite a lot of times live, both here in England, and in Greece. I have seen you playing in open air festivals and in clubs. Which of the two environments do you enjoy performing at? The reason why I make this question is because I believe that you guys sound much better when you do venues than when you play in big arenas. I am still trying to understand why.
Jeff: Why? There are a number of reasons. To get to your first question, which ones I prefer…they are both really cool, but I do prefer playing the clubs because you are that much closer to the audience. They are right there in your face, and you get more inspired. When you play an open air festival, there is this huge barricade, and it's very hard to reach the fans and feel their energy sometimes. I really do like playing the smaller venues and stuff like that. One thing that is going on right now is that we are trying to find a sound man for our open festivals. We have been working with this guy for the past two years now that is more knowledgeable of mixing us in a club environment. He is still newer to mixing us in an open air festival, and that's probably the reason why the sound quality just isn't the same for Nevermore. We are trying to find a new sound man at the moment, who will be good in both areas - someone who will have the experience.
OK, another really important thing that will happen in the near future, and probably one of the most important moments in the band's career, is your participation in Dave Mustaine's Gigantour. Tell me how you managed to become part of such an important musical event.
Jeff: Our participation in the Gigantour has a lot to do with the two new members in Dave's band, the Drover brothers, who are handling the guitar and drum duties. Dave asked them to name a few good US bands, and they happen to be big Nevermore fans. They told Dave that maybe it would be a good idea if Nevermore were to be part of this tour, and when he decided to listen to our albums, he liked them.
Don't forget that he also knows Jim and Warrel from the days back in 1988 when he produced 'Refuge Denied' (note: First Sanctuary record, and also one of the best US Heavy Metal albums ever!!!). Those two things really helped push Nevermore to get the opening position at the main stage for the Gigantour.
The other thing that I can really say about this whole thing is that, when Nevermore play in the Sates, we don't do really big venues. They are normally clubs with a thousand people capacity, which are relatively small for the standards of the country. You understand, of course, that this tour is going to give Nevermore the opportunity to approach a much wider audience in the US. We are going to play in front of ten thousand people now, and that will probably bring the band to the next level, as far as popularity is concerned. For some odd reason, I don't understand why, our popularity is much stronger in Europe. We really cannot understand the reasons why this is happening, but realistically, we would like to be as big in both areas. Hopefully, this Gigantour is going to help us achieve that goal.
That phenomenon of US band being more popular in Europe rather than the States is not weird to me, because this has been happening since the early 80's. There are many bands like Omen and Manilla Road which are worshipped on this old continent and are virtually unknown in the US.
Jeff: You are absolutely right; still I never understood why this is happening. A lot of European kids…their hearts are very much into the music and they respect the classical elements of Heavy Metal. You still see kids walking around with their cut off jean jackets which have Iron Maiden patches on. In the US, the kids are really more interested in what's popular at the time - things that they see on MTV. There is indeed a little bit of difference there. To get back to the Gigantour thing, Nevermore want to thank Dave Mustaine, his company and his band for asking us to be part of that tour. It's really going to be great!
Well, that's payback time as far as I'm concerned. What I mean is that he is now trying to set things straight, because his production on 'Refuge Denied' was dreadful! (I laugh).
Jeff: I don't think that he owes them anything, but I believe that we definitely owe him big thanks for giving us the chance to do that tour. One of the things that I really love about this festival is the diversity of all the bands that are part of it. It's not like you're going to see a show with five Death Metal bands in the row. Every band on the main stage is completely different form the other. You have Nevermore, you have Dillinger Escape Plan who are quite chaotic and excellent musicians in their own sense, Dream Theater of course…you cannot really begin to say how good these guys are - they're awesome!
Megadeth have always been one of my favourite bands to listen to, so the diversity level is just off the wall. You are going to see a lot of different cool music in one day!
Which would you say are the elements in Nevermore's music which will attract the majority of the people that are going to attend this tour, and most importantly, how are you going to manage to gain new fans in the US without losing your identity and all those important things that make you who you are?
Jeff: Very good question! I think that Nevermore has always been quite an unpredictable band. From record to record, the maturity level of the song writing has always improved. The older we get, the better writers we become…now, where am I going with this? Let me think for a second…our music is something that the fans have always appreciated because we add so many different elements to our music.
You get so many different styles like Speed and Death Metal in our songs - elements that you will listen to in 'Born', the opening track of the new album. That comes from my experience being in Death Metal bands while I was growing up. I think that I brought a lot of that stuff into the music of Nevermore.
You also get a few ballads that we wrote for that album, and also getting many cool catchy choruses and hook lines and things like that. I think that we will really catch the fans attention by them realising that we have a lot of different things to say in each song, and it's one of those things that I believe enables us to have such a huge fan base and not for the fans to get bored with us. We are very unpredictable - people don't know what to expect from us next!
OK, let's focus a bit on 'This Godless Endeavor' now. I have been listening to it for the last week or so, and I'm still trying to find something bad about it, but it's impossible. This is, in my humble opinion, is one of the angriest albums ever recorded by Nevermore. It seems to have the same tension and energy as some of our first recordings - am I right about that?
Jeff: Honestly, Nevermore never plans how their next album is going to sound. I believe that if that was the case, the album would have been more structured and that is not the case. Basically, the formula has always been the same, with me writing all the music and Warrel writing all the lyrics. This time we changed things a bit, by making this album more of a band effort. Our new guitar player and now the band's fifth member Steve Smyth (guitars) wrote three songs.
Jim Sheppard wrote one song that's called 'Medicated Nation' and I wrote the other six. I think that we're kind of going back to the old-school way like we did in the past with 'Dreaming Neon Black' and 'Politics of Ecstasy', where the whole band has something to say.
That makes 'This Godless Endeavor' a very diverse album. Normally what I do is to go into my basement, which is also my studio, and I'm trying to have a very fresh mind.
I don't listen to other things or other music in order to avoid allowing things to block my mind. I start building simple ideas from scratch, which is like the way that a painter does his paintings. I build up the whole process until I have a song. Then I will present it to Warrel who will write lyrics for it and then we will bring this idea into the rehearsal room and try to play it as a band .If it sucks, we will throw it away and if it's good we will keep it- it's kind of like the process of elimination. That's the way that Nevermore have always worked - it's a good formula, and if you have something like that you should not ruin it. You must keep on going with that approach, and that's what we've been doing for the past ten years.
And, of course, noone can accuse you of being lazy since you have released quite a few albums so far in your career, plus you have been on the road more times than one can remember. How do you manage to withdraw yourself and clear your mind when you have all these things happening for you?
Jeff: That is indeed a very difficult thing to do because if you start thinking too much about something, you're going to have a difficult time doing it. You really have to clear your head. I was very emotionally angry at the beginning of this album, due to the whole thing that has happened with the 'Enemies of Reality'- the whole process of the album being done by another producer, Kelly Gray.
I don't want to necessarily say that he ruined the record, but he didn't do a very good job for Nevermore, you know? We got a lot of backlash from the fans, many of whom demanded a remix of that album. Finally, we talked to our record company and we said 'hey, this album does need to be re-mixed, and we need to go back and make our fans happy'. Now this fortunately did happen, so I can now sleep properly at night. So, I kind of went into this whole record thinking 'this has to be the best thing that I've ever done as a musician. I have to redeem myself and come back and make the fans really appreciate this next record'. I always think of myself first, because I want to make myself happy as a musician, but I think that both emotionally and aggressively, this is our heaviest record to date! Everyone was very tense at the time and we all knew that this had to be our strongest record ever. We all had that feeling of aggressiveness inside and it shines on that record! I am very happy with that whole package!
Since you mentioned the problems with the production of 'Enemies of Reality', I always wondered what led you to your decision to work with someone other than Andy Sneap in the first place. The formula was really good, 'Dead Heart in a Dead World' sounded great so what was the reason behind that decision? Was it the fact that Kelly Gray is from Seattle, which is your hometown?
Jeff: I will try to make this long story short. This is what happened: we were at the end of our recording contract with Century Media, and basically the didn't know if we were going to re-sign with them, so they gave us a very small budget for our last album to work with. That was about $20,000 which is a nothing deal to do a record.
What we needed to do at the time was to find a producer that was immediately available to make a record with such a small budget, and that guy was Kelly Gray (laughs). Unfortunately, he was just not the right guy to do this album. We had a lot of offers from other record labels at the time after 'Enemies of Reality' was released, but Century Media came back to us at the eleventh hour and offered us the best deal.
A lot of people asked us 'why did you decide to re-sign with them after going through all these troubles'. The thing is that we didn't want to ruin our reputation with them, since we have been working with that label since 1995. It was the best offer that was laid on the table, we took it and we have a few more albums coming out, so we are very happy and the relationship is very strong at the moment.
I guess that this time round, it is safe to talk about the recording process of the album. This time you did manage to work with Andy Sneap again, right?
Jeff: Yes, this time we were given the right amount of money and we did manage to work with Andy once more. It's amazing working with him - I kind of call him the 'sixth member' of Nevermore. He really knows what we're hearing in our minds, and he knows the exact way that we're feeling and how he wants us to get our music across on tape. He is a perfectionist, you know? He doesn't accept anything second hand. He sometimes makes you play a part over and over and over, until you play it perfectly. I love that about him, and I believe that he's one of the most sought after Metal producers out there in the world right now, and we feel quite fortunate that we are able to work with him.
Andy has been producing quite a few albums lately. How can you make sure that he will not give your album the same sound that he did in any of the other albums that he has recorded recently?
Jeff: That's a very, very good question…I don't know! You are going to get similarities if you work with a producer that has done a lot of other bands. You are going to get a lot of the same sounds in a way, but Andy Sneap is truly the guy that gets the separation needed for music like Nevermore's because there are a lot of things going on. You are going to get that sometimes by working with the same guy, but this is one of those things. We really enjoy the tones that he gets for the record and we are very happy working with him again. I am sure that we will probably work with him again in the future, because of our great relationship.
Is he the only one that calls all the shots in the recordings of the album, or do you guys also get involved in the whole process?
Jeff: We get involved too. If we like a take for instance, if we like something that we've done and we want to keep it, of course he will let us keep it, but he is always there trying to point out little things that have to do with arrangements. He does tend to say things like 'maybe you'd better shorten that bit' and things like that, but mostly he is interested in the performance factor. He is trying to get the best out of the musician. It was really good how he really pushed Warrel very hard as far as the vocals go and that is something that he really didn't do on 'Dead Heart in a Dead World' as much as he did on that record. It was nice to see that, and I think that Warrel really shines on this one.
Obviously, this is not the smartest question that one could make, but I am going to go for it anyway…
Jeff: (laughs)…by all means! I am well aware that the song that you chose as a video for the new album is 'Final Product'. Why did you choose to work on that specific composition? Could I also ask you to indicate a few of your personal favourites from 'This Godless Endeavor'?
Jeff: The reason why we chose 'Final Product' for the video is because of its actual length. This is one of the shortest songs of the album. It is also due to the fact that MTV has certain policies in the United States which say that a video can only be that long, which I believe is four minutes and forty seconds. Some of the songs that we chose in the past had to be edited and shut them up and neither we nor the fans were really happy about that. I think that definitely some of the best songs on that album are 'My Acid Words' which has a very strong chorus…
And also a brilliant solo, if you ask me!
Jeff: Thank you very much! Another one that really shines on this record is 'Sentien 6', which I wrote in a completely different way. I didn't actually compose it on the guitar - I wrote it on the piano, and that's something that I've never done before in my life (laughs). I don't know why I did it that way - it is probably due to the mood that I was in at the time. You can barely hear all the piano melodies that exist in that song. I didn't want them to be very prominent in that song, but I wanted it to be layered in a sense that if it was missing, you would notice that - you know what I mean? I did the piano melodies first and the guitar second. This song is brilliant, because it's very ethereal, very dark and the chorus is one of the best on the record - Warrel really outdid himself on that song. Then, of course, you have the title track 'This Godless Endeavor', which is another lengthy composition but there are good reasons for that. It is the main part of the whole album, it's the focus of the whole album and that's how we wanted the whole thing to really come across. There are a lot of different things that we did on that song. Warrel is actually singing over a part of the solo, there is a jam section in the middle of it where the band just goes off…this is a great piece of music that really grounds up the whole album.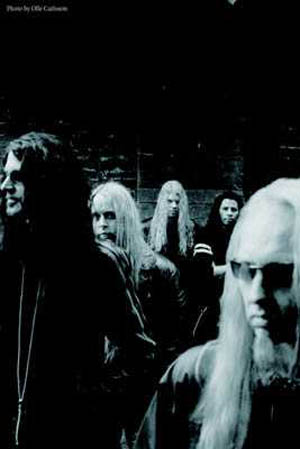 I was quite attracted to 'Sell My Heart For Stones' - a song that brought back memories from the days of 'In Memory EP', and songs like 'Matricide'.
Jeff: That's cool! I didn't write that song - Steve Smyth (guitars) wrote it. Steve actually wrote 'Bittersweet Feast', which is a killer song that brings back the old-school thrash elements as in bands like Testament and also has a Psychotic Waltz feel to it, which is really cool. The other one song that he wrote was 'A Future Uncertain'. Jim, on the other hand, wrote 'Medicated Nation'…
This is a really weird song, by the way!
Jeff: Yeah, I know! It's very, very strange. It almost has a marching Rammstein-influenced heavy chorus, which we really thought that was cool!
You always seem to have problems with your rhythm guitar players in Nevermore. There have been so many people coming and going, and I'm really happy to at least feel that this is the strongest line up that this band ever had as a quintet.
Jeff: Again, I had a few people asking me in the past 'why have there been so many guitar players leaving Nevermore - is there something wrong where you just fire them because you don't like them? That's simply not true! Pat O'Brien was in the band for the 'Politics of Ecstasy' and he was our first 'second guitar player'. He was really more interested into Death Metal. He wanted to play faster riffs and his dream came true since he got into Cannibal Corpse, which is his favourite band. We still talk to each other to this day, we're still good friends. Our next guitar player, Tim Calvert (ex-Forbidden) chose another job - he is now flying planes for a living. Just like Chris DeGarmo (ex-Queensryche) and Bruce Dickinson he found the love of flying and he still plays guitar sometimes and of course I still talk to him.
I always found it extremely weird that he left the band. Because of his previous involvement in Forbidden, I always thought that he was the right person for Nevermore.
Jeff: He is still a really big part of my life as far as musicianship goes. We still talk about everything and he is one of my best friends - he is a great, great guy! He taught me a lot of this about playing the guitar and I really enjoyed the song writing process for 'Dreaming Neon Black'.
This is one of my favourite albums from our back catalogue. Moving on from Tim, we had a guy by the name of Curran Murphy who joined Annihilator. Basically, what happened with Curran was he was never a permanent member of the band - he was actually filling in and I don't think that he really appreciated that because he was looking for a more permanent position.
We were not really ready to hire him on, because we were not sure if we could flow right with him. He joined Annihilator and now he actually has another band at his home called 'Shatter Messiah'. I don't really talk to him much anymore because he doesn't live in the Seattle area - he lives somewhere in Ohio or something like that. After him, we worked with Chris Broderick from Jag Panzer for a while. He is a great guy and a good friend of ours, but he is still pursuing his Jag Panzer career and then it comes to Steve Smyth. He is an amazing, amazing person! He was just having a little bit of difficulty in Testament at the time, and I think that he just wanted to move on. Being a long time friend of his, I asked him 'would you like to join up Nevermore?' and his answer was yes, so he's been with us ever since.
Another interesting thing is that most of the bands that have been as long as you guys on the music scene have released a live album or a DVD. Nevermore have not followed that route yet though. When will it be the right moment for you guys to make such a promotional move?
Jeff: It's always been an idea of ours to do that, and I am happy that you asked because this idea is actually in the working process right now (note: I think that I got a story there). What we did was that we hired a guy by the name of Michael Rivera who is a friend of ours from Seattle. He is actually a documentary producer, and what we are going to try to do is have him come with us in the Gigantour and do a lot of personal filming with us playing our instruments and also film some of the concerts that we'll do. He actually came with us two weeks ago when we were filming 'Final Product' in Los Angeles and documented some of that too. We are going to try to give our fans a little bit of perspective on the daily lives of Nevermore on tour and how we do our shows. I think that it took so long to do such a thing because we were waiting for the right time and the right person to do it. We wanted to do things the right way and give people an insight as far as what goes on in the Nevermore world, and I think that it's going to be really cool once it's done. I assume that in six or seven months we will have this thing ready. The timing is also right, of course, because we are also celebrating our tenth anniversary.
So, apart from the DVD release have you any other plans for the celebration?
Jeff: Hmm…not at the moment - just the DVD. We may do something like an extra edition with some extra live songs, maybe a live album…I don't know yet. We have a lot of stuff that's at the Century Media offices in Germany that we really need to pile and listen to. We really need to listen to them as a band in order to decide if they can work on a live CD. We don't want the record label to do it - we want us to do it, because we are the band!
Your European tour will start sometime in the beginning of September, yes?
Jeff: The Gigantour starts July 21st and runs to the middle of September. Then we have five days off, and after that we come to Europe to start our headline tour which will basically be all through the latter part of September into October, and maybe the first week of November. We are going to be very busy from what you already gathered. After that, we are going to come back over to the States where we will be supporting a big national act that we don't know yet. I think that we will be fairly busy until the middle of 2006! The best thing about Nevermore is that we really enjoy touring - we enjoy playing live and be in the public eye. To get bigger as a band, you really need to tour your ashes off. It is very hard, but I believe that we will have a very successful year!
What did the media say so far about 'This Godless Endeavor'? Do you believe that people whom wrote reviews for your new album did actually understand what you were trying to achieve with this record?
Jeff: It seems that most of the reviews move towards a more positive direction. Of course there are people that still have negative things to say about the band. A lot of people have listened to our new record and think 'man, there's so much going on'. It is one of these records that it's really hard to talk about from the very first listen. There are a lot of things that are going on in this record, so you really need to sit down and listen to it five or six times. A lot of interviewers, I think, gives it one or two spins and don't know what to say about it. That, I believe, is the only negative thing. What I want to say to them is to listen to the album a few more times and I am sure that it will hook on to them - it usually does (laughs). It is really funny.
My girlfriend, on the first listen, didn't know what to say about it and I swear to God man, a week went by and that was the only thing that she was listening to. She would not take it out of her stereo, and it went to the point that I had to hide it from her because I was so sick of listening to it when we were in the car together (laughs). That made me feel really good- it's cool when someone so close to you really loves what you do. It's something special, and I believe that this record is also very special.
Would you change anything on that album, or is it too early to say something like that?
Jeff: I think that everything that we've done on that record was the right thing - we had the right approach. I don't have one thing to say about it…I do have one thing to say about it! I don't know if we'll ever record in England again!
Why is that?
Jeff: Because we had the budget all worked out, you know, for Andy and for living expenses, but we didn't realise how expensive it's here man. That's one negative thing that will probably make us not record another album here again. We ran out of money like in the first month that we were there (laughs). We had to ask for some more from the record company. I think that, for the future, what we will do is to ask Andy to come to the States.
Do you see that being possible?
Jeff: I don't think that he will mind. All he will have to do is to catch a plane and find a studio there to record our album. It was a privilege recording at his studio - it was amazing. His place is stuck out in the middle of nowhere in the countryside, where the closest thing is a gas station in one direction and a pub in the other, but that's for a good reason since it makes you concentrate on making a great album without having any outside interference. All you have in mind is the record, and that's great.
Of all the places that you've played with Nevermore, which is the one that you've enjoyed the most? Which is the one country that's really embraced Nevermore more that any other place in the world?
Jeff: Greece.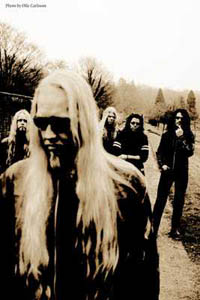 Do you say that just because you know that I'm a Greek person (I laugh)?
Jeff: No, absolutely not! I think that the Greek audience has a certain integrity that I don't think that a lot of other audiences have. They take things very seriously and also very personally - something that I quite recently found out, because of something that has happened to us when we were playing in Thessaloniki. We had a very big show scheduled there during the recording process of this record. Jim, our bass player, got very sick. He has a disease called Crohn's disease, which affects your colon. He had a blockage there from something that was caught while he was eating. What happens is that the colon constricts, and the food cannot pass by.
About three hours before we were due on stage, this happened to him and the guy…I thought that he was fuc*ing going to die man. We had to call the hospital and an ambulance came, but the paramedics didn't understand him because the didn't talk English very well, and they thought that he had another problem.
He was hospitalised that night and basically, we had to make the decision if we were going to play the show or not. The people were already inside the venue, Biomechanical which was the opening band were on stage. An hour went buy and the crowd started to become impatient, so finally we decided that we were going to go on stage and announce to the audience that Jim was very ill and that would not be able to play the show.
We told them that we really didn't know if we were going to play and asked them to give us another half an hour to figure out if we were going to do that or not. Everybody was looking at us like they didn't understand what we were saying (laughs). Te venue made the announcement but they did it quite fast. Warrel finally ended up showing up from the hospital after he got back and we decided that we were going to do the show, but without Jim.
We had to shorten the set something that made the fans very angry. From some of the interviews that we did, some of the Greek fans were saying that we were stuck up Rock stars and I just want to set the story straight about what happened that night. Our bass player almost died, it was a very sad evening and we are going to make it up for the Greek fans. I want them to know that we're not pretending to be rock stars, but we almost lost a friend and a bass player that night. You can tell that the reason why there were angry is because we didn't play our full set, and that shows you how hardcore they are and how much love they have for this band. That makes us feel really good and we're going to go back there and play a longer set for them and make them really happy.
I do believe that you have been a member of Sanctuary during the last few months of their life. How does it make you feel while during a Nevermore show, you hear people like me shouting for you to play songs like 'Die For My Sins'?
Jeff: Sanctuary was a very big underground band. Many people are still huge fans of this band - I am still a huge fan myself! I was only at the band for two months. There were reasons why we moved on from Sanctuary and it had to do a lot with the other guitar player Lenny Rutledge. You have to remember that this was in 1991 with the grunge era just beginning in Seattle and I think that Lenny really wanted to jump on that bandwagon and write songs like that. Warrel, Jim and me didn't want to do that - we wanted to stick to our roots and play heavy metal. That was kind of the demise of Sanctuary - that's how this whole thing ended and this is how Nevermore began. I myself would like to se a Sanctuary reunion, but I really doubt that this is going to happen because most of the guys live in different places now…I don't even know if Lenny plays guitar anymore. I think that, maybe for our European tour we will try to play pit maybe a couple of songs. There is such a demand for it, and we want to make our fans happy.
Nevermore started their musical career in the worst possible period, and no offence to your hometown, but Seattle was indeed the worst place to play metal at the time. How did you manage to pull through and convince people that this is the kind of music that it's worth listening to?
Jeff: I ask myself that same question a lot and to this day, I don't know how we managed to pull through it. It was almost ten years that this thing was going on and I am not cutting out bands like Alice in Chains, Soundgarden or Nirvana - they are all good bands but…
Let me cut them off for you then (I laugh)!
Jeff: (laughs) Well, I'm sorry but it really did affect the metal music and the metal world drastically, but you know what? We stuck to our guns, we did what we believed in and we still toured and people respected us a lot for that. People were like 'guys, how can you do that' - we do it! It was a long ten years, and it probably affected a lot of our record sales because that type of music was not that popular but I prefer that rather than being a fake person and make music just because it's popular. That's also another reason why our fan base is so solid, because they know that we're an honest American heavy metal band. We do things because we believe in them.
What is yet to be achieved in order for you to be fulfilled as a musician and a member of Nevermore?
Jeff: Oh boy! It seems that we've achieved everything already, except for world-wide success. I think that this is what we really want to achieve - we want to conquer the world with our music, but as far as achievement we've done everything. We've learned so much in the past ten years, we've learned from being a family as a band, we've learned from all the mistakes that we've made. At the same time, I can name so many friends that I have back at home that have never have the opportunity to do what I have which is to play my music in front of so many thousands of people around the world. I can honestly say that I would not do anything differently. We have achieved quite a bit of success so far, and the only thing that we can do know is to go from where we at and try to get to the next level. That's gaining more fans, doing more touring and being in the public eye as much as possible.
I honestly hope that you will achieve all those things. Thank you for doing this interview with Get Ready to Rock.
Jeff: Well, Warrel is here - do you want to ask him a couple of questions?
(Note: at this stage Warrel Dane, the band's vocalist, enters the room and seems to be quite preoccupied listening to music on his IPod).
Well Warrel, what were your impressions of the Bang Your Head festival and the whole situation there?
Warrel: I think that God was angry with everyone (laughs). It certainly fuc*ing pissed rain. I wasn't there the day that it happened, but right after we got off stage it started raining like fuc*ing hell! Everyone was running everywhere and we just got off stage. It was really hot and I was just walking around with rain like I was taking a shower and really enjoying it actually. People were looking at me like I was fuc*ing insane, but I just said 'hey, I come from Seattle' (laughs). We didn't get to play long enough.
Nor did you play any of the songs from the new album which we all expected.
Warrel: Well, you know what? We wanted to play more, but some other 'big rock stars' (note: when Warrel becomes sarcastic, you can feel it all over your body) didn't cut their sets - in fact they went over, didn't they? We won't name them, will we?
Well, you will make it up to us on the day that you will play London. Is the date set yet?
Warrel: Not yet, but a day will be included for sure!
Your opinion about 'The Godless Endeavor'? As I told Jeff, I feel that this is one of the strongest albums that this band ever released - do you feel the same way about it?
Warrel: I don't know. I cannot be objective because I'm in the band. I haven't listened to it in a long time, because when we were doing the recording, the mixing and the sequencing I listened to all the songs to the point where I cannot listen to them for a while. Maybe in a couple of weeks I will get over that, but it's…I really don't know how to explain this - it's really hard to listen to your own music, especially when you have to do it over and over and over. I usually cannot listen to a record until two or three months after it's been finished when I can then sit down and appreciate it. I know that we did a really good record - that much is clear!
Tell me a few things about the lyrics of the album, and especially those you made for 'Medicated Nation'.
Warrel: When was the last time that you were in the US?
I'm afraid that I haven't visited your country yet.
Warrel: On television, the new thing in the US is to show commercials for new drugs, where companies are using mass media to push drugs on people. This is a very, very sad thing to see because you are barraged with this on television all day fuc*ing long.
You have commercials from drug companies which tells you 'you need this, you need this', but they require by law at the end of the commercial to name the side effects. Some of them are very funny, and some of them are fuc*ing scary! The scary ones are for some heart medication, where at the end it says side effects are nausea, vomiting and death (laughs).
There is another one for these erect dysfunctional pills and it's so funny because they show this tyre hanging as a swing and this guy throwing a football which goes through the center and then it says: 'erections lasting more than four hours require immediate medical attention (laughs). I know some women that would say 'I'm the doctor honey and you're not leaving' (laughs). America is being over prescribed - I had doctors trying to put me on anti-depressants and I said 'dude, I'm not depressed - why do I need this?' We get programmed by the mass media to want and need more medication, and it's just sick and fuc*ed up!
Do you think that people are ready to understand what you have to say through your lyrics?
Warrel: Well, nobody understands a fuc*ing word I'm talking about!
How does that make you feel?
Warrel: It makes me feel like a one guy, except that I'm one guy (laughs). I believe that what I do is write some really twisted poetry in my opinion. Poetry is always interpretive art anyway, so if people understand that's fine, if they don't…let them enjoy the music.
Is it Seattle that makes people have this approach towards music?
Warrel: It rains a lot - yes of course! It's Acid Rain that forces 'My Acid Words' (note: song from the new album) (laughs).
Come on; tell me a few more things here. I mean, you also have Queensryche who are from Seattle and they do similar music.
Warrel: They do 'Operation Mindcrime II'. Should that even be attempted? What do you say?
I love Queensryche but I don't know if they should have done such a thing. I guess we will have to wait and see the results of such an attempt.
Warrel: Well, let's give them a call and ask them - let's tell them 'what were you thinking?'
Your expectations for 'The Godless Endeavor'
Warrel: You know every record that we do sells more and more and more. I mean even if two people buy our records I'm happy, as long as someone is listening to them. Obviously I don't think that this is going to happen, but I'm so used to doing this and being to this level of musicianship. I could die happy if we were to make a living out of music - I don't need to be a rich person really. My expectations: nobody really knows. It's very hard to say in this climate of modern music what's going to happen. I didn't expect to receive this massive positive response that we got for that record - I really didn't, so who knows. We are going to this big tour in the States and I think that it's going to open doors for us, so anything can happen.
What will happen when you fill be fed up writing music and touring with Nevermore?
Warrel: Never - that will never happen!
That's really good for me to hear, but have you considered doing something else - something perhaps related to music like a producer or anything like that?
Warrel: The title 'This Godless Endeavor' came from a side project that I was going to do with a guitarist friend of mine back home, and that would have been the name of the band. He lost interest for the project and I though that the title was too good not to be used, so it first became a Nevermore song and then it became clearer that it would become an album title.
Well Warrel, thank you for this interview. A message to your fans?
Warrel: Prepare yourselves for This Godless Endeavor - see you on the road!
---
Interview © 2005 John Stefanis