NEVERMORE 'This Godless Endeavor' Century Media (2005)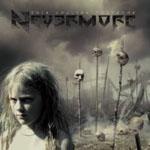 When, back in the beginning of the 90's, the "big heads" of the record industry decided that metal was not the coolest thing to promote anymore and bands like Nirvana and Soundgarden were performing sold out concerts in huge arenas across the States, most of the then active "metal" bands rushed to change their style to that musical direction that would guarantee them fame and fortune. Our music was indeed going through the most difficult period of its relatively short life, and the future looked quite uncertain. That was indeed the perfect time for a band like Nevermore to appear.
Having already established a good reputation with their involvement in the cult metal outfit Sanctuary, Warrel Dane (vocals) and Jim Sheppard (bass) teamed up with a very talented guitarist named Jeff Loomis and the equally impressive drummer Van Williams, and Nevermore were born. The mission: to remind people about the values of real music. The task: difficult but, as it was much later proved, not impossible. The ways to achieve it: by providing some of the most impressive guitar work composed in modern times, smart intellectual lyrics and powerful/intelligent compositions which would easily put to shame most of these so-called grunge "artists".
Well, I could write quite a few pages, talking about the band's history and the importance of albums such as "The Politics of Ecstasy"(1996), "Dreaming Neon Black" (1999) and "Dead Heart In a Dead World" (2000), but the importance of these albums has already been recognised by metalheads throughout the world. The main question here that has been giving me indescribable joy, but at the same time haunting my dreams, was "how is the new album going to sound"? I was one of the lucky few who were given the chance to listen to "This Godless Endeavor" - the band's sixth full-length release, at the Century Media release party a couple of months ago here in London. Now, I cannot say that the bad quality speakers of the World's End (sorry guys) were very helpful, nor was the noise that was created by my fellow "journalists" who were also present, and who were far more interested in devouring the food that was offered to us rather than listening to the album itself, so I decided to wait for the official promo in order to draw my own conclusions.
The day did come, and before placing the promo in my CD player, I made a promise to myself to give to the album my utmost attention, and to try to be as objective as I possibly could. Well, I did listen to this album for a whole week, prior to writing this review, and until this very moment, I still haven't managed to find anything negative to say about it. On the contrary, I believe that, together with "The Politics of Ecstasy", these are the best two albums that the members of this band have released so far in their career!
Twenty seconds after "Born", the opening track of the album, kicked off, I had to push the stop button and make sure that I had placed the right CD in my player! My God, this is indeed one of the fastest and heaviest compositions ever written by the quartet...I apologise, they are a quintet now, since their touring partner Steve Smyth (guitars) decided to join as a permanent member. His previous involvement with Testamen, and the fact that Nevermore have decided to change their composing habits and work as a team this time round, helped "This Godless Endeavor" shape it's heavy and uncompromising character. After having a short break with "Final Product", a song that is based on more classical Nevermore formulas and also the composition that was chosen as the first video for this new release, you will find yourselves head banging with the fast riff of "My Acid Words" - a song that will make happy many of the band's older fans.
If, by this stage, you begin to fear that you will not get to listen to another one of the melodic/emotional compositions that this band is famous for, I say - don't despair. There are quite a few tracks, such as the "Sentinel", "Sell My Heart to Stones" and even the self-titled "This Godless Endeavor"(at times), which are without any doubt going to reward you for your patience. That doesn't mean that there should be no room for appreciation for compositions like "Medicated Nation" and "The Psalm Of Lydia", for which Warrel has written some of the most "dangerous" lyrics to date, and the quintet is presenting us with top quality musicianship. Extra credit should be given to Andy Sneap who once again handled the duties of the producer and helped the band avoid the mistakes of the recent past (the production on "Enemies of Reality").
I don't know how I am going to manage to convince myself that it is time to remove "This Godless Endeavor" from my CD player and start working on the review for the next album. I know that eventually I will have to do it, if I want to continue working for this website, but that doesn't mean that I will not listen to it over and over again, at the first-given opportunity. Ladies and Gentlemen, what you have here is a top quality release from one of the most important bands in recent times. What we are all witnessing is history in its making, and mark my words: one day people are going to be looking at you with eyes wide open, when you tell them that you were one of the people who had the chance to see this great band performing some of these compositions live. Is "This Godless Endeavor" one of the albums that you must add at your CD collection? I hope that you will, for your sake!
*****
Review by John Stefanis