It seems that Undertow have a lot planned in the near future, with their new album, 'Milgram', due out at the end of March, numerous live dates and a support slot with Pro-Pain on their European tour. Over more than thirteen years, they have also gone through some changes in their career, such as the recent addition of a new drummer, Rainer Pflanz. It is a good time to find out what exactly makes Undertow tick. I interrogated bass player Thomas Jentsch about all things metal, and the past, present and future for Undertow.
Why the name Undertow?
Tom: We don't exactly remember how the name came up. In the beginning we changed our name very often, we thought we found a good name, but the next time we came together someone came up with a better idea. Sure there is the album by Tool, but there are also some lyrics that use the word on Metallica's 'and Justice for all'. We like the meaning of the word and that it is not that wellknown around Germany.
How did the band form?
Tom: We started about thirteen years ago. Joachim and me met in a club and we he heard that I own a bass (not that I really new how to play it…) the idea was born to form a band. In the first year we had a second guitarist, but he left the area to study and for familiar reasons and ever since we are a three-piece.
Your new album, 'Milgram', is out at the end of March. How is it different from your older material?
Tom: Since we have a new drummer, we've reached a new level in the band. It feels more like a unit than ever before. I hear a lot that is more aggressive than our previous efforts, but I don't really think so. It has a great variety of moods and I think it is very interesting.
It's been 3 years since your last album, during which you've gone through some changes, such as the change of drummer. Has Rainer Pflanz changed your direction at all?
Tom: He definitely caused some changes, but the direction? I don't think so. Though we came up with new elements on that album, the direction is still the same and all the Undertow-trademarks are there.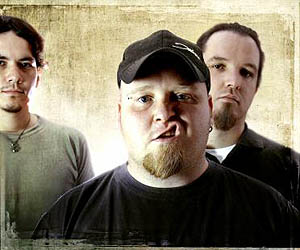 And you have also gone through a change of label during your career. Are you finding Silverdust more suited to your needs as a band?
Tom: Compared to our first label Silverdust is so much better. They do all the stuff a label should do for their bands, like pay for the studio, arrange promotion and even support us in financing the touring. Sure it is not a big label and with a bigger label more promotion and touring might be possible, but we are really happy with Silverdust.
Any upcoming gigs or tours?
Tom: On our homepage are already 21 shows listed for this year. 11 of them feature us as a support-act for the European tour of Pro-Pain. This is a great opportunity to bring the new album to a lot of people and it also sees us playing for the first time in France, Czech and Switzerland. We also have confirmation for some summer-festivals but I guess there should be more shows coming when the album is released at the end of March.
Do you find it restrictive playing live as a three-piece?
Tom: Not at all! We think of it more as an advantage! But it never was a conscious decision, it just happened and we stayed like that. There are often people talking to us after a show and saying that they are impressed to hear such an amount of sound by only a three-piece.
What got you into metal in the first place and what inspired you to first start playing?
Tom: I think some guy in school come up with a Scorpions-album (good old vinyl!) and some days later I bought my first metal-album: Scorpions World Wide Live. It was a gatefold double-album with a poster… My first band was with friends from school, we never had a name and did also never play a live-show. But since this first try I had a bass standing in my room and later I met Joschi in that club…
Has your opinion of metal changed at all since you first started to play? Is it still fun?
Tom: I don't think that my opinion of metal changed over the years. It is sure to some degree frustrating to learn more and more about the music business, but the fun is still the biggest motivation for Undertow. You don't earn money with that kind of music, so you shouldn't think, that money is a motivation at all.
Who writes the lyrics and what is their inspiration?
Tom: Our singer and guitarist does around 30% of them and I write the other 70%. I am always amazed when I read an interview with a band, and their singer says, that he first writes his lyrics and then the band does the song to these lyrics. Every Undertow-Song is done the other way round. Inspiration can come from a lot of sides. Everyday life is a big source, and also relationships, books, film, thoughts, news…
How do you write your music? Do you have an idea before you start playing or do you just get together with the other guys and jam?
Tom: Before Rainer was in the band Joachim did almost 100% of the songs at home, came to the rehearsal room and told us precisely how to play the songs. Since Joachim became a father two and a half years ago he can't play that much guitar at home as he used to do, so he brings riffs and we all chew on them, spit out some of them and do more of the songs together.
What would be your ultimate goal as a musician?
Tom: World-peace! No, just kidding. A gatefold double-album with a poster, ok, to me again. I don't think, that Undertow has this ultimate goal – though a world-tour with Metallica and Tool would be pretty ultimate…
Do you feel that being German is an important part of your identity as a band?
Tom: Not as all! I think we could also live in France, the UK, South Africa or the United States. It is only a coincidence that we are born in that country. But wait, are you trying to tell me, that we have some gruesome accent?
How long have you been making music? Do you think you'll ever get bored of playing?
Tom: Undertow is in for more than thirteen years now and I really can't imagine getting bored of playing. I also can't picture us getting pushed on stage in wheelchairs, but getting bored of playing? Never ever!
How would you describe your music to someone who's never heard it?
Tom: That depends on where this person is from. If it is someone, who is familiar with metal-bands, then I would say 'Imagine Machine-Head and Life Of Agony playing together. Add some doom and melancholy – now you're somewhat close to Undertow!' But describing it to an old lady in Africa? 'Think of a stampede and add some melodic vocals'?
Do you ever tailor your live set to suit your mood or a particular gig's other bands?
Tom: Sure, we do that all the time. There are some songs we usually play at every show, but we try to suit the Headliner we play together to some extent. I.e. when we're on tour with Pro-Pain we won't concentrate too much on our slower songs. But we sure will play some slow songs on that tour too, 'Homemade Funeral' i.e. will be definitely in the set.
You've played with a lot of bands in your time. Which are your best and worst memories?
Tom: The best thing is that we met so many people and that some of them even became friends over the years. Another really good memory is the nightliner-tour with our friends and labelmates End Of Green. Sure there've been bad times too, we lost a drummer twice, there were some shows where the organisers treated us like shit or didn't pay us. Another extreme thing was our show at the Metal-Camp Festival in Slovenia. We drove there in a big bus together with Hypocrisy, Sentenced and Finntroll, which was great fun, the guys are all very cool and they drank the whole time. But since we arrived at the festival-site it was a disaster. There were two stages, the Scandinavians all played on the bigger one. There it was chaotic too, but the small stage was hell on earth. We searched for it quite some time and when we found it, we wish we never would have… The organisers did the festival there for the first time and it rained with no end, there was almost no light and we had a big argument about our hotel rooms… But hey, it was an experience and we played a festival in Slovenia and Danzig did headline with Tommy Victor (Prong) on guitar!
What would be your dream line-up if you could play any gig?
Tom: An arena-show with Metallica, Machine Head, Tool, Thrice, Nine Inch Nails and Undertow.
Which is the best gig you ever went to see?
Tom: Boah, impossible to answer! I've been to around 30 concerts in 2005 and I won't be able to choose one of this as a favourite… The Mastodon-show together with Dozer was great last year, Nine Inch Nails also… And gigs in the past? Every Faith No More-, Tool-, Alice In Chains-show I've been to was a blast.
Is there anything else you'd like to say to your fans?
Tom: If somebody points to the right and claims, that this is the best possibility to go, consider the possibility of even looking left! Thanks for taking the time, check out our new album as well as the new album of our labelmates Koroded and come to the shows!
---
Interview © 2006 Amanda Hyne